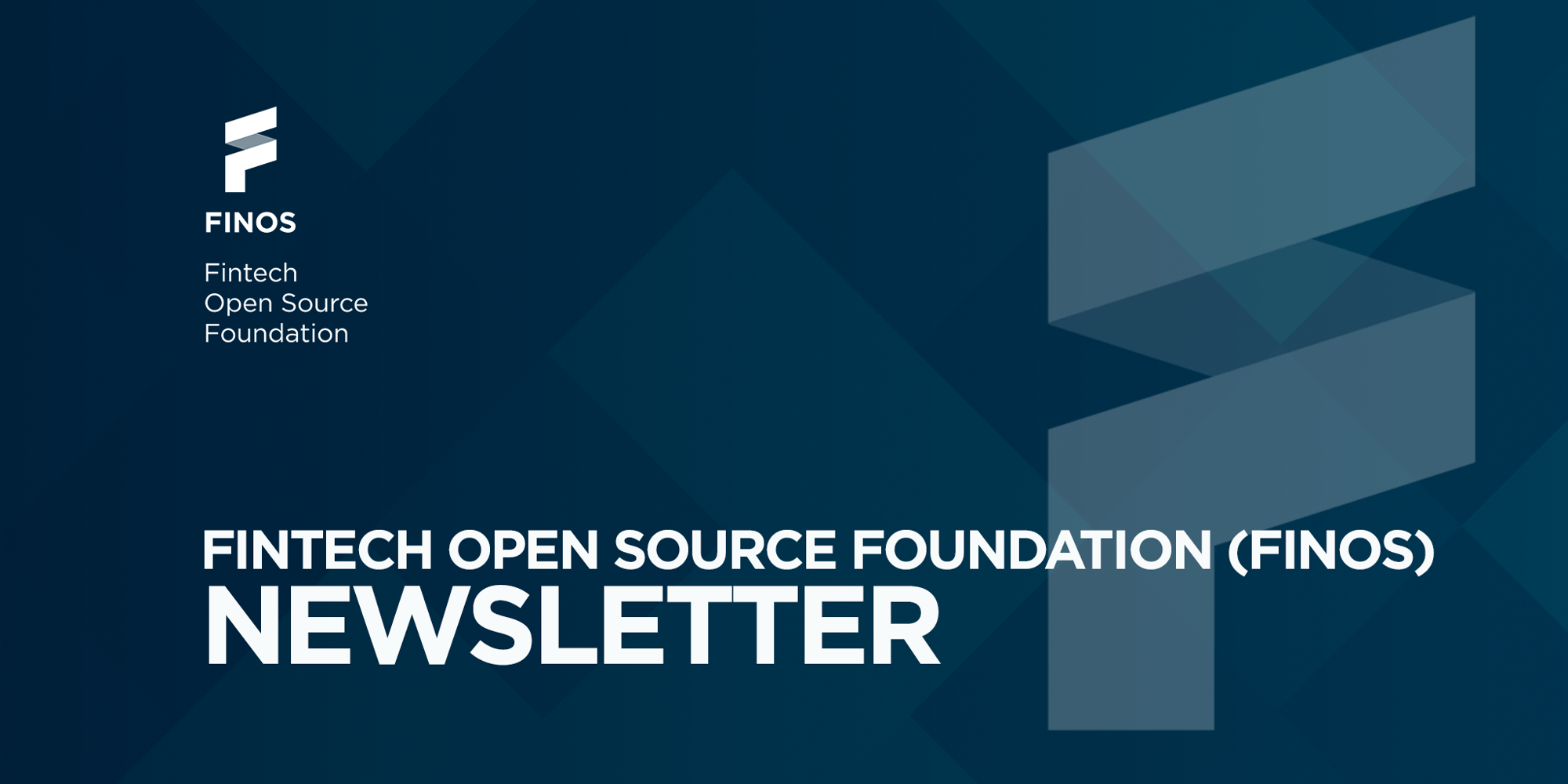 FINOS Q1 2021 UPDATE NEWSLETTER
26 MARCH 21
Happy Friday! In this Q1 newsletter we highlight new members, share exciting news about more FINOS awards, tell you about a new ways to recognize our contributors, and provide a roundup of some highlights from the quarter.
FINOS NEWS & UPDATES
NEW FINOS MEMBERS - PRESS RELEASE
FINOS Shoulders 'Open Source Movement' in Finance and Beyond by Expanding Reach Across Professional Services, Technology and Nonprofit Sectors.
FINOS New Member Press Release
Accenture | Armory | InnerSource Commons
---
VOTE FOR FINOS - SOFTWARE SOLUTION oF THE YEAR
We're thrilled that FINOS has been shortlisted for the Software Solution of the Year in the FTF News Technology Innovation Awards. The FINOS community is proving that open source collaboration can solve industry challenges and provide business value. Vote for us by May 14th to show you agree!
---
MORE NEWS & HIGHLIGHTS
FINOS was highly commended in the A-Team Innovation Awards 2021 for the "Most Innovative use of open source/cloud technologies."
Tosha Ellison, FINOS COO, was recognized as the "Vendor Partnership or Alliance Professional of the Year" in Waters Technology's Women In Technology & Data Awards.
FINOS received Waters Technology's American Financial Technology Award 2020 for "Best Collaboration Initiative" recognizing work done in the Legend platform.
FINOS PROJECTS AND COMMUNITY
YOU CAN RECOGNIZE FINOS CONTRIBUTORS TOO
Each newsletter we recognize members of our community through the FINOS Community Spotlight but this week we want to let you know that you can also recognize members of the community. Know anyone who provides significant contributions to the Foundation and our activities and deserves some recognition? It's easy to do and makes a difference. Who do you want to highlight?
More info and recognition form
---
EASYCLA IS COMING TO FINOS
The Linux Foundation is rolling out a new version of its EasyCLA tool, making it even easier to manage and approve project contributors. And we're getting ready to make this available for the FINOS community! You can learn more at the informational webinar taking place on April 8th.
Register for informational webinar
---
MORE UPDATES & HIGHLIGHTS
Don't forget to join our FINOS slack and engage in discussions with the community on specific projects, SIGs, or open source in general.
Be sure to get involved with new projects contributed to FINOS this quarter including the Symphony BDK for Java and two new Financial Objects projects: Product Control Common Template and Commodities Payout Terms.
---
finos GOOD FIRST ISSUES & HELP WANTED
Your Opportunity To Get Involved
A good place to start contributing to, and making a difference in, open source in financial services is by taking a look at the FINOS Good First Issues (GFI) List on GitHub.
This week we're highlighting GFIs from the Legend Project. Legend is a flexible platform that offers solutions to explore, define, connect, and integrate data into your business processes - and was contributed to FINOS by Goldman Sachs.
Legend Project Good First Issues
All FINOS Project Good First Issues
join us
OUR MEETUPS & GUEST PRESENTATIONS
For a full weekly list of meetups, webinars, and other open source project focused meetings, please refer to "This Week at FINOS", and sign up to receive this email which comes out every Monday. (Email community+subscribe@finos.org to be automatically added to the distribution.)
Wednesday, March 31st
How to Build an Order Book Simulation with Perspective
Andrew Stein, J.P. Morgan Chase
Wednesday, April 7th

Running An Open Source Project From Inside A Bank - Panel
Stephen Goldbaum, Morgan Stanley, Peter Thomas, Deutsche Bank, Paul Groves, Citigroup
---
ICYMI - OUR PODCASTS AND VIDEOS
Listen to and view our podcasts and videos on Open Source in Fintech. We'll announce upcoming ones through our This Week at FINOS blog and email.
Q1 Podcasts
The Code Coverage Paradox - Diffblue
Dan Abramov of the React Core Team
Apple Podcasts | Anchor.fm | Spotify | Google Podcasts
Q1 Videos
APAC Open Source in Fintech Meetup - Symphony BDK & Low Code
Capital One's Innersource Journey
Reflecting on Grass-Roots InnerSource (Morgan Stanley)
All FINOS Guest Presentations On YouTube | FINOS YouTube Channel
LEARN MORE
This Week at FINOS Blog - See what is happening at FINOS each week.
FINOS Landscape - See our landscape of FINOS open source and open standard projects.
Community Calendar - Scroll through the calendar to find a meeting to join.
Project Status Dashboard - See a live snapshot of our community contributors and activity.
Events - Check out our upcoming events or email marketing@finos.org if you'd like to partner with us or have an event idea.
FINOS Virtual "Meetups" Videos & Slides - Access replays of our virtual "meetups" based around the FINOS Community and Projects since we can't all be in the same room right now.
FINOS Open Source in Fintech Podcasts - Subscribe and listen to the first open source in fintech and banking podcast for deeper dives on our virtual "meetup" and other topics.
Interested in FINOS open source projects? Click the link below to see how to get involved in the FINOS Community.
Thanks!
~ The FINOS Team