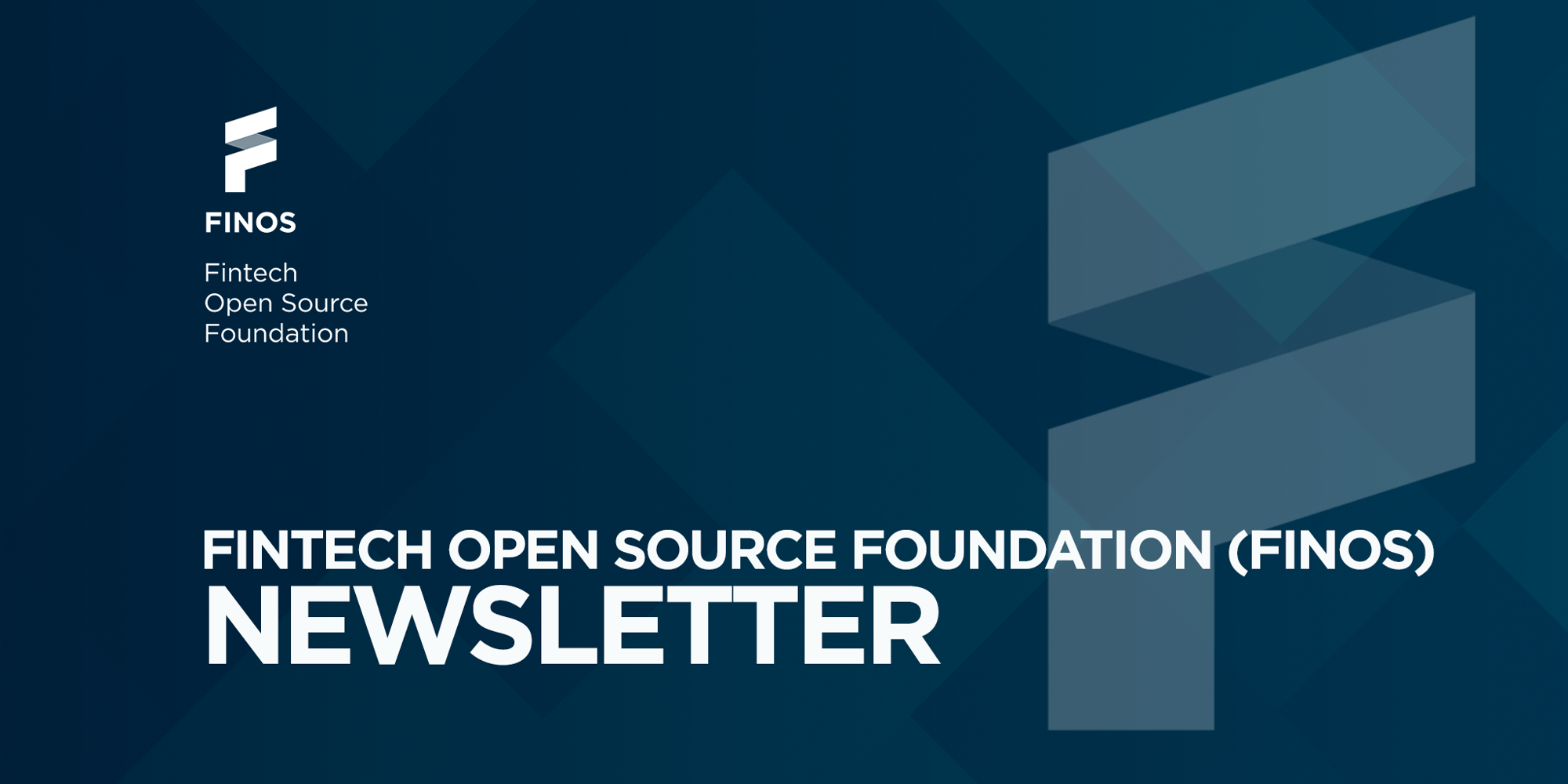 Q2 2020 NEWSLETTER
EMBRACING VIRTUAL TO FOSTER OPENNESS AND PROMOTE GROWTH
As the world continues to face a global crisis and specific regions face additional challenges we want to extend our deepest sympathies to those dealing with loss. Our greatest hope is that through these tragedies we can find new ways to come together and provide solutions.

Although our FINOS community may be small in the grand scheme of things we are glad to see an increasing focus on collaboration through our virtual meetups, project contributions, and online meetings. As was pointed out on the FINOS launch day in 2018, we also recognize that "fintech is no different than any other 'tech' sector in that we need more women, people of color, and other traditionally underrepresented communities at the table. The transparency and contribution models of open source projects can be a great on-ramp for anyone interested in technology or problem domain", so we encourage individuals and companies alike to get involved.
We'd also like to take this time to remind our community that we stand by our Code of Conduct and welcome all participants who do too. You can read the details here but these phrases sum it up. Be welcoming. Be considerate. Be respectful. Be careful in the words that you choose. Be kind to others. Be understanding.
FINOS NEWS & UPDATES
FINOS JOINS FORCES WITH THE LINUX FOUNDATION
It's hard to imagine that you haven't already heard this news but we're pretty excited so we'll mention it one more time. We recently announced that we're joining the Linux Foundation (LF). This partnership enables us to build on our current momentum and more quickly bring new projects, members and contributors to our growing community. Our commitment to open source in financial services remains the same but now we can also leverage the depth of open source expertise, knowledge and support that the LF provides.
---
WELCOME AITANA (TO THE LIFE OF FULL-TIME FINOS EMPLOYMENT)
Aitana Myohl joined us last year around this time as a part-time community support specialist while she finished her Master of Public Administration (MPA) degree at Columbia. We're very pleased to share that Aitana has now joined the team full-time, focused on strategic initiatives.
---
FINOS ALL COMMUNITY CALL
Register and join us on June 11th at 11am ET / 4pm BST to hear about many of our exciting FINOS projects and initiatives. And bring any questions you have about the Foundation or its projects - we'd love a good, open discussion.
PROJECT UPDATES
DATAHUB (NEW CONTRIBUTION)
FINOS member Citi recently contributed DataHub, a set of python libraries dedicated to the production of synthetic data to be used in tests, machine learning training, statistical analysis, and more.
---
SECURE ELECTRON ADAPTER (NEW CONTRIBUTION)
FINOS member ChartIQ recently contributed the Secure Electron Adapter (SEA), which provides an easy way to secure applications running in Electron - a container for building desktop applications with web technology - making its use appropriate for financial institutions.
---
FDC3 1.1 (NEW RELEASE)
The Financial Desktop Connectivity and Collaboration Consortium (FDC3) released v1.1 thanks to an active community of collaborators! This version includes new features and enhancements, including a Channels API, new context data types and a better developer experience with improved documentation, ergonomics, and tooling.
---
FDC3 DESKTOP AGENT (NEW CONTRIBUTION)
The FDC3 Desktop Agent is now available as a FINOS hosted project. This is an open source implementation of FDC3 as a Chrome Extension. It provides a quick and easy way for app developers to get started with the FDC3 APIs.
---
EPAM GLUE (FEEDBACK REQUESTED)
EPAM announced their intent to contribute EPAM GLUE, a project focused on developing a unified entity and data model for the Buy-Side and is looking for community feedback.
SPREADING THE WORD
PRESS COVERAGE
Check out some recent blogs and press coverage about FINOS and the FINOS community.
Interview with Gabriele Columbro, FINOS - Fintech Focus TV
Now under the Linux Foundation, the Fintech Open Source Foundation wants to accelerate software development across financial services - TearSheet
Six Reasons Open Source Is the Tool for Now - Techonomy, Andrew Aitken
FINOS expands industry presence by joining the Linux Foundation - Red Hat, Alessandro Petroni
Open source non-profit FINOS expands with three new members in financial services and fintech - Institutional Asset Manager
---
SHARING NEWS ABOUT FINOS PROJECTS
We're delighted to see an uptick in our members and contributors publishing articles, blogs and press releases around FINOS and FINOS projects. Please keep it up! While doing this, please remember to comply with our Trademark Guidelines and we also always appreciate a short note to press@finos.org notifying us about a new posting. (We're happy to review materials before they are published, too.)
join us
UPCOMING VIRTUAL MEETUPS & CONFERENCES
For a full weekly list of meetups, webinars, and other open source project oriented meetings, please refer to "This Week at FINOS", and sign up for the email that comes out every Monday. (Email community+subscribe@finos.org to be automatically added to the distribution.)
Open Source Readiness Meeting: "How can a regulated-industry business get ready for Open Source?" Danese Cooper of Nearform
June 17th at 10am ET / 3pm BST
Open Meeting: FINOS All Community Call
Friday, June 11th at 11am ET / 4pm BST
Virtual "Meetup": "Financial Services After COVID-19: Open Source Paves the Way" Andrew Aitken of Wipro
June 17th at 11am ET / 4pm BST
Virtual Conference: The Linux Foundation Open Source Summit 2020 - Virtual Experience
June 29th to July 2nd
Virtual "Meetup": "Debunking Common Fears about Open Source" Danese Cooper of Nearform
July 1st at 11am ET / 4pm BST
To catch recaps, videos, slides, and podcasts of previous virtual "meetups", as well as other helpful FINOS resources, visit our Knowledge Base page.
join us
Search all of our Programs, Projects and Working groups.
Scroll through the calendar to find a meeting to join.
See a live snapshot of our community contributors and activity.
Check out our upcoming events or email marketing@finos.org if you'd like to partner with us or have an event idea.
FINOS Virtual "Meetups" Videos & Slides
In April of this year, we started a series of virtual "meetups" based around the FINOS Community and Projects since we can't all be in the same room right now.
FINOS Open Source in Fintech Podcasts
We also started one of the first open source in fintech and banking podcasts for deeper dives on our virtual "meetup" topics.
Interested in FINOS open source projects? Click the link below to see how to get involved in the FINOS Community.
Thanks!
~ The FINOS Team