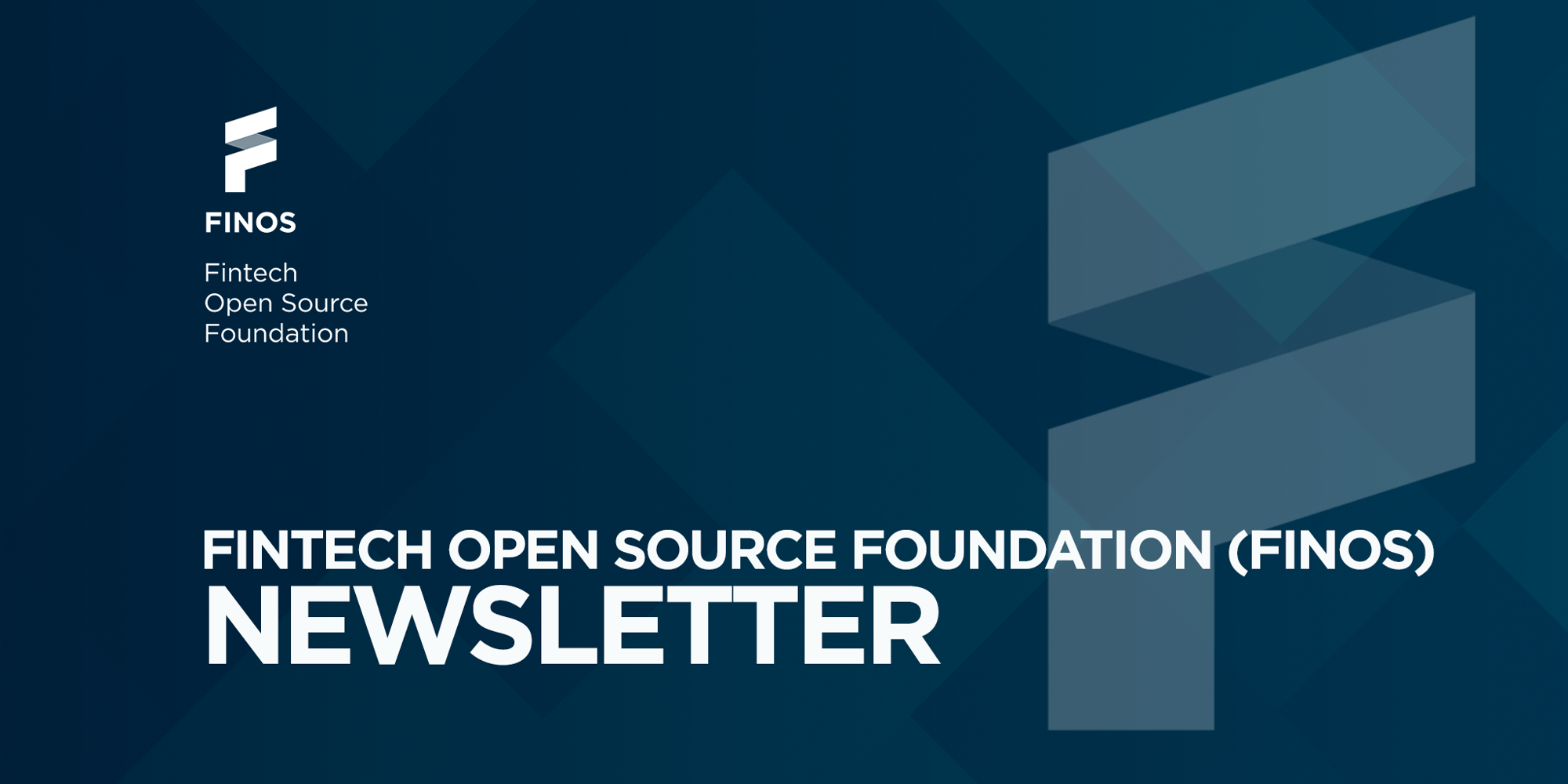 FINOS MONTHLY UDPATE
AUGUST 2022
It's nearly time! Join us on August 10 for the FINOS All Community Call where our Executive Director, Gabriele Columbro and the FINOS team will provide updates from the Q3 Governing Board Meeting and key takeaways from our Open Source Finance Forum London.

Call for proposals and registration are now live for our Open Source in Finance Forum New York on December 8. Submit a proposal or register here. If you missed us in London at OSFF in July, on-demand sessions are now available here.
FINOS has been in the news recently! From fintechs joining FINOS and getting involved with open source to key takeaways from Open Source in Finance Forum London and to the rise of APIs - not all APIs created equal.
EVENTS
August 10 - Join us for updates from the Q3 Board Meeting and highlights from our Open Source in Finance Forum London. Register here.


August 23 - Join FINOS Executive Director, Gabriele Columbro in Denver, Colorado for a presentation on "Open source in financial services: the good the bad and the ugly".


September 8-9 - Join InnerSource Commons in Dublin September 8-9 at Trinity College Dublin for a mix of presentations, panels, breakouts and expert workshops.


September 12-14 - Join Hyperledger Foundation in Dublin for the biggest annual gathering of the global Hyperledger community with 100+ speakers.


OPEN SOURCE SUMMIT EUROPE

September 13-16 - The Linux Foundation Open Source Summit happening in Dublin will include a panel with our Executive Director, Gabriele Columbro discussing open source trends across Europe. Also meet FINOS Director of Community, James McLeod in person as he shares his tips on must see sessions. Email community@finos.org for further details.
Quick FINOS Updates



For this month's FINOS Community Spotlight, we are excited to highlight our Community Award winners from the Open Source in Finance Forum London. Read more here.


Congratulations to our newly appointment Chair, Kim Prado CIO, US Capital Markets, I&CB and office of the COO, BMO Capital Markets and Vice Chair, Neil Slinger Managing Director, Head of UI Engineering at J.P. Morgan.
Subscribe and listen to our recent podcasts. On our newest episode of the podcast, FINOS CTO Jane Gavronsky, Senior Technical Architect Rob Moffat and Head of Marketing Grizz Griswold had a retrospective of the most recent edition of the Open Source in Finance Forum London. Listen here.


Read our recent blog posts, including a thought leadership piece from our Director of Community, James McLeod on Enabling Open Source Projects with Impactful Engineering Experience. As well as a community blog from Morgan Stanley, Microsoft and REGnosys on Regtech.

We are looking for more participants to test sample data using the linked guidelines and sample template from Legend. The vision is to standardize the process of data exchange between banks and vendors by setting up an industry-approved common template and link them via Model to Model mapping in Legend to reduce friction, promote data standardization and reduce the on-boarding costs for banks in the consensus pricing industry. The next meeting is August 9 at 10am EDT / 3pm BST.
if you're not already part of the FDC3 story, we'd love to hear from you, support you in your efforts and help promote your work in the FDC3 marketplace. Contact FINOS Senior Architect, rob.moffat@finos.org or complete the form here.
Complete the 2022 State of Open Source in Financial Services survey to help us understand how the financial services industry is using open source, the challenges it faces and the biggest opportunities it sees for collaboration. Take the survey today!
This year the Linux Foundation teamed up with edX to produce the 10th Annual Open Source Jobs Report to shed light on changes and challenges. This year's study includes survey findings and analysis generated from more than 1,900 open source professionals, in addition to 500 individuals with responsibility for hiring such professionals. Download the report here.
This Week at FINOS lets you know weekly events and project meetings - if you'd like to subscribe, please send a note to community+subscribe@finos.org and you'll be added to the mailing list.
LEARN MORE

FINOS Good First Issues - Looking for a place to contribute? Take a look at good first issues across FINOS projects and get your feet wet in the FINOS community.
State of Open Source in Financial Services Report 2021 - Learn about what is really happening around open source in FSI.
This Week at FINOS Blog - See what is happening at FINOS each week.
FINOS Landscape - See our landscape of FINOS open source and open standard projects.
Community Calendar - Scroll through the calendar to find a meeting to join.
FINOS Slack Channels - The FINOS Slack provides our Community another public channel to discuss work in FINOS and open source in finance more generally.
All FINOS Project Good First Issues - A good place to start contributing to, and making a difference in, open source in financial services is by taking a look at the FINOS Good First Issues (GFI) List on GitHub.
Project Status Dashboard - See a live snapshot of our community contributors and activity.
Events - Check out our upcoming events or email marketing@finos.org if you'd like to partner with us or have an event idea.
FINOS Virtual "Meetups" Videos & Slides - Access replays of our virtual "meetups" based around the FINOS Community and Projects since we can't all be in the same room right now.
FINOS Open Source in Finance Podcasts - Subscribe and listen to the first open source in financial services and banking podcast for deeper dives on our virtual "meetup" and other topics.
Interested in FINOS open source projects? Click the link below to see how to get involved in the FINOS Community.