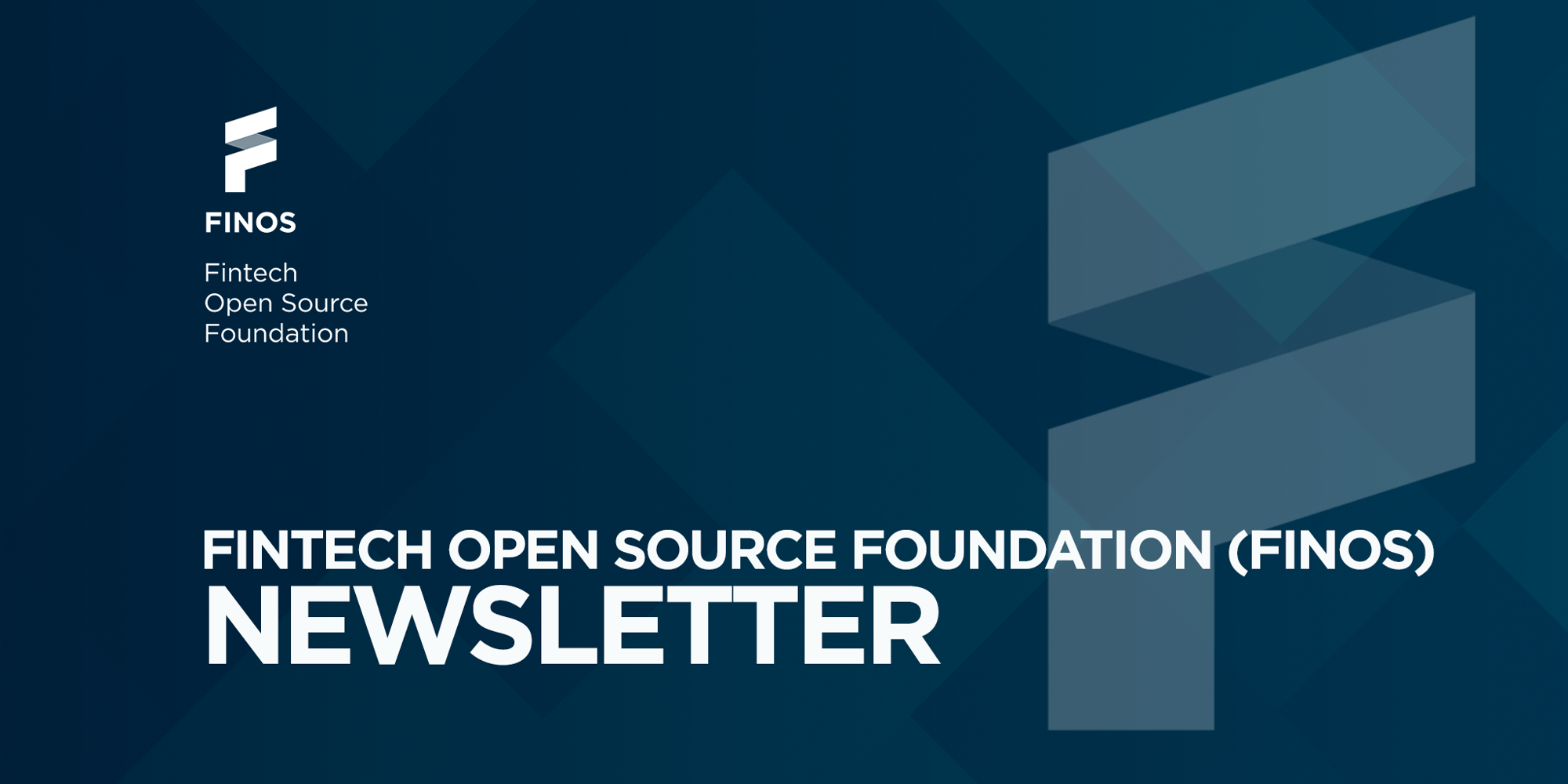 FINOS MONTHLY UDPATE
1 SEPTEMBER 2022
Hurry! The deadline to submit a proposal for our Open Source in Finance Forum NYC is approaching on Monday September 12. Don't miss your chance to speak at the only conference dedicated to driving collaboration and innovation in financial services through open source software and standards. Submit a proposal or register here.
Congratulations to our Executive Director Gabriele Columbro on being named as a finalist for the US Fintech Awards, under the Director of the Year category. The awards will be held virtually on September 15 at 4pm EDT. You can register here to tune into the ceremony.
The 2022 State of Open Source in Financial Services survey has been extended to September 21. If you work in a financial services organization, please take the survey now! You even get a 25% discount for Linux Foundation training and certification courses for completing the survey.
EVENTS
OPEN TECH AFTER WORK

September 12 - Meet FINOS' Director of Community, James McLeod and Marketing Manager, Niamh Parker at Open Ireland Network's event in BrewDog Outpost Dublin. Register here for an opportunity to network with members of the global open source community, including InnerSource Commons and much more.


September 12-14 - Join Hyperledger Foundation in Dublin for the biggest annual gathering of the global Hyperledger community. View the schedule here.


September 13-16 - The Linux Foundation Open Source Summit in Dublin includes a panel with our Executive Director, Gabriele Columbro discussing open source trends across Europe, as well as a presentation from our Director of Community, James McLeod. View the full schedule here.


OPEN SOURCE LEEDS MEETUP

September 20 - Join us along with Scott Logic for the Open Source Leeds Meetup. Hear from speakers including Hilary Carter, VP Research, The Linux Foundation and Neil Stevenson, Principal Engineer, Hazelcast.


September 22 - Join the FINOS DEI SIG for a day of events in London that bring under-represented communities together to explore tech career opportunities through inspiring DEI stories, tech mentoring and network building. Register and find more information here.


WEBINAR: SOFTWARE SECURITY CHALLENGES & OPPORTUNITIES IN BANKING

September 29 - Join our webinar in partnership with Mend at 11am EDT / 4pm BST to hear about software security challenges and banking opportunities. Learn more and register here.
Quick FINOS Updates
For this month's FINOS Community Spotlight, we're delighted to highlight Adrian Hammond, Chief Architect at Red Hat UK for leading the contribution of OpenShift Configuration Documents for GCP to Compliant Financial Infrastructure. Read more here.


OSFF PROJECT EXPO
At OSFF New York in December, we will showcase how FINOS projects and open source contributions are powering business solutions across our community. Do you know of a FINOS project deployed inside your organization? Has your organization made use of FINOS open source to deliver an important solution in a much quicker way? If so, we are asking you to bring your demos to the conference. Please contact the FINOS team at info@finos.org and register your solution for our showcase in December.


The FINOS Team has teamed up with Fintech Sandbox, and we'll be at Boston Fintech Week Sept 27-29!
Fintech is now embedded into all aspects of our lives. No longer merely a subsector of the financial services industry, fintech is an enabler for our own and other industries.
Boston Fintech Week brings the opportunity to make meaningful connections with the innovators, regulators, and investors building the future of financial services. This year's sessions will highlight fintech's impact on the capital markets, banking, custody, payments, insurance, and more.
Reserve your spot today and use discount code FINOS10-BFTW for 10% off exclusively for the FINOS community.

NEW OPEN SOURCE IN FINANCE PODCASTS

Subscribe and listen to our podcasts. Our recent episodes feature:
Read our recent blog posts, including:
This Week at FINOS lets you know weekly events and project meetings - if you'd like to subscribe, please send a note to community+subscribe@finos.org and you'll be added to the mailing list.
LEARN MORE

FINOS Good First Issues - Looking for a place to contribute? Take a look at good first issues across FINOS projects and get your feet wet in the FINOS community.
State of Open Source in Financial Services Report 2021 - Learn about what is really happening around open source in FSI.
This Week at FINOS Blog - See what is happening at FINOS each week.
FINOS Landscape - See our landscape of FINOS open source and open standard projects.
Community Calendar - Scroll through the calendar to find a meeting to join.
FINOS Slack Channels - The FINOS Slack provides our Community another public channel to discuss work in FINOS and open source in finance more generally.
All FINOS Project Good First Issues - A good place to start contributing to, and making a difference in, open source in financial services is by taking a look at the FINOS Good First Issues (GFI) List on GitHub.
Project Status Dashboard - See a live snapshot of our community contributors and activity.
Events - Check out our upcoming events or email marketing@finos.org if you'd like to partner with us or have an event idea.
FINOS Virtual "Meetups" Videos & Slides - Access replays of our virtual "meetups" based around the FINOS Community and Projects since we can't all be in the same room right now.
FINOS Open Source in Finance Podcasts - Subscribe and listen to the first open source in financial services and banking podcast for deeper dives on our virtual "meetup" and other topics.
Interested in FINOS open source projects? Click the link below to see how to get involved in the FINOS Community.