Last month we held our 2019 Members Meeting in London, with well over 100 attendees helping to make the event a great success. Presentations included wide-ranging content focused on progress across our 11 FINOS programs as well as factors influencing our community and open source adoption. We were even treated to a live demo of product functionality delivered as a direct result of collaboration between our members. We'd like to thank J.P. Morgan for hosting us in a fantastic (and convenient) venue.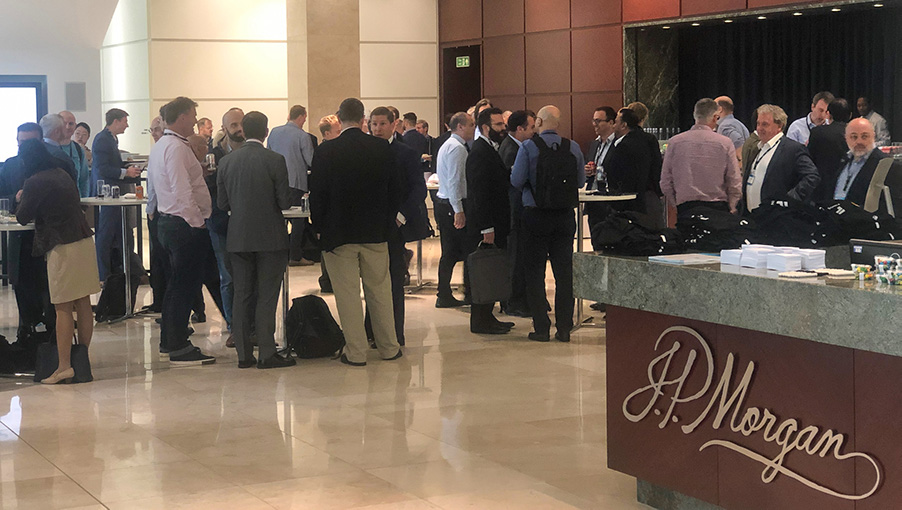 Our attendees represented more than 20 banks, technology companies and consultancies, across a variety of roles including software engineers, developers, architects, product managers, business managers, sales specialists, analysts, quants and more. This is exactly the diversity of roles and experience - with some individuals new to financial services and open source and many others veterans of the industries - that successfully sparks exciting conversations and new ideas about how to shape the future of our industry.
There was a great buzz throughout the event, and many discussions on new ideas for collaboration, validating yet again, that open source deserves a prominent place in financial services. With this positive momentum, we'll continue to progress our agenda through our programs, projects, working groups, meetups, webinars and events and hope you join us soon if you aren't already an active member of the community.
A FEW PRESENTATION HIGHLIGHTS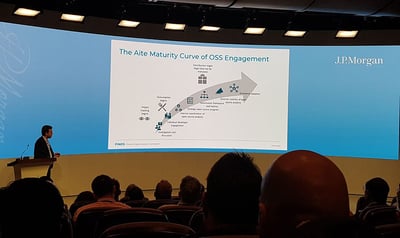 Gab, our Executive Director, highlighted our growing community and activity with 8 new members joining since launch just over a year ago, 11 active programs and hundreds of contributors from around the globe. He also challenged attendees to "network and discuss one pain point you, your customers, your users or your developers have that can be shared or better solved by collaborating with someone in this room". This nicely sums up a primary goal and achievement (based on the feedback we've received) of the members meeting. Read More
Aaron, Director of Governance and OSR PMC Lead, pointed out major activities of the Open Source Readiness (OSR) Working Group, including peer knowledge sharing; facilitating SME presentations from the open source industry and our member firms; and producing resources that support members' open source journeys. He gave members 5 practical ways to help move open source forward in their firms. Read More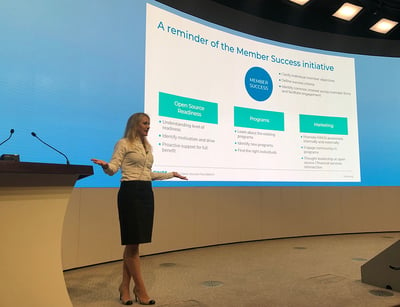 Tosha, Director of Member Success, reminded our members that her role is all about helping them achieve the most out of FINOS and connecting the dots between programs, marketing, open source readiness and member interests. She shared some of the ways our member firms find value in the FINOS, including leveraging this safe space to talk openly about how to address industry challenges and identifying and contributing internal projects that will thrive in FINOS and deliver tools useful to many financial services firms. Read More
Rob, Director of Programs, walked through key initiatives that FINOS is leading to ensure our programs are well run, diverse and accessible. He reviewed the FINOS program health check used each quarter to evaluate progress across a range of categories including diversity & viability; roadmap & resources; quality & security; and growth & adoption. He also discussed ongoing work to improve access to FINOS tools and infrastructure and directed the group to check out a number of helpful resources. Read More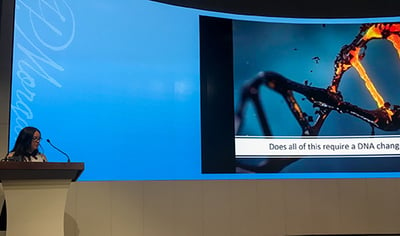 Virginie O'Shea, Director at Aite Group, presented preliminary findings on joint research being conducted by FINOS and Aite examining open source adoption in capital markets. She shared some of the most frequently cited challenges to adoption, such as data security concerns, cultural friction and legal and regulatory concerns. She also talked about different approaches to adoption, drivers, how company size can make a difference, innersourcing practices, and some lessons learned, including that contribution could be a competitive differentiator in the future. Read More
The morning plenary session also included a presentation and live demo from Neil Slinger, Executive Director at J.P. Morgan, and Colin Eberhardt, Technology Director at Scott Logic showcasing the result of collaboration on two open source projects: Perspective, a WebAssembly-based streaming pivot engine by JP Morgan, and D3FC, a data visualisation toolkit by Scott Logic. The two walked through their recent experience, including how their respective teams worked together and the benefits felt by both projects and organizations. Email the Perspective project team to learn more or find out how to get involved.
We had a great variety of presentations in the afternoon, many of which can now be found on our website:
Click here to see the full list of presentations.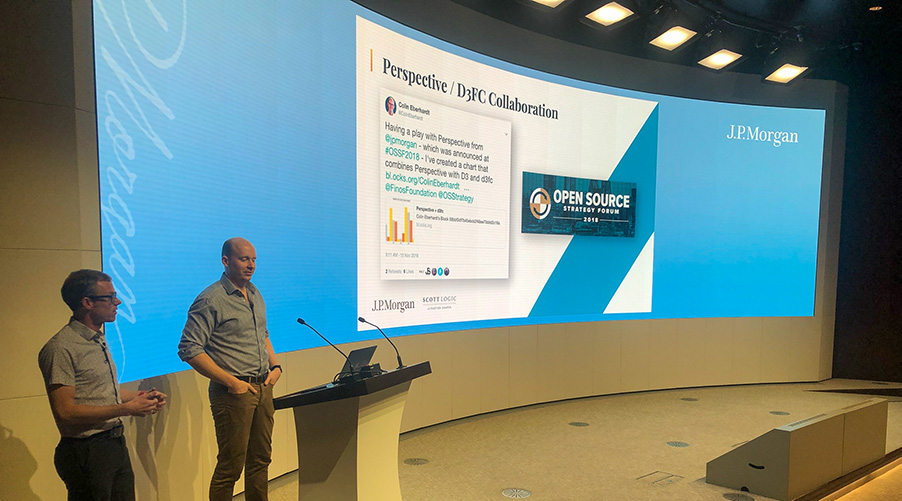 COMMUNITY AWARDS
To celebrate our members' commitment and contribution to our community, we announced the following award winners during our evening networking reception:
Most Active Member, determined by active participation metrics. Winner: OpenFin
Most Active Individual, determined by active participation metrics. Winner: Bruce Skingle, Symphony
Leading the Pack, providing leadership roles in multiple programs. Winner: FactSet
Outstanding leadership, providing leadership across many aspects of our community. Winner: Jamie Jones, GitHub
Breaking the Status Quo, company making significant progress on open source readiness. Winner: JP Morgan
Breaking the Status Quo, individual driving significant progress open source readiness. Winner: Sally Ellard, Deutsche Bank
Spread the Word, member most actively engaging in FINOS marketing. Winner: RedHat
Individual newcomer, individual most active on a FINOS project within the last year. Winner: Philip Broadbent, OpenFin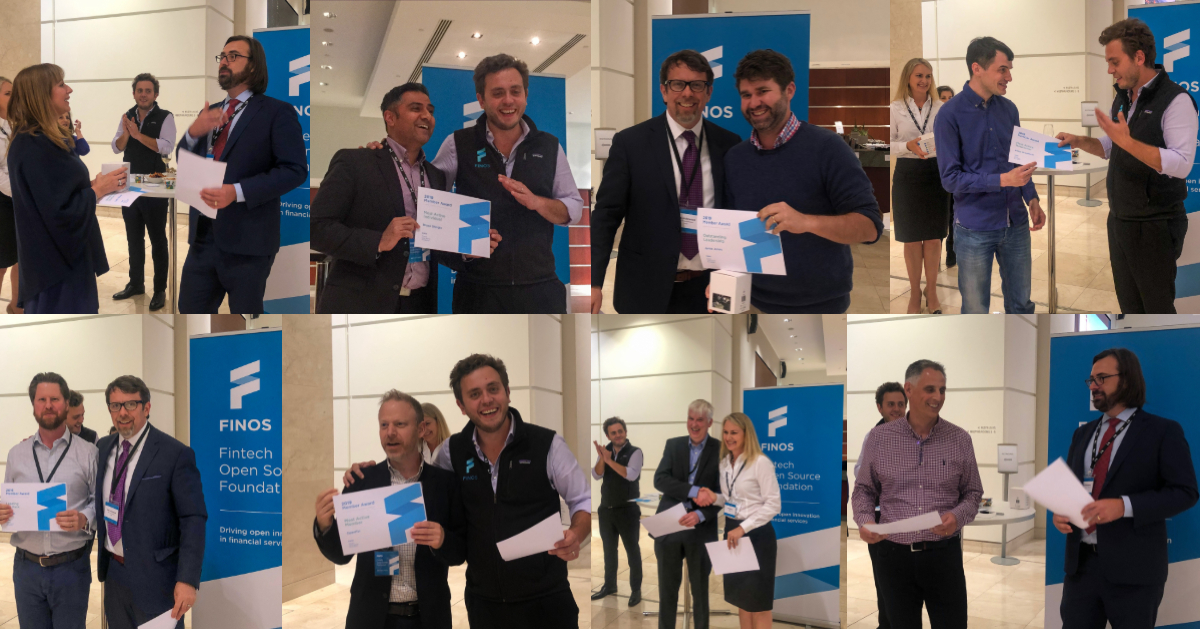 Thank you to all our speakers and participating members. If you were not able to make it, we hope you'll join us next year. For non-members, we hope that the success of this event entices you to join us at our Open Source Strategy Forum in NY in November or even to join the Foundation.
~Tosha Ellison, Director of Member Success