Earlier this month, we successfully hosted the much-anticipated FINOS Open House and Member Meeting at the esteemed JP Morgan building, positioned on the scenic London Embankment.
The events brilliantly displayed the transformative power of open source technology in financial services and underlined the dynamism and impact of our expanding FINOS community. Over 400 attendees learned about FINOS' latest announcements and discussed new projects and collaborations - sparking enthusiasm about fresh areas of potential growth. We extend our deepest gratitude to our superb hosts and FINOS platinum members, J.P.Morgan, for their tremendous support and hospitality.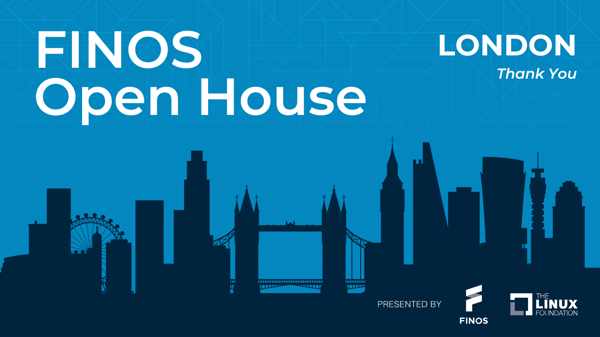 The Open House opened with a noteworthy keynote by our Executive Director Gabriele Columbro, FINOS Governing Board Chair Kim Prado, and CIO, US Capital Markets, I&CB and Office of the COO at BMO. They highlighted an impressive 67% rise in member contribution and a tremendous 2905% growth in the adoption of FINOS projects from the previous year.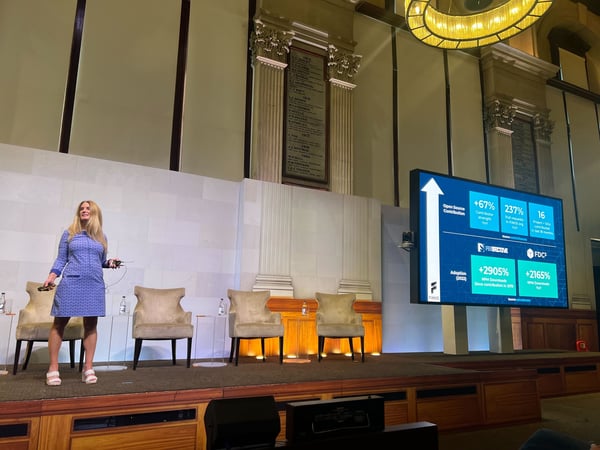 We also unveiled the ambitious FINOS Zenith SIG, aimed at enabling the financial services sector to discover and harness the potential of emerging technologies like Cloud Computing, Blockchain & DLT, Generative AI, Robotics & RPA, to revolutionize the industry. This initiative was launched by Morgan Stanley and Feynic Technology, and we warmly welcome all interested parties to participate in the Zenith SIG. The Zenith Brain Trust will assemble deep tech experts with FINOS members to actively steer emerging technologies within the financial services open source industry. Read the full press release here.
Our collaboration with the Regtech Association for the Open House enhanced inter-community collaboration, exchanging cutting-edge innovations in OpenRegtech that focus on solving issues and promoting transparency and alignment. The Members Meeting saw us delve into essential discourse and problem-solving on key regtech developments in FS in a session steered by PJ Di Giammarino, the CEO and founder of JWG.
As active champions for Diversity, Equity and Inclusion (DEI), we hosted three sessions focusing on our DEI SIG's work on Big Boost Mondays and future plans; a discussion panel on Advancing Diversity with Code First Girls, NatWest, R3, and Tech She Can, discussing the practical steps and systemic changes needed for attracting and retaining women in the financial services industry; and an Accessibility Driven Application Development panel showcasing how innovation and inclusive design can create a perfect user experience for vulnerable customers.
We shared inventive use cases from our two recent hackathons: FINOS Global Accessibility Awareness Day (GAAD) Hackathon (held internationally) and the FINOS Interoperability & Regtech Hackathon, held at the Bank of Montreal's (BMO) offices in NYC and London, courtesy of Major League Hacking, RBC, Discover, and turntabl.
We recognized Wellington, a buy-side firm, for their groundbreaking FDC3 Java API project which contributes to the development of a standardized Java API for FDC3. We also acknowledged Morgan Stanley and UBS for their TraderX project, a sample trading application that allows experimentation with various other open source projects, such as GitHub Codespaces, Vuu and FDC3.
These hackathons are representative of our various activities and initiatives to stimulate practical open source innovation and foster community collaboration. that promote open source in finance and foster community collaboration. You can explore the challenges and meet the winners of the GAAD hackathon here and find more information about the use cases and winners from the FINOS Interoperability & Regtech Hackathon here.
In the closing keynote, we launched the 2023 State of Open Source in Financial Services Survey. Your participation in this survey will help us evaluate how the financial services industry is utilizing open source, the challenges it faces, and the potential for collaboration. We are excited to partner with the Linux Foundation Research, GitHub, Red Hat, and Scott Logic. Don't miss the opportunity to share your insights before the survey closes on August 5th, 2023. Take the survey now.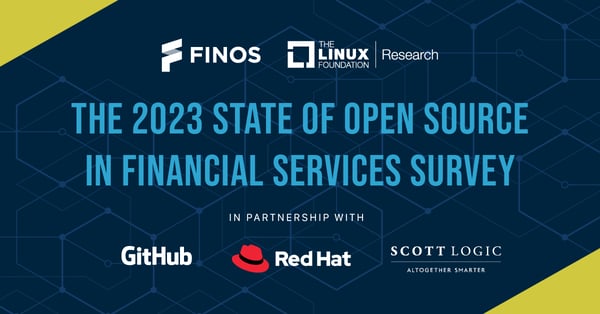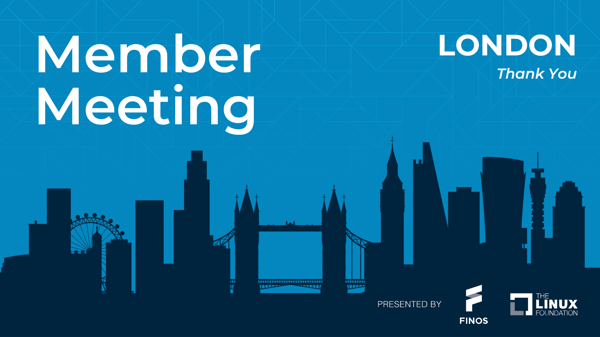 The FINOS Member Meeting day opened with FINOS Executive Director Gab Columbro's announcement of the new FDC3 training/certification and JP Morgan's Managing Director, Global Head of Engineering and Architecture CIB Camille Fournier's keynote on essential open source initiatives that tackle problems and boost efficiency in financial services.
The Member Meeting was run under Chatham House Rule in order to allow members to receive member-only announcements on the direction of FINOS and our projects. This also allowed for confidential discussions through member-led roundtables in emerging areas such as payments, AI & LLMs, open source software supply chain security, regtech, and cloud controls to be keenly explored and assessed for future planning.
Open Source Readiness and Interoperability remain paramount for most FINOS members and were the focus of numerous workshops led by Rob Moffat of FINOS in collaboration with maintainers and contributors. These engaging sessions provided an opportunity to delve into an array of essential areas which will form the basis for planning the next stage of our strategic initiatives.
During the event, we announced the availability of the FDC3 2.0 Conformance Program and the introduction of a new class of FDC3-compatible Desktop Agents. This development expands our offerings to a total of nine software products across FDC3 1.2 and 2.0. The FDC3 1.2 Conformance Program, completely open source and developed with the support of Scott Logic, was originally announced together with the first FDC3 1.2 certified desktop agents interop.io (formerly Finsemble and Tick 42's Glue42 Enterprise, which merged earlier this month) and FINOS' own open source FDC3 Sail in December 2022. We are proud to accelerate interoperability and collaboration in financial desktop applications which delivers efficiency and cost savings. To learn more, read the full press release here and check out a thought leadership piece from Gagan Singh, Senior Developer at Scott Logic on how to develop talent for your business
The Member Day provided an opportunity for FINOS and our members to demonstrate how open source contributions are driving business solutions through our Project Expo. Projects such as the Common Domain Model (CDM), GitProxy, FDC3 and Perspective highlight the potential to address business issues such as interoperability, compliance and regulation.
If you're interested in showcasing your project at our upcoming Open Source in Finance Forum on November 1st, register your interest here or contact our Project Manager, eteri.dvalishvili@finos.org for more information.
The event concluded with an awards ceremony recognizing significant contributions to open source in financial services by our members. Kudos to Morgan Stanley, Bank of Montreal (BMO), turntabl, Discover, Citi and Wellington.
For those who missed out on the exclusive Member Meeting on June 15th, we encourage you to explore the benefits of becoming a FINOS member. Visit our membership benefits page, read the overview or contact Rimma Perelmuter, our VP of Strategic Growth, at membership@finos.org for more information.
Finally, we extend our heartfelt thanks to everyone who attended the Open House and Member Meeting. Together, we are forging the future of finance and effecting essential change in our industry. Remember to register for our Open Source in Finance Forum in NYC on November 1st. Register here and stay tuned for more updates!
The FINOS Team!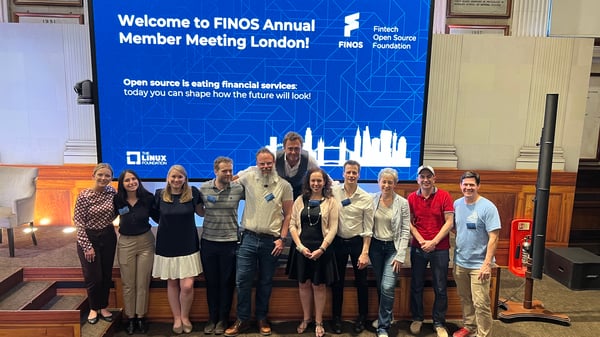 Interested in this FINOS open source project, or any of our other projects? Click the link below to see how to get involved in the FINOS Community.