This year's New World Symphony, powered by the Symphony Software Foundation, was an exciting day of coding and workshopping that got us one step closer to a "new world" of work within the Symphony platform.
The goal of New World Symphony was simple to explain, but challenging in execution:
Create bots, integrations or apps with Symphony
Leverage existing on-going projects, or start new ones
Finish the project during the New World Symphony 2016
The day began with opening remarks from Gabriele Columbro, the Foundation's executive director, and Paul Teyssier, Symphony's head of platform product management.
By 10 am, everyone was in their seats and hard at work coding various projects--from machine learning to automation tools to research bots, the teams were up to the challenge and ready to impress the judges!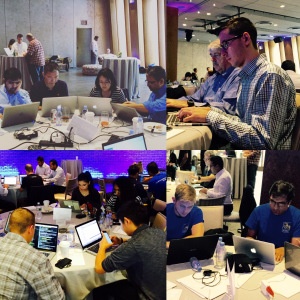 While there were several benefits that came along with contributing a project to Symphony at NWS, including the access to Symphony API and support of our developer community, the deal was sweetened with the following additional prizes:
Best Enterprise: The best project developed by a Symphony customer/end user was awarded a donation of $5000 to a charity of their choice
Best Partner: The best project developed by a Symphony partner was awarded a donation of $5000 to a charity of their choice
Best Contribution: The best project that was contributed to the Symphony Software Foundation was awarded a GoPro Karma!
The morning was filled with buzzing discussions, rapid coding and networking moments among the teams. Before we knew it, lunchtime arrived—and we had quite the spread!
After a delicious assortment of sandwiches, salads, bruschetta and more, the developers went back to coding for the final half of the NWS.
During these last four hours, teams polished their projects and presented to the judges so that the process of selecting a shortlist could begin. There was plenty of networking along the way as well!
Once coding was completed, the judges announced the finalists— it was a close competition and all of the projects were fantastic, but the judges selected three finalist projects per category:
Enterprise
JPM - Data Query
RBC - Research & Obé
T. Rowe Price - Trending Bot
Partner
Fintech Studios - Module State Manager
Koyfin - Research Bot
Zoom.ai - Virtual Assistant
Contribution
BNY - Assistant Bot
Tick 42 - Excel RFQ Conversation
Wells Fargo - Autosys Integration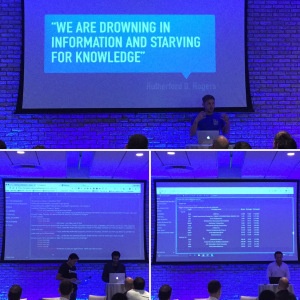 After final deliberations, the judges announced the winners of this year's New World Symphony.
Enterprise: T. Rowe Price - Trending Bot
Partner: Fintech Studios - Module State Manager
Contribution: Tick 42 - Excel RFQ Conversation
Congratulations to all of our winners! They all really stood out and we are proud of what they have accomplished!
All in all, the Foundation is thrilled that the event was such a success! The creative energy was tangible in the room throughout the entire day, and the Foundation values all of the amazing projects that were contributed.
Thank you again to everyone who participated in this year's NWS - it would not have been possible without you. A special thanks goes also to the organizing team who did a phenomenal job in making this event a success: mentioning everyone would be too long but we want to send a shout out to
Paul Teyssier (Head of Platform Product Management @ Symphony)
Frederic Stemmelin (VP of BizDev @ Symphony)
Maurizio Pillitu (Director of Devops & Release Management @ SSF)
Peter Monks (VP of Technology @ SSF).
Contributed projects are undergoing the contribution process and will be available in the Foundation Github org as soon as they are approved.
And now, we look forward to Symphony Innovate today!