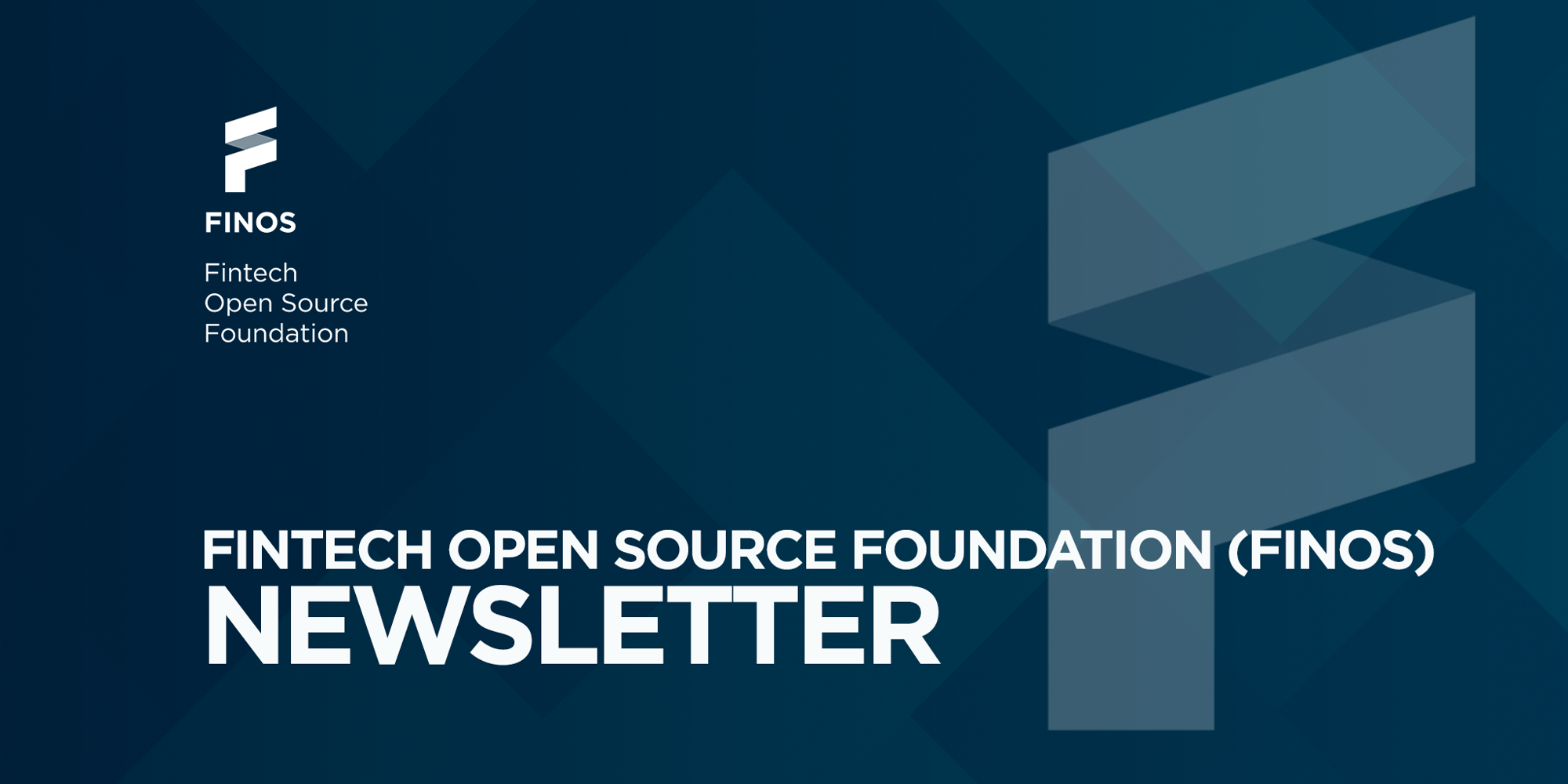 FINOS QUARTERLY NEWSLETTER
16 JULY 21
Happy Friday! In this quarterly newsletter we highlight upcoming events, call attention to new community tools, introduce a new project contribution, welcome you to the FINOS Community Store, share some community updates, and provide a roundup of some highlights from the quarter.
FINOS NEWS & UPDATES
Q3 all community call - 21 july 21
Join the FINOS Q3 All Community Call on Wednesday July 21st at 10am ET / 3pm BST where the FINOS team and wider FINOS Community will provide updates on what's happening within the foundation as well as what's coming up.
FINOS Project and SIG Updates
---
State of Open Source in Financial Services Survey closing July 23rd
This is your last chance to complete the State of Open Source in Financial Services survey that FINOS and its research partners, Linux Foundation Research, Scott Logic, Wipro, and GitHub, are conducting as part of a research project on the state of open source adoption, contribution, and readiness in the financial services industry.
---
open source strategy forum (OSSF) call for papers / speakers closing July 23rd
Interested in speaking to hundreds of your peers, or reaching a focused audience centered around open source technology in financial services and fintech? The CFP for both OSSF London and NYC has been extended just for our FINOS Community.
Apply To Become A Speaker At Either OSSF London Or NYC Here
---
LFX InSIGHTS FOR FINOS
FINOS is delighted to share that we are rolling out LFX Insights for FINOS projects and special interest groups (SIGs). Insights gives you complete visibility into project performance and ecosystem trends. It helps you understand your contributor community and make informed decisions with analytics and reporting tools.
Learn About Available Features | See FINOS Insights Activity | FINOS Insights Leaderboard
---
TIMEBASE COMMUNITY EDITION CONTRIBUTED TO FINOS BY EPAM
FINOS is proud to announce that EPAM's contribution of TimeBase Community Edition is now available for the FINOS Community to consume and leverage from the timebase-ce repository in GitHub.
Read More About The Contribution & Project Here
---
FINOS LEGEND EVENTS & INFO
At the end of July, we have two great events coming up featuring the FINOS Legend project that you can sign up for. Legend 101 on July 27 will be a primer for users regardless of technical or data modeling background. Legend Feature Deep Dive on July 29 will talk about the most recently launched features of the project. And... as a little bit of a primer for the primers... below is a link to a Goldman Sachs interview with Pierre De Belen, Goldman's head architect for Legend.
Legend 101 July 27 | Legend Deep Dive July 29 | Goldman Sachs Legend Article
---
THE FINOS COMMUNITY STORE IS OPEN FOR BUSINESS
We've opened the FINOS Community Store this week. You'll be able to get sleek t-shirts, socks, and hoodies from the store as either giveaways at FINOS events, or you can also earn them as contributors to our open source projects.
Can't wait and need your #FINOSswag to be an #OSTechBanker - then use this coupon code FINOSWELCOME20 for the next week to receive 20% off.
FINOS Store |Become A Contributor
FINOS PROJECTS AND COMMUNITY
FINOS COMMUNITY UPDATES
Welcome new FINOS Community Manager - Julia Ritter | julia.ritter@finos.org
EasyCLA is now at FINOS - Learn About The LFX Tool EasyCLA
FINOS Updated Contribution Page - Learn How To Contribute To FINOS
Great resources / presentation on Open Source Project Health -
This Is Why Your Organization Needs A Chief Open Source Officer - Community Blog Post by Wipro
The Future Of Banking Is Open - Community Blog Post By Canonical
Community Spotlights for Q2 - See All Of Our Great Contributors
FINOS Project Good First Issues have been updated - Find Projects You Can Contribute To Now
join us
upcoming finos & community events
21 July 21 - All Community Call
27 July 21 - Legend Community Meeting - Legend 101
28 July 21 - Open Source in Finance Webinar - Can The Internet Of Things Transform Retail Banking?
29 July 21 - Legend Community Meeting - New Feature Deep Dive
3-4 August 21 - GitLab Commit (Virtual) 2021
4 August 21 - Open Source Readiness SIG Launch
22-23 September 21 - Open Mainframe Summit
4-5 October 21 - Members Meeting & Open Source Strategy Forum - London
6 October 21 - OSPOCon Europe - London (The day after OSSF London)
9-10 November 21 - Members Meeting & Open Source Strategy Forum - NYC
---
ICYMI PODCASTS
Subscribe and listen to our podcasts on Open Source in Finance - here are some you might have missed this quarter.
Assessing the Health of an Open Source Project - Open Source Readiness
Open Source in Finance in the APAC Region - with Peter Lees of SUSE
Accelerating DevOps, Cloud and Agile Transformation in Banks with Rancher
Understanding the InnerSource Checklist
The FINOS Perspective Project - Interview With Andrew Stein of J.P. Morgan Chase
FINOS Beginnings and What's Important - Interview with FINOS ED Gabriele Columbro
Apple Podcasts | Anchor.fm | Spotify | Google Podcasts
Also enjoy this 11FS Fintech Insider podcast that our ED Gabriele Columbro participated in: Insights: Embedded and Open Source Finance - Commoditizing the Building Blocks
LEARN MORE
This Week at FINOS Blog - See what is happening at FINOS each week.
FINOS Landscape - See our landscape of FINOS open source and open standard projects.
Community Calendar - Scroll through the calendar to find a meeting to join.
FINOS Slack Channels - The FINOS Slack provides our Community another public channel to discuss work in FINOS and open source in finance more generally.
All FINOS Project Good First Issues - A good place to start contributing to, and making a difference in, open source in financial services is by taking a look at the FINOS Good First Issues (GFI) List on GitHub.
Project Status Dashboard - See a live snapshot of our community contributors and activity.
Events - Check out our upcoming events or email marketing@finos.org if you'd like to partner with us or have an event idea.
FINOS Virtual "Meetups" Videos & Slides - Access replays of our virtual "meetups" based around the FINOS Community and Projects since we can't all be in the same room right now.
FINOS Open Source in Finance Podcasts - Subscribe and listen to the first open source in financial services and banking podcast for deeper dives on our virtual "meetup" and other topics.
Interested in FINOS open source projects? Click the link below to see how to get involved in the FINOS Community.
Thanks!
~ The FINOS Team