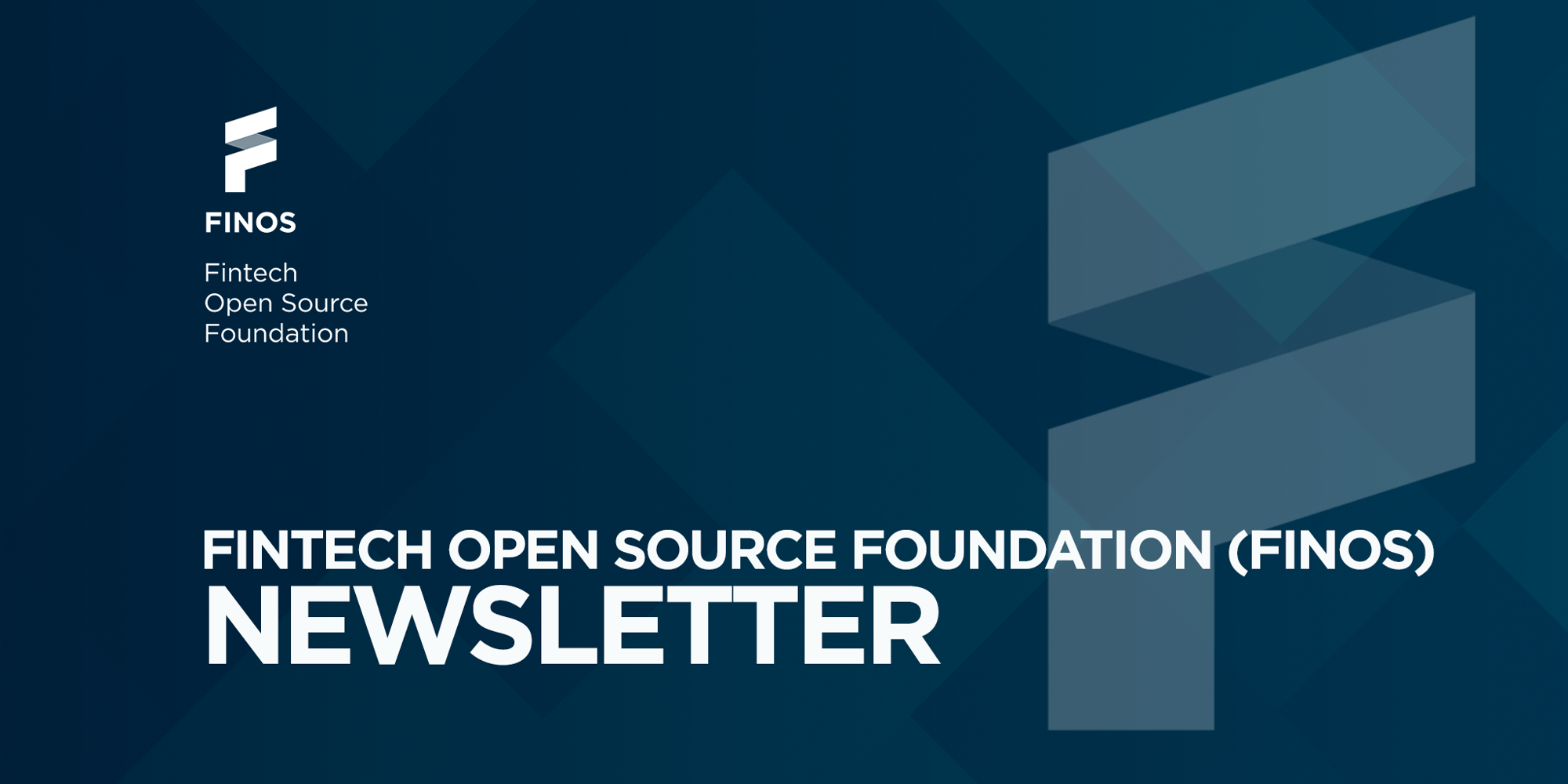 FINOS FRIDAY UPDATE NEWSLETTER
09 OCTOBER 20
SPECIAL EDITION: OPEN REGTECH
Recently we launched the Open RegTech initiative to explore and promote opportunities for open collaboration between financial institutions, technology firms, service providers and regulators.
We believe that open source software and standards can change the way financial regulation is implemented, supervised and complied with, and are thrilled by the interest we have received from both regulators and the industry. Keep reading to find out what we're doing to promote awareness and identify specific opportunities for collaboration.
---
Open RegTech landing page
Our page is live at finos.org/open-regtech, your go-to place for all things Open RegTech, including projects, events, news coverage and blog posts.
---
Alliance for Innovative Regulation (AIR)
We're delighted that the Alliance for Innovative Regulation (AIR) has joined as the first FINOS Associate Member. AIR is a nonprofit dedicated to modernizing the financial regulatory system, and works at the intersection of technology, innovation, and regulation seeking to catalyze and shape a digital transformation of financial regulation.

We've been working with AIR since launching Open RegTech: in May, our Executive Director Gabriele Columbro and COO Tosha Ellison were guest presenters at AIR's Open Source Deep Dive for Regulators, a webinar attended by over 40 US and UK financial regulators.
---
Morphir
Morphir, developed by Morgan Stanley and recently contributed to the Foundation, was born out of a desire to give business users more application transparency while also protecting core business logic from rapid changes in technology. At its core, Morphir defines a standard structure for storing business logic and a set of tools to enable producing and consuming that logic across languages and technologies. It has been used to consolidate rules and calculations, share logic across systems, automate live documentation, and RegTech modeling. Reach out to help@finos.org if you'd like to get involved.
---
What objections would a regulator have to open source?
In his recent article, Matt Barrett, CEO of FINOS member Adaptive, argues that RegTech is a strong candidate to become a utility, and to be open sourced. Matt looks at some of the potential concerns a regulator might have with this model.
---
Open RegTech in the news!
In June 2020, Rebecca Natale, Waters Technology, reported on a conversation with our Executive Director Gabriele Columbro, on the vision and progress of the Open RegTech initiative in FINOS Sees Opportunity for Open Source in RegTech Space.
LOOKING AHEAD TO Q4, WE'RE EXCITED TO CONTINUE THE WORK STARTED IN Q3, AND ENGAGE IN NEW REG-RELATED ACTIVITIES
Open RegTech SIG (Special Interest Group)
The new FINOS governance enables the creation of Special Interest Groups within FINOS. SIGs are meant to bring together financial services stakeholders to define problem statements in a specific area that can be tackled through open source collaboration. AIR and ING have proposed the creation of a "Regulation Innovation Special Interest Group (SIG)", and FINOS members Adaptive, Capital One and JP Morgan have already expressed their interest, along with other industry participants. Please add your thoughts to the comments on the issue.
---
Regulation, Risk & Compliance Track at OSSF
Join us on November 12-13 for our virtual Open Source Strategy Forum. OSSF is the only conference dedicated to driving collaboration and innovation in financial services through open source software and standards. Check out the schedule for the Reg, Risk & Compliance Track with speakers from the Alliance for Innovative Regulation, the Consumer Financial Protection Bureau and Google. Register here.
---
AIR Tech Sprint
FINOS' newest Associate Member AIR (Alliance for Innovative Regulation) is bringing together a diverse set of stakeholders to surface new models of traceability and technological solutions to improve anti-money laundering tools and processes around cryptocurrencies at their upcoming Tech Sprint. Learn more and register here.
---
Get involved
Sign up for Open RegTech updates here.
Register your interest in the Regulation Innovation Special Interest Group here.
Reach out to aitana.myohl@finos.org with ideas around Open RegTech, including speaking and collaboration opportunities, projects, and use cases.