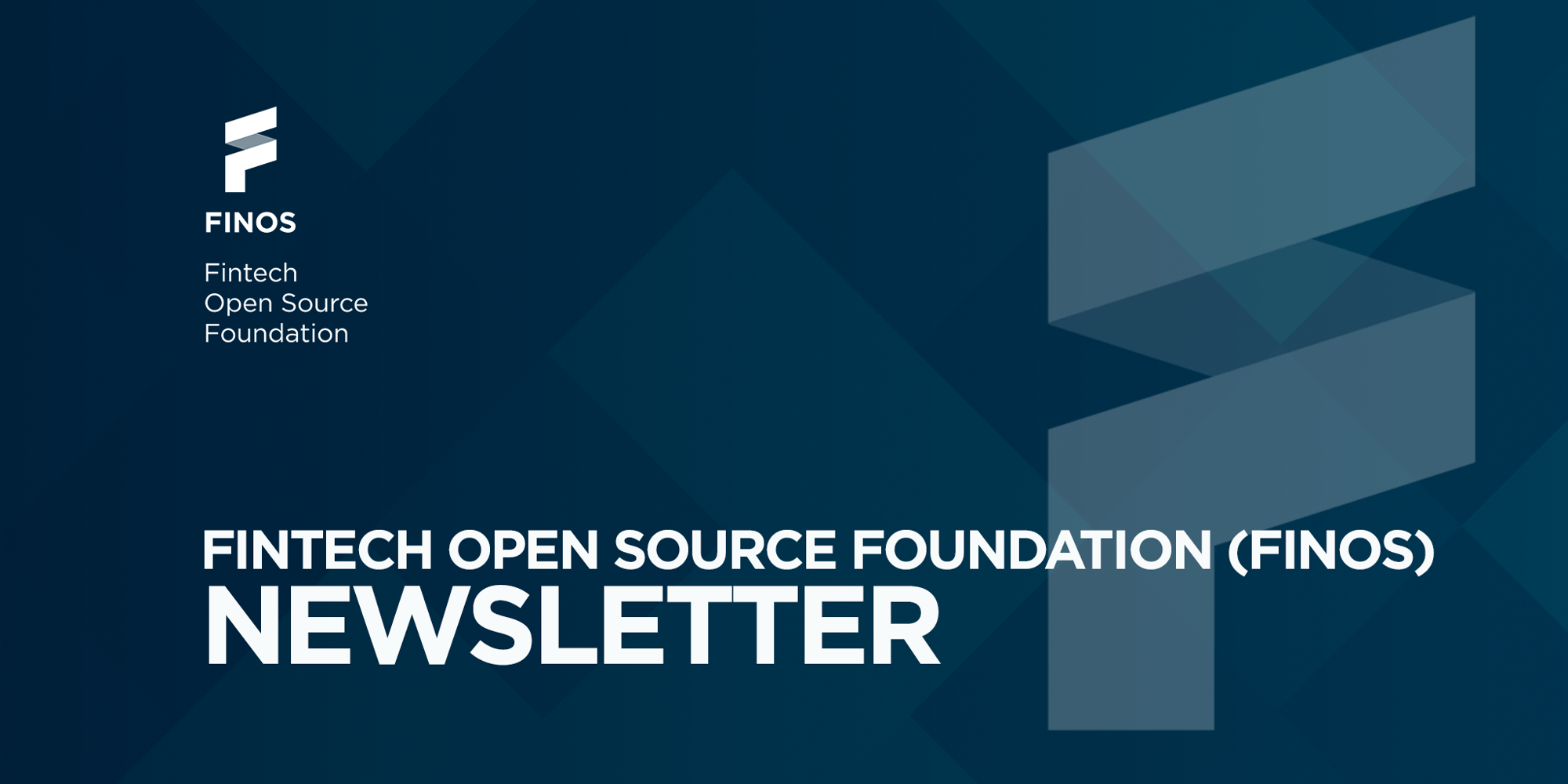 FINOS FRIDAY UPDATE NEWSLETTER
16 OCTOBER 20
We hope you are all staying safe (and sane) during these times.
Read below to keep up to date with the many activities happening at FINOS.
FINOS NEWS & UPDATES
OSSF keynotes announced!
We have a great lineup of keynote speakers this year from organizations who really know finance and open source. You'll hear from representatives at Goldman Sachs, Citi, GitLab, Red Hat, Morgan Stanley, and many more. Check out the schedule to find out what they'll be talking about.
Don't forget that FINOS members attend free. Email ossf@finos.org to get your FINOS member access code.
OSSF Press Release and Keynote List
Members: Email us for Registration Code
---
NEW CONTRIBUTION - Symphony Java TOOLKIT
Deutsche Bank recently contributed a suite of Symphony Java libraries - developed from the ground up - that interoperate together, are well documented, and have been field-tested within the bank. These address common concerns around identity management, integration testing, and "circle-of-trust" while delivering valuable client-focused functionality such as request-for-quote (RFQ), building orders, and sharing axe information. Deutsche Bank is looking forward to working with the community to continue to build out an open source best-of-breed Java software stack that can be used by all Java developers working with Symphony.
---
Community Spotlight -

ALFRED TOMMY
As part of our celebration of the FINOS community we're recognizing the awesome work of our open source contributors and the wider FINOS community. For this fourth edition we'd like to highlight Alfred Tommy, Cloud Native Engineer and Solutions Architect at Searce, GCP specialists and Google Cloud Partner, for the cloud expertise and quality of work he brings to the FINOS Cloud Service Certification open source project.
Cloud Service Certification Business Problem & Opportunity
Cloud Service Certification GitHub Repo
---
OSSF FEATURED SPEAKER -

Keesa SCHREANE
We're excited about the many fantastic speakers we'll have at OSSF this year, including Keesa Schreane, Director, Risk and ESG Partner Management at Refinitiv. Keesa also hosts the Refinitiv Sustainability Perspectives Podcast and is the author of Corporations. Compassion. Culture: Leading Your Business Toward Diversity, Equity and Inclusion, coming out in March 2021. Keesa will be talking about creating an inclusive digital community, a very real challenge in financial services and open source.
---
FINOS IN THE NEWS
FINOS has recently had some great interviews and coverage in both finance and tech publications and podcasts. Here are a few recent ones:
FinTech goes Open Source with Rob Underwood - Wharton FinTech
The FinTech Podcast with Gabriele Columbro - FinTech Magazine
CHAOSS Talks OSS Metrics Lessons Learned with Rob Underwood - CHAOSScast
Morgan Stanley & EPAM Systems Contribute to FINOS Open Source Movement
The Role of Open Source in Uncertain Times
presentations & PODCASTs
OPEN SOURCE READINESS GUEST SPEAKERS
The FINOS Open Source Readiness project helps member firms accelerate their journey towards open source readiness. We've lined up some great guest speakers over the past year, and here are a couple recent videos from these presentations.
Patents and Open Source: Working with "Mixed" IP Strategies
Innersource as the First Step Toward Open Source
Perspectives on Internal Training of Open Source Matters within Organizations
---
VIRTUAL "MEETUP" TALKS
In April we shifted our focus from in-person events, to virtual. We love meetups, and wanted to provide a space to help foster the community "feel" inherent in those meetups. Our FINOS Virtual "Meetup" guest speakers have done a great job in helping to rebuild some of the community feel we've lost over the past months with interesting and informative topics on FINOS projects, open source in financial services, and even the background story on a COVID contact tracing app. Here are some of the most recent videos and slides.
EPAM - Introduction to TimeBase Community Edition
Exploring the FINOS Maintainers' Cheatsheet
Introducing Waltz, an Open Enterprise Project
---
OUR PODCAST - FINOS OPEN SOURCE IN FINTECH
Did you know that FINOS has a podcast? Our Director of Community, James McLeod, regularly speaks with our community about FINOS projects and interesting topics at the cross section of financial services and open source. Check it out, subscribe, and don't forget to rate us (5 stars)!
Introducing Waltz, an Open Enterprise Project - Waltz Team
Debunking Common Fears about Open Source - Danese Cooper
Apple Podcasts | Anchor.fm | Spotify
join us
For a full weekly list of meetups, webinars, and other open source project oriented meetings, please refer to "This Week at FINOS", and sign up for the email that comes out every Monday. (Email community+subscribe@finos.org to be automatically added to the distribution.)
UPCOMING VIRTUAL MEETUPS & CONFERENCES
OSR Guest Speaker: Open Data Licensing - October 28th at 10am ET / 3pm BST
Virtual Conference: The Linux Foundation Open Source Summit 2020 - Virtual Experience - October 26th to October 29th
Virtual Conference: The Linux Foundation Open Source Summit 2020 - FINOS Mini-Summit - Thursday, October 29th at 8am ET / 1pm GMT
Virtual Conference: FINOS Open Source Strategy Forum - November 12th to 13th (Schedule Just Announced)
To catch recaps, videos, slides, and podcasts of previous virtual "meetups", as well as other helpful FINOS resources, visit our Knowledge Base page.
GET INVOLVED
This Week at FINOS Blog - See what is happening at FINOS each week.
FINOS Landscape - See our landscape of FINOS open source and open standard projects.
FINOS Project Catalog - Search all of our Programs, Projects and Working groups.
Project Meeting Calendar - Scroll through the calendar to find a meeting to join.
Program Status Dashboard - See a live snapshot of our community contributors and activity.
Events - Check out our upcoming events or email marketing@finos.org if you'd like to partner with us or have an event idea.
FINOS Virtual "Meetups" Videos & Slides - In April of this year, we started a series of virtual "meetups" based around the FINOS Community and Projects since we can't all be in the same room right now.
FINOS Open Source in Fintech Podcasts - We also started one of the first open source in fintech and banking podcasts for deeper dives on our virtual "meetup" topics.
Interested in FINOS open source projects? Click the link below to see how to get involved in the FINOS Community.
Thanks!
~ The FINOS Team