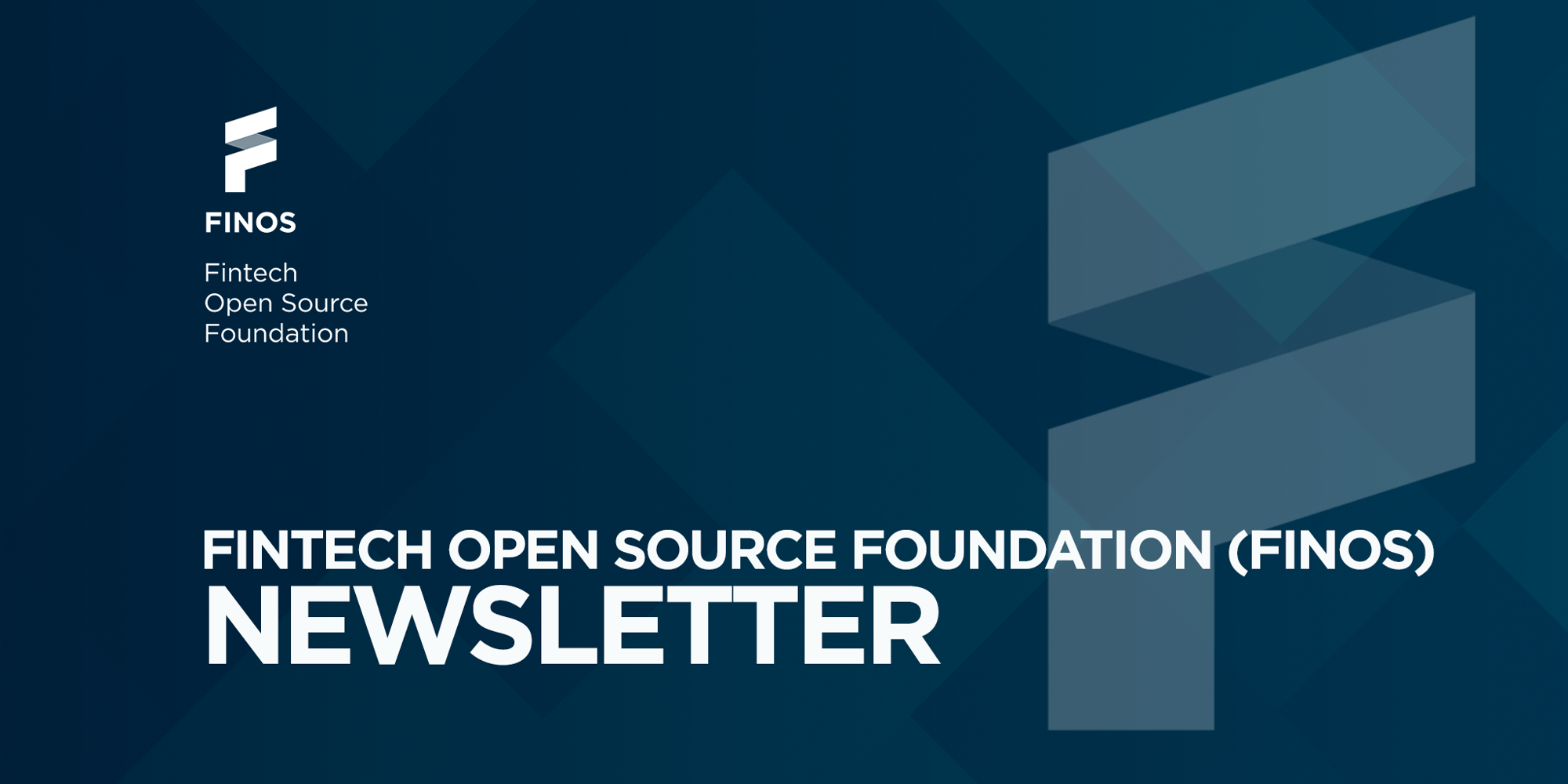 FINOS FRIDAY UPDATE NEWSLETTER
5 NOVEMBER 21
Happy Friday! In this issue we share news on contributions, partnerships, meetings, meetups, and major events. Read on to find plenty of ways to engage with the FINOS Community and projects.
NEW YORK 9 & 10 NOV - MEMBER MEETING & OSSF
Last chance - The FINOS Member Meeting & OSSF are next week... Members get in free to both events.
Member (only) Meeting
Tuesday, November 9th, 12pm-6pm, New World Stages, 340 West 50th Street, New York
Full Schedule | Registration (Free registration for FINOS Members)
Open Source Strategy Forum (OSSF)
Wednesday, November 10th, 8am-6:30pm, New World Stages, 340 West 50th Street, New York
Full Schedule | Registration (FINOS Members register for free)
FINOS NEWS
FINOS AND EDM COUNCIL PARTNERSHIP
Wednesday, FINOS and the EDM Council (a cross-industry trade association for data management and analytics) announced a partnership, to accelerate the implementation of the Cloud Data Management Capabilities (CDMC) framework via an end-to-end open source testing and infrastructure-as-code suite. This would be the first open source suite to accelerate cloud compliance for financial services. This partnership will allow automatic configuration of deployments to reach full compliance through the FINOS' Compliant Financial Infrastructure project (formerly known as Cloud Service Certification) which will host infrastructure-as-code for the leading CSPs.
Read More About The Partnership Here
---
GAB SHORTLISTED FOR BENZINGA FINTECH AWARDS
Thank you for voting for our Executive Director Gabriele Columbro for the Benzinga Fintech Awards in the "Most Impactful Fintech Executive". Gab is listed in the top three of the category that had a lot of great nominations.
---
THE STATE OF OPEN SOURCE IN FINANCIAL SERVICES (REPORT) PODCAST
We just recorded an interview with two of the authors of the report, Hilary Carter, VP of Research, Linux Foundation & Tosha Ellison, Strategic Advisor, FINOS - so get more insight into the why and how of the survey, unexpected findings, and key takeaways.
Download the Report | Listen to the Podcast
FINOS PROJECTS AND COMMUNITY
FDC3 WORKBENCH CONTRIBUTION
Introducing FDC3 Workbench Contributed to FINOS by the developers of Finsemble (Press Release)
Now you can easily implement and test FDC3 support in your application with the open source FDC3 workbench. Learn the FDC3 API and verify that your application communicates correctly with other applications using FDC3 protocol.
FDC3 Website | FDC3 GitHub Repo | Use the FDC3 Workbench
---
SYMPHONY WDK CONTRIBUTION
Symphony WDK was successfully contributed to the Application / Symphony Ecosystem and it's now available as a FINOS hosted project at https://github.com/finos/symphony-wdk.

The WDK 1.0 is the latest version of the Symphony Workflow Developer Kit, enabling developers to define Symphony-based workflows using a descriptive language.
The most current release is 1.0.0-RC, available for download: https://github.com/finos/symphony-wdk/tree/1.0-rc
Documentation is available at https://github.com/finos/symphony-wdk/blob/1.0-rc/docs/getting-started.md. We are also preparing a free training and certification program that will be available soon on https://developers.symphony.com/.
---
PROJECT RECRUITMENT: COMPLIANT FINANCIAL INFRASTRUCTURE & OPEN COMPLIANCE FOR CDMC
With this week FINOS and the EDM Council announcing the first open source cloud compliance standards for financial services, there is now a need new maintainers for the Compliant Financial Infrastructure and Open Compliance for CDMC projects. Visit the links below to apply.
Maintainers Wanted for Compliant Financial Infrastructure

Maintainers Wanted for Open Compliance for CDMC
---
FINOS APAC Webinar in November
Leading financial services companies are embracing open source as a key driver for innovation and efficiency. Companies globally are collaborating to deliver better code, faster, and solve industry challenges.
How can financial services and fintech companies in Asia Pacific join and benefit from this collaboration? FINOS, along with Morgan Stanley, and Wipro will hold this special Asia Pacific webinar on Wednesday 17th November to answer these and other key questions.
---
FINANCIAL OBJECTS: PRODUCT CONTROL COMMON TEMPLATE MEETING
We have scheduled our next Product Control Common Template working group meeting on Monday, 8 November @ 10am ET / 3pm GMT. Join for a quick recap of the proposed data transformation workflow with a full demo. The project leads will be sharing important updates on the project as well as sharing details on how banks & vendors can replicate the testing on their internal installations.
Financial Objects SIG Repo | Calendar Invite
JOIN US AT THESE RELEVANT EVENTS
9-10 November - Members Meeting & Open Source Strategy Forum - NYC
---
17 November - FINOS APAC Meetup
recent podcasts
State of Open Source in Financial Services Interview - Hilary Carter, Linux Foundation Research & Tosha Ellison, FINOS
FINOS Debrief 29 October 21 - Grizz Griswold, FINOS
Linux Foundation Research & The State of Open Source in Financial Services - Hilary Carter, Linux Foundation, Gilles Gravier, Wipro Ltd., & Colin Eberhardt, Scott Logic
FINOS & OSSF London Debrief 14 October 21 - Grizz Griswold, FINOS
Subscribe and listen to our podcasts on Open Source in Finance.
Apple Podcasts | Anchor.fm | Spotify | Google Podcasts
LEARN MORE
This Week at FINOS Blog - See what is happening at FINOS each week.
FINOS Landscape - See our landscape of FINOS open source and open standard projects.
Community Calendar - Scroll through the calendar to find a meeting to join.
FINOS Slack Channels - The FINOS Slack provides our Community another public channel to discuss work in FINOS and open source in finance more generally.
All FINOS Project Good First Issues - A good place to start contributing to, and making a difference in, open source in financial services is by taking a look at the FINOS Good First Issues (GFI) List on GitHub.
Project Status Dashboard - See a live snapshot of our community contributors and activity.
Events - Check out our upcoming events or email marketing@finos.org if you'd like to partner with us or have an event idea.
FINOS Virtual "Meetups" Videos & Slides - Access replays of our virtual "meetups" based around the FINOS Community and Projects since we can't all be in the same room right now.
FINOS Open Source in Finance Podcasts - Subscribe and listen to the first open source in financial services and banking podcast for deeper dives on our virtual "meetup" and other topics.
Interested in FINOS open source projects? Click the link below to see how to get involved in the FINOS Community.
Thanks!
~ The FINOS Team