Thanks to everyone who attended the FINOS
Open Source Strategy Forum
in New York City last Wednesday. There is no denying the fun and excitement that's rapidly growing in Fintech open source. I was especially proud to see people from all over financial services networking, learning and innovating together. Thank you!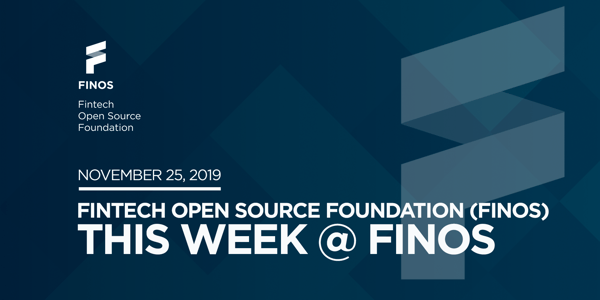 For members and contributors who'd like to relive or checkout what happened at the FINOS
Open Source Strategy Forum
I very much recommend the
#OSSF2019 hashtag on Twitter
for a running community commentary of an awesome day. Also, don't forget to add your photos and experiences to the same hashtag on Twitter and LinkedIn.
Also, did you hear, at the
Open Source Strategy Forum
last week, FINOS Platinum member
Goldman Sachs
announced its intention to open source two products - a modeling language internally named "PURE", and a visual modeling platform that generates PURE models known in Goldman Sachs as "Alloy" - into FINOS.
As we approach the end of the first year of the
FDC3 1.0 standards
, we're asking for feedback on how well FDC3 is addressing the needs of financial organizations, how we can help you with adoption, and the health of the FDC3 contributor community.
Your input will help us improve our support for your organization and the larger FDC3 community.
Please take a few minutes to complete the
FDC3 Survey
.
Here's what's happening in
the week of November 25th, 2019
within the FINOS community. Please feel free to forward this email to colleagues and industry partners who you think will be interested in FINOS. If someone forwarded this email to you and you'd like to subscribe, please send a note to
community+subscribe@finos.org
and you'll be added to the mailing list.
Monday November 25th
11am ET / 4pm BST. DT - Security Reference Data Project (Data Technologies Program)
Tuesday, November 26th
No Program Activities planned
Wednesday, November 27th
No Program Activities planned

Thursday, November 28th
Fora Spitalfields, 35-41 Folgate Street, E1 6BX [Map]
No Program Activities planned (US holiday)
Friday, November 29th
No Program Activities planned (US holiday)
12pm ET / 5pm BST

FINOS Office Hours (

new!

)

A place for all FINOS members and contributors to hang out and ask us anything.
Looking Ahead:
Get Involved.
Opportunities for further participation and contribution:
The

Call Metadata Standardization WG is developing a standard proposal for call recording metadata that includes call details, voice recordings, and transcribed voice, and is looking for contributors and call examples to validate the standard. Check out the list of Help Wanted issues.