Last week we held our 4th annual Open Source Strategy Forum, the only conference dedicated to driving collaboration and innovation in financial services through open source. In our two day virtual conference, more than 75 speakers with expertise in finance, technology, and open source, delivered just over 50 presentations. As with previous years, we had great representation from financial services with around 40% of registrants from sell- and buy-side firms alongside a great mix of other key industry participants, including tech, fintech, data, and services firms, as well as other non-profits, industry associations and even financial regulators.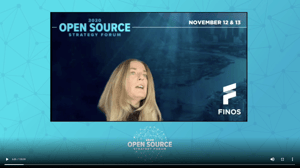 FINOS Chair, Dov Katz, and FINOS Vice Chair, Kim Prado, kicked off the conference sharing their first hand experiences and perspectives on the growth of the FINOS community. FINOS Executive Director, Gabriele Columbro, reinforced that message, noting that last month FINOS saw a record number of commits and that in 2020 over 70% of projects contributed to the Foundation came from financial institutions. This is great progress for financial services and a clear indicator that open source has an important role to play in the industry.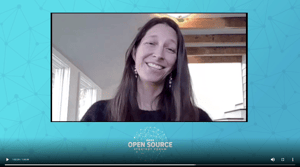 One standout keynote, amongst a great lineup of speakers, came from Alejandra Villagra, former FINOS Chair and current Chair of FINOS' Diversity and Inclusion Committee. Her talk, "Just Like Her", delivered a personal, poignant message and reminder that we each play an important role in growing the number of underrepresented people in our community.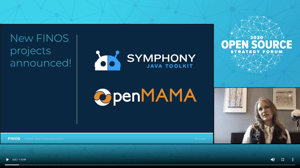 Tosha Ellison, FINOS Chief Operating Officer, opened day two of the conference, building on the theme that open source delivers business and technical value to financial services, as well as an opportunity to collaborate on big industry challenges, like regulation. The day's keynotes reinforced this with "fireside chats" that included discussions on when and how finance firms should "leverage vs invent" technology solutions; the opportunity for innovation in regulatory interpretation and compliance; and straight talk on fostering open source communities.
Don't worry if you weren't able to make it on the day or if you missed a talk in another track, because you can access recordings of all of the fantastic presentations here. And if you don't know where to start, following are some presentations you might want to check out.
Featured Session Videos From OSSF
If you sign up for your free access to the OSSF recordings, please check out these presentations (as well as the 60+ sessions available).
While we weren't able to finish the conference with animated, in-person conversations and networking over cocktails and canapés we were able to wrap up with a celebration of the dedication and hard work of our contributors. We were delighted to recognize the following individuals for their outstanding contributions to FINOS projects in 2020.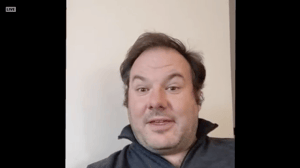 2020 FINOS Leading the Pack, individual providing noteworthy project leadership.
Winner: David Watkins, Deutsche Bank
2020 FINOS Newcomer, individual most active on a FINOS project within the last year.
Winner: Ingrid Bruchof, EPAM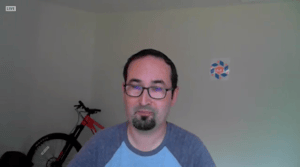 2020 FINOS Top Contributor, individual with the most overall contributions.
Winner: Attila Mihaly, Morgan Stanley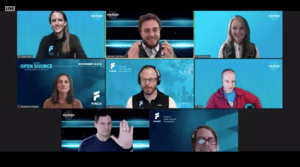 Thank you to our sponsors, speakers, community and attendees for another great Open Source Strategy Forum. We hope to see you again soon!
Interested in FINOS open source projects, or how to get started? Click the link below to see how to get involved in the FINOS Community.