This year at FINOS we are focusing on one of FINOS' key existing projects: Open Source Readiness. This is FINOS' term for helping the finance industry "do open source properly".
Welcome to the weekly Open Source Readiness blog article! A quick thank-you to Peter Smulovics for writing the blog for the last two weeks while I was on holiday - awesome work Peter!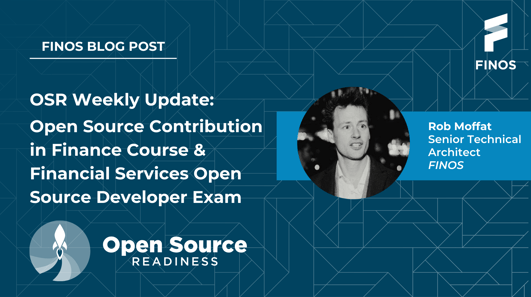 Couple of bits of news:
Training Course: Open Source Contribution in Finance (LFD137)
Over the last few months, FINOS has been building out our training course for open source contribution with authorship by Peter Smulovics and Mimi Flynn (Morgan Stanley) Neetu Jain (JP Morgan), Cara Delia (RedHat), Brittany Istenes (Fannie Mae) and Amol Meshram (LSEG).
We've had amazing suggestions from reviews including Katarina Novacovic and Rhyddian Olds (Citi) William Rothwell (UBS), Andy Smith (Discover) and Mark Hoare, and Sally Ellard (Deutsche Bank).
At long last, I and a few others have been able to get a sneak preview of it running on the Linux Foundation's Training Platform and it's looking really cool! With such a diverse set of contributors, the work comes across as very authoritative.
I think I speak for all the authors when I say we're really looking forward to launching this at OSFF on 1st November and putting this into the hands of developers across our industry!
Financial Services Open Source Developer Exam (FSOSD)
And work on the FSOSD exam is nearly done too! This is a professional qualification you can take to prove you understand how to contribute safely to open source within our industry.
Again, lots of contributors from across the OSR SIG including Thomas Steenburgen, Ayush Arora, Amol Meshram, Ana Jimenez (from the TODO Group), Chris Stevenson and William Rothwell (UBS), Peter Smulovics and Mimi Flynn (Morgan Stanley), Hugh Troeger (FactSet) and Vinay Mistry (Symphony)
Over the past several months we've written a 250-item strong question pool for this exam - of which something like 60 appear, chosen at random, whenever someone takes the test.
The Beta for this is starting imminently (thanks to everyone who signed up for that - you'll be hearing from us soon) and will be featured at this year's OSFF.
OSFF Reminder: Two Weeks to Go!
The OSR Special Interest Group and the InnerSource Special Interest Group are both organising booths at OSFF this year - come and see us when you have a few spare minutes between sessions!
Maybe we'll sign you up to take our training and certification?
Very much looking forward to seeing all our colleagues from the NYC area there!
There are complimentary passes for employees of FINOS Member Firms so hurry up and register already!
The OSR and InnerSource SIGs are collaborating on running a booth at the event - would you like to help staff it? Get in touch if so!
If you haven't received your unique member code, please contact osff@finos.org and we'll get you sorted.
Author: Rob Moffat
Interested in this FINOS open source project, or any of our other projects? Click the link below to see how to get involved in the FINOS Community.