In the dynamic landscape of the financial services industry, cloud technologies have become the catalyst of innovation for enterprises. However, optimizing cloud resources and managing costs in a highly regulated environment poses unique challenges.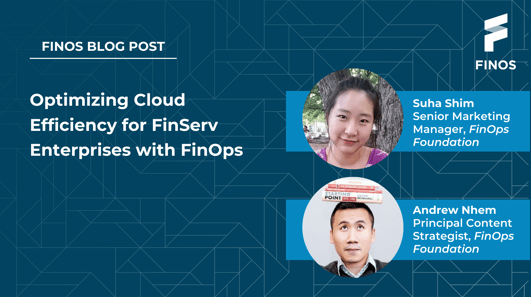 At the Open Source in Finance Forum in New York, attendees can explore how FinOps and FinOps Cost and Usage Specification (FOCUS) can help FinServ professionals drive cloud efficiency. Here's an overview of the keynote and FinOps talk tracks that attendees can experience:
Keynote Session: FOCUS - Open Billing Standard
The goal of FOCUS (FinOps Cost and Usage Specification) is to facilitate the adoption of cloud, SaaS, and technologies with better transparency and cost efficiency through a consistent cost data format. Udam Dewaraja, Chairperson of FOCUS Project at the FinOps Foundation, and Anne Johnston, VP of Cloud Costs & Engagement at Capital One, will showcase FOCUS, its upcoming v1.0 release, and practical use cases for enterprises in FinServ.
The following are sessions within the FinOps Track:
FinOps Governance & Policy for the Onboarding of Workloads
Andrew Feig, Managing Director, EECT - Cloud, ML/AI Engineering & FinOps Technical Lead, and Beth Marki, Executive Director, Cloud Financial Management at J.P. Morgan Chase, will share how they navigate onboarding and new cloud workflows with FinOps Governance & Policy. This session provides a glimpse into how they centralize or federate FinOps capabilities across their organization.
FOCUS: Open Source Billing Specifications Impact on Multi-Cloud Enterprises
Tim O'Brien, Sr. Director of Engineering at Walmart, will discuss top cloud billing data challenges faced by multi-cloud enterprises and their impact on cloud adoption. He will also explain why enterprises need an open source billing specification like FOCUS to make billing data easier to understand, map costs back to the business, and maximize business value in the cloud.
Mastering the Art of Cloud Financial Operations: Crafting and Sustaining Your FinOps Strategy
Discover how Capital One develops strategies around the complexities of cloud spending, optimization opportunities, automation, and cost efficiency. Daniel Eisenberg, Lead FinOps Strategy & Adoption at Capital One, will share practical tips that helped their organization create a winning FinOps Strategy that aligns with their tech and business objectives.
If you are new to FinOps and facing challenges on cost transparency, forecasting, and optimization, this session is for you. Varsha Sundar, VP of Cloud FinOps at Chubb, and Edwardo Hiraldo, Sr. Cloud FinOps Engineer at Verisk, will break down billing components and processes associated with optimization opportunities to help reduce cloud costs. They will also highlight open source tools to keep in mind when analyzing cloud costs and implementing guardrails and policies.
For more information on FinOps, check out www.finops.org.
Author: Shua Shim & Andrew Nhem, FinOps Foundation
Interested in this FINOS open source project, or any of our other projects? Click the link below to see how to get involved in the FINOS Community.