At our most recent FINOS Open Source Readiness Meeting, Dave Neary, Red Hat Community Architect presented: Assessing the Health of an Open Source Project: What are the things to look out for when evaluating the community health of a project (and how does community health factor into long-term sustainability)?
This video is from a live virtual meeting conducted in the UK and US on 7 July 2021.
SHOW NOTES
Talk Description:
A healthy open source project is one that you expect to be around in several years, and will continue to develop, with new features, regular updates, and conscientious maintainers. Healthy projects demonstrate open practices, use open infrastructure to engage with their users, and cultivate an open culture, with the goal of becoming more sustainable.
In this presentation, we will describe some of the key factors you can examine to evaluate if a project is healthy, and can be expected to be around in the long term. As the number of these factors a project has going for it increases, its health rating, and as a result the confidence you can have in it, increases too.
Evaluating Open Source Project Health
Starting an Open Source Project
General Open Source Resources
FINOS Open Source Strategy Forum
DOWNLOAD THE SLIDES FROM THE PRESENTATION HERE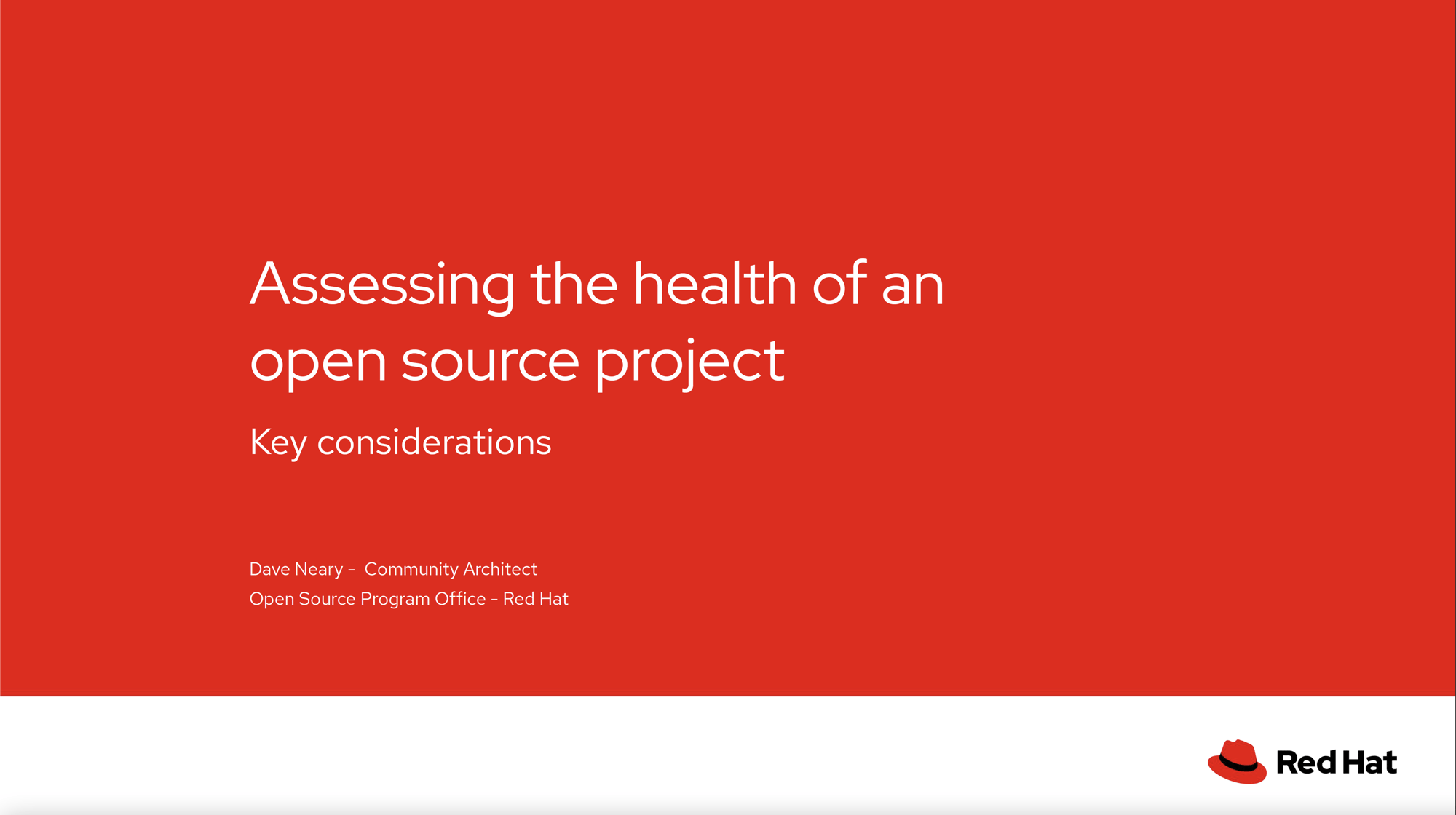 LEARN MORE
This Week at FINOS Blog - See what is happening at FINOS each week.
FINOS Landscape - See our landscape of FINOS open source and open standard projects.
Community Calendar - Scroll through the calendar to find a meeting to join.
FINOS Slack Channels - The FINOS Slack provides our Community another public channel to discuss work in FINOS and open source in finance more generally.
All FINOS Project Good First Issues - A good place to start contributing to, and making a difference in, open source in financial services is by taking a look at the FINOS Good First Issues (GFI) List on GitHub.
Project Status Dashboard - See a live snapshot of our community contributors and activity.
Events - Check out our upcoming events or email marketing@finos.org if you'd like to partner with us or have an event idea.
FINOS Virtual "Meetups" Videos & Slides - Access replays of our virtual "meetups" based around the FINOS Community and Projects since we can't all be in the same room right now.
FINOS Open Source in Fintech Podcasts - Subscribe and listen to the first open source in fintech and banking podcast for deeper dives on our virtual "meetup" and other topics.
Interested in this FINOS open source project, or any of our other projects? Click the link below to see how to get involved in the FINOS Community.