In this episode of the podcast, our FINOS COO, Jane Gavronsky sits down with Adrian Dale of ISLA and David Shone of ISDA to discuss the associations contribution and backing of the FINOS CDM, Common Domain Model to the FINOS open source community.
Audio Podcast Version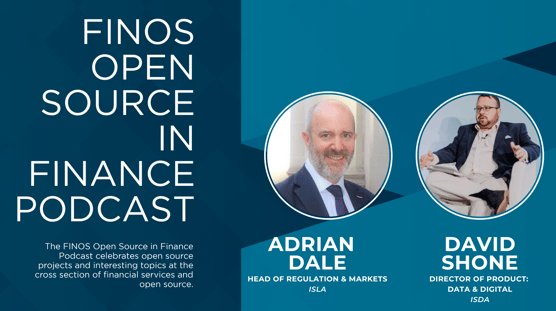 Find all of our podcasts at Anchor.fm, Apple Podcasts, Spotify, and all podcast platforms.
SHOW NOTES
On GitHub
Adrian Dale, Head of Regulation & Markets, ISLA
David Shone, Director of Product - Data & Digital, ISDA ⁠
Jane Gavronsky, COO, FINOS
NYC November 1 - Open Source in Finance Forum ⁠⁠⁠⁠⁠⁠⁠⁠⁠
2022 State of Open Source in Financial Services Download ⁠⁠⁠⁠
All Links on Current Newsletter Here
A huge thank you to all our sponsors for Open Source in Finance Forum New York ⁠⁠⁠⁠that will take place this November 1st at the New York Marriott Marquis
This event wouldn't be possible without our sponsors. A special thank you to our Leader sponsors: Databricks, where you can unify all your data, analytics, and AI on one platform. And Red Hat - Open to change—yesterday, today, and tomorrow.
And our Contributor and Community sponsors: Adaptive/Aeron, Connectifi, Discover, Enterprise DB, FinOps Foundation, Fujitsu, instaclustr, Major League Hacking, mend.io, Open Mainframe Project, OpenJS Foundation, OpenLogic by Perforce, Orkes, Percona, Sonatype, StormForge, and Tidelift.
If you would like to sponsor or learn more about this event, please send an email to ⁠⁠⁠⁠⁠⁠⁠sponsorships@linuxfoundation.org⁠⁠⁠⁠⁠⁠⁠.
Grizz's Info | grizz@finos.org
►► Get In Touch: info@finos.org
Transcript
Coming soon..


-=-=-=-=-
About the Open Source in FINANCE Podcast
The FINOS Open Source in Finance Podcast celebrates open source projects and interesting topics at the cross section of financial services and open source. So far, our industry experts have discussed practical applications of and their real-world experiences with a range of open source projects including desktop interoperability, low code platforms, synthetic data, and data modeling. They've also discussed best practices for inner source, common myths about open source and why commercial companies choose to introduce open source offerings. Tune in and subscribe to hear what comes next.
Interested in FINOS open source projects? Click the link below to see how to get involved in the FINOS Community.
FINOS Good First Issues - Looking for a place to contribute? Take a look at good first issues across FINOS projects and get your feet wet in the FINOS community.
State of Open Source in Financial Services Report 2021 - Learn about what is really happening around open source in FSI.
This Week at FINOS Blog - See what is happening at FINOS each week.
FINOS Landscape - See our landscape of FINOS open source and open standard projects.
Community Calendar - Scroll through the calendar to find a meeting to join.
FINOS Slack Channels - The FINOS Slack provides our Community another public channel to discuss work in FINOS and open source in finance more generally.
Project Status Dashboard - See a live snapshot of our community contributors and activity.
Events - Check out our upcoming events or email marketing@finos.org if you'd like to partner with us or have an event idea.
FINOS Virtual "Meetups" Videos & Slides - See replays of our virtual "meetups" based around the FINOS Community and Projects since we can't all be in the same room right now.
FINOS Open Source in Finance Podcasts - Listen and subscribe to the first open source in fintech and banking podcasts for deeper dives on our virtual "meetup" and other topics.