The Financial Desktop Connectivity and Collaboration Consortium (FDC3) was founded in 2017 and contributed to the
Fintech Open Source Foundation
(FINOS), a nonprofit whose mission is to accelerate adoption of open source software, standards and best practices in financial services. The
FDC3
standard is developed and used by leading organizations across the financial industry to enable seamless interoperability amongst financial applications and has become a key enabler for transformation as financial organizations embrace micro-frontend-oriented workflows.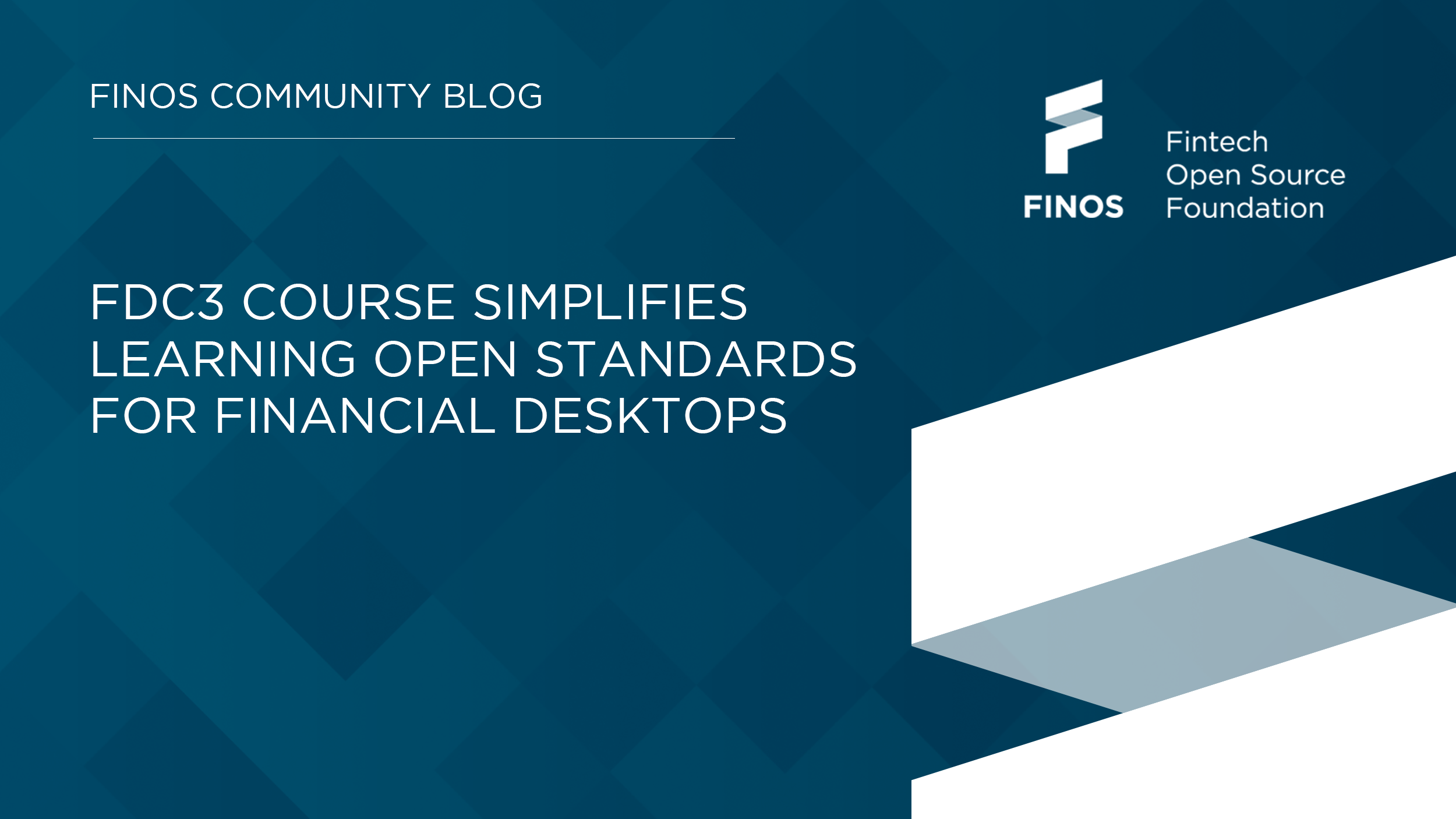 Addressing the growing adoption of the FDC3 standard requires that more individuals in financial services understand the standard from both a technical and business perspective. That is why FINOS partnered with Linux Foundation Training & Certification to create the new FDC3: Interoperability for the Financial Desktop (LFS177x) training course. This is the first training course focused on a FINOS project; the course is hosted on the edX online learning platform.
LFS177x explores the FDC3 standard for application interoperability including the vision, key concepts, benefits, and how workflow-driven design makes it easy to get started with FDC3. It is meant for financial professionals working in business roles, program management, or technical architecture, who would like to understand how FDC3 can help them achieve integrated workflows between applications on their desktop. This course will also be invaluable to software developers seeking a thorough introduction to the technical concepts that form part of the FDC3 standard.
This course prepares business professionals to make informed decisions in the planning or procurement process for new software and helps to ensure that workflows are joined up effectively. Software and fintech professionals will walk away with an understanding of the key FDC3 concepts and how to use the appropriate concepts when developing applications.
The course was developed by Riko Eksteen, Sebastian Moser and Ivan Falanga. Riko is the Head of Desktop Strategy at Adaptive Financial Consulting, a participant of the FDC3 Standard Working Group, and FDC3 Lead Maintainer. Sebastian is a Lead Developer at Adaptive Financial Consulting who has been a software engineer for 10+ years and been involved in projects adopting FDC3 interop on the desktop and the web. Ivan is a Front End Developer at Adaptive Financial Consulting and has worked on multiple projects using a variety of Desktop platforms using FDC3.
This course is free to audit for seven weeks, including access to all materials. Those who wish to have access longer and/or earn a verified certificate of completion can upgrade for a fee. Enroll today to improve your fintech application development and use practices.
About FINOS
FINOS (The Fintech Open Source Foundation) is a nonprofit whose mission is to foster adoption of open source, open standards, and collaborative software development practices in financial services. It is the center for open source developers and the financial services industry to build new technology projects that have a lasting impact on business operations. As a regulatory compliant platform, the foundation enables developers from these competing organizations to collaborate on projects with a strong propensity for mutualization. It has enabled codebase contributions from both the buy- and sell-side firms and counts 33 major financial institutions, fintechs and technology consultancies as part of its membership. FINOS is also part of the Linux Foundation, the largest shared technology organization in the world.
About the Linux Foundation
Founded in 2000, the Linux Foundation is supported by more than 2,000 members and is the world's leading home for collaboration on open source software, open standards, open data, and open hardware. Linux Foundation's projects are critical to the world's infrastructure, including Linux, Kubernetes, Node.js, and more. The Linux Foundation's methodology focuses on leveraging best practices and addressing the needs of contributors, users and solution providers to create sustainable models for open collaboration. For more information, please visit linuxfoundation.org.
The Linux Foundation Events are where the world's leading technologists meet, collaborate, learn and network in order to advance innovations that support the world's largest shared technologies.
Visit our website and follow us on Twitter, Linkedin, and Facebook for all the latest event updates and announcements.
The Linux Foundation has registered trademarks and uses trademarks. For a list of trademarks of The Linux Foundation, please see its trademark usage page: www.linuxfoundation.org/trademark-usage. Linux is a registered trademark of Linus Torvalds.
Interested in this FINOS open source project, or any of our other projects? Click the link below to see how to get involved in the FINOS Community.
This Week at FINOS Blog - See what is happening at FINOS each week.
FINOS Landscape - See our landscape of FINOS open source and open standard projects.
Community Calendar - Scroll through the calendar to find a meeting to join.
FINOS Slack Channels - The FINOS Slack provides our Community another public channel to discuss work in FINOS and open source in finance more generally.
Project Status Dashboard - See a live snapshot of our community contributors and activity.
Events - Check out our upcoming events or email marketing@finos.org if you'd like to partner with us or have an event idea.
FINOS Virtual "Meetups" Videos & Slides - See replays of our virtual "meetups" based around the FINOS Community and Projects since we can't all be in the same room right now.
FINOS Open Source in Finance Podcasts - Listen and subscribe to the first open source in fintech and banking podcasts for deeper dives on our virtual "meetup" and other topics.