On the back of our launch Tuesday, FINOS' mission to drive open innovation in finance is now underway. While this endeavor has a laundry list of priorities, we'll admit to having a few objectives that are first among equals. Empowering the developers and other technology professionals in this industry, especially engaging with them in a vibrant community, is at the top of our list.
Why Community is Key
Collaboration paradigms and techniques common in open source - Agile, XP, two-week sprints, etc., are a fundamentally different approach to traditional software methods. Open source development embraces these techniques and extends them beyond a single organization to the wider industry. For open source to flourish the developer community has to be a business priority.
Finserv developers share a unique set of challenges in a highly regulated, competitive, and markedly traditional industry. Sharing solutions to these obstacles among organizations is another reason the financial services developer community is core to FINOS. Based on input from fintech developers, FINOS and its contributors have built a set of services that provide technology support, open source readiness training, and community engagement opportunities to developers.
Diversity and inclusiveness are also fundamental to the open source community we're building. We agree with the observations of NYC-based VC Fred Wilson in his post earlier this week about the FINOS launch:
"Fintech is no different than any other 'tech' sector in that we need more women, people of color, and other traditionally underrepresented communities at the table. The transparency and contribution models of open source projects can be a great on-ramp for anyone interested in a particular technology or problem domain. Together with K-12 CS education for all, open source can increase access to careers and opportunities historically all but closed to large segments of our society."
Technology Support
The foundation of our technological support is the Open Developer Platform (ODP). A framework for secure, compliant software development, the ODP defines open source collaboration best practices for highly regulated industries and gives developers the tech essentials they need to build applications using a modern development workflow.
The ODP has two main components: platform access and project infrastructure. The platforms component provides open API/data access to software and services that are offered by the greater FINOS community. Eliminating the need for installation, configuration, and other onerous tasks, this offering expedites the testing and development of new programs. The second component of the ODP is project infrastructure. Covering the entire lifecycle of a project, this service-based infrastructure provides developers with a framework for developing, publishing, and analyzing high-quality open source software. Together, these components arm our community with the end-to-end software development tools needed to adopt open innovation.
Open Source Readiness
FINOS also supports the community by collecting, curating, and sharing leading practices and practical tools that have helped financial services firms to adopt open source.
Specifically tailored to the unique features of the financial services space, our Open Source Readiness Program provides members and community with mentoring, support, and guidance for utilizing and building open source technology. This includes policy advice, internal advocacy support, and training materials. In addition to these features, the program is composed of working groups that allow the community to discuss common problems and formulate solutions.
Stay tuned as we formally announce the program over the next weeks.
Community Engagement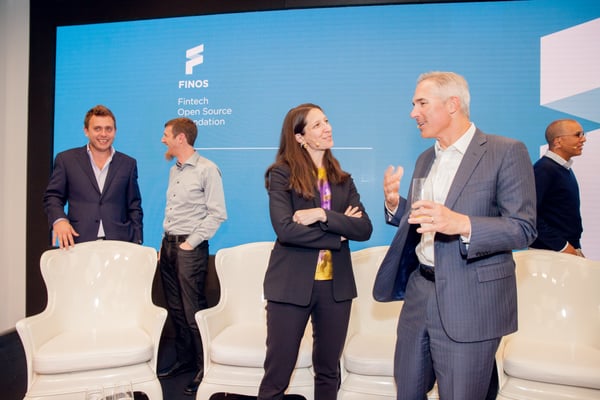 While online interactions are certainly critical to code production, a thriving developer community also needs frequent, in-person gatherings. To provide this essential element, FINOS has created an event schedule packed with meaningful engagement opportunities, including our annual flagship event, the Open Strategy Strategy Forum in November, along with our monthly Open Source in Fintech Event Series.
Our monthly Open Source in Fintech Events serve as the main points of contact for our members and the wider fintech open source community. These events are often, though not always, developer and technology focused. Bookended by networking sessions, our events tackle timely topics and key issues within open source and feature the opinions of well respected innovators. These month events also provide FINOS with an opportunity to receive the feedback we need to keep improving our services to our community. Don't miss our upcoming event of the series on May 23rd in NYC and let us know if you'd like to organize a FINOS sponsored event in your area.


Towards a Better Tomorrow
With experienced developers on our team, FINOS understands the needs of technologists who are pushing for a collaborative future in financial services.
Our team is excited to see the fruits of this collaboration in the years to come and we hope you are too.
We know this is only the beginning of our journey and it will take support and contributions from the whole Community to make a lasting impact to this industry, a very worthy one.
So we hope you'll join us! Let's get started!
The FINOS Team