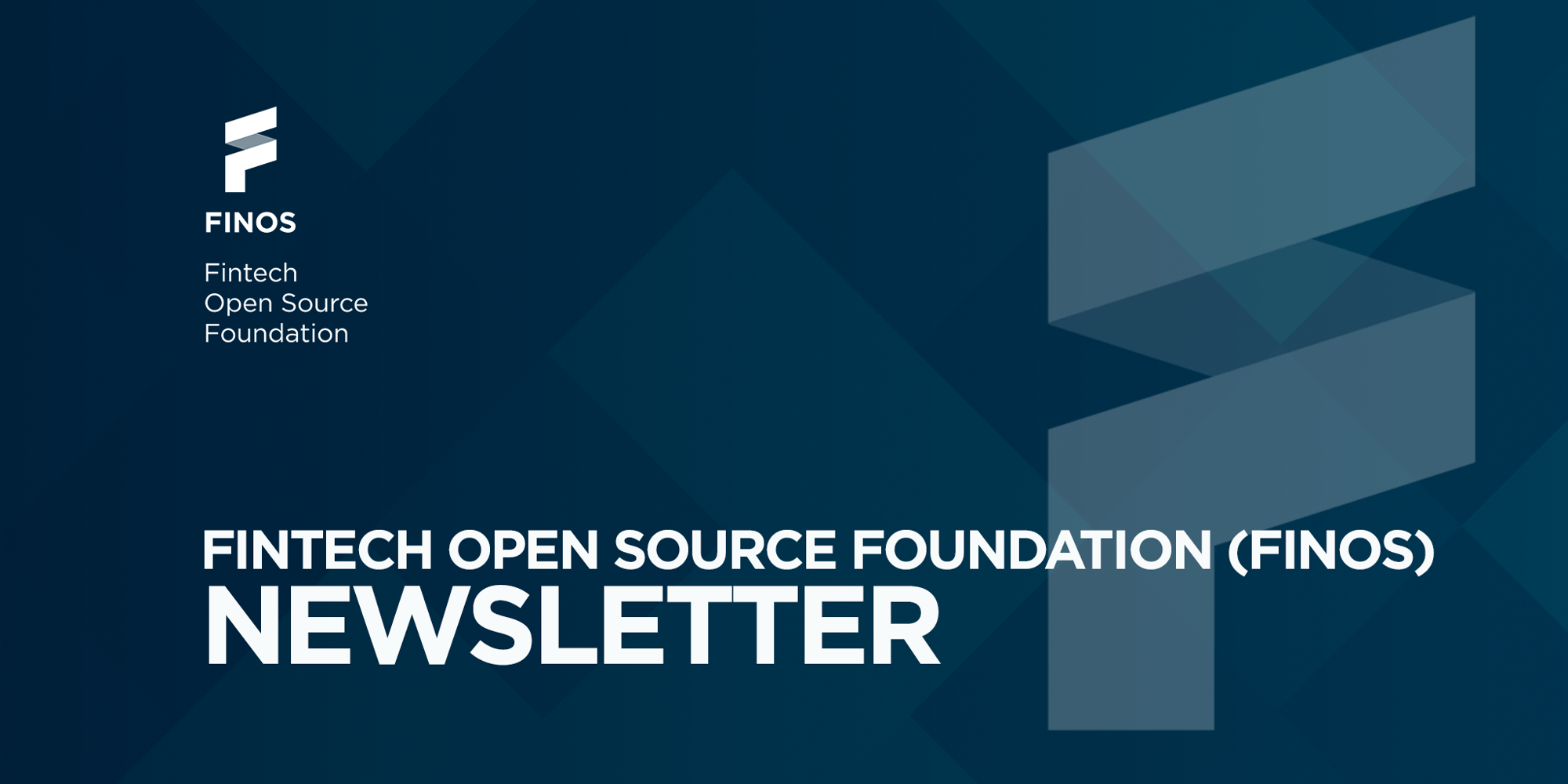 Q4 2020 NEWSLETTER
With this final newsletter of 2020 we'd like to say thank you! Thank you to every single person who submitted a pull request, commented on an issue, attended a project meeting, joined a FINOS event or meetup, wrote a blog, contributed to our newsletter, shared an idea, and in any other way helped promote the value of open source in financial services.
We know this year has been extremely hard for everyone out there, and so your commitment, passion and the results you have been able to accomplish through your contributions are nothing short of outstanding. Thank you from the bottom of our hearts.

The FINOS team wishes you a very happy holiday season and we look forward to doing great things together in 2021!
FINOS NEWS & UPDATES
2020 In Review: A Note from Gabriele Columbro
In this blog post, FINOS Executive Director, Gabriele Columbro, discusses the challenges we've faced in 2020 and the opportunity and imperative to consider how open source can address industry challenges. 2020 was a great year for FINOS with record contributions from banks, highlighting the progress financial services has made in being able to contribute to open source projects. This is just the start and sets us up for growth across the financial services ecosystem next year, where you all have an important role to play.
---
FINOS Q1 2021 All Community Call
Save the date to join us on January 27th at 10am ET / 3pm GMT to hear about our plans and initiatives for 2021. We'll have just had our first Governing Board meeting of the year and look forward to sharing the direction of the Foundation and key focus areas for 2021. Please also feel free to share any topics you'd like us to address by adding a comment to https://github.com/finos/community/issues/88.
THANK YOU FINOS MEMBERS
FINOS can't exist without the support of our members. We are very grateful for our existing and new members and we invite you to engage with each other to find new, collaborative ways to shape open source in financial services. You can find our full member list at finos.org/members and welcome again to members who joined in 2020, listed below.
NEW PLATINUM MEMBER: Accenture
NEW GOLD MEMBERS: Intel, SUSE
NEW SILVER MEMBERS: Itau Unibanco, Adaptive Financial Consulting, Genesis Global, DiffBlue
NEW ASSOCIATE MEMBERS: AIR (Alliance for Innovative Regulation), IWA (InterWork Alliance), ISDA (International Swaps & Derivatives Association)
FINOS PROJECTS
CONTRIBUTIONS IN 2020
As we look back on 2020, we are thrilled with the number and variety of projects contributed to FINOS as well as the introduction of SIGs. Below you can find a brief reminder of new projects and SIGs in 2021, and, as always, we encourage you to get involved.
WALTZ: Enterprise architecture on the wire (Web Site | GitHub | OSSF Presentation)
FDC3 v1.1: Open standards for the financial desktop (Web Site | OSSF Presentation)
DataHub: Python libraries dedicated to the production of synthetic data (GitHub)
Secure Electron Adapter: Create Electron applications that adhere to Electron security recommendations (Web Site | GitHub | OSSF Presentation)
FDC3 Desktop Agent: FDC3 Chrome Extension providing an easy way to get started with FDC3 APIs (GitHub)
Morphir: Multi-language system and data format to work with pure business knowledge (Web Site | GitHub | OSSF Presentation)
Glue: Enterprise data model for the buy side, tailored for Wealth and Asset Managers (GitHub)
Symphony Java Toolkit: Create bots and apps for the Symphony Chat Platform using Java and Spring Boot (GitHub | OSSF Presentation)
Legend: Logical data modeling, management & governance language and platform (Web Site | GitHub | OSSF Presentation)
Regulation Innovation SIG: Driving open source solutions for regulatory and compliance issues in financial services (GitHub)
DevOps Mutualization SIG: Driving a continuous compliance and assurance approach to DevOps in financial services (GitHub)
OpenMama: High performance middleware agnostic messaging API (Web Site | GitHub | OSSF Presentation)
Git Proxy: Solving the risk and control issues many banks must address when contributing to open-source (GitHub)

You can also see all of our active and incubation projects on the FINOS Landscape.
---
PERSPECTIVE CASE STUDY
Check out the newly released Perspective case study, which provides a great example of collaborative development. This case study briefly discusses why the J.P. Morgan team decided to open source their proprietary software and illustrates the value of collaboration with two specific examples from FINOS member firms Scott Logic and RBC. Read the full case study here and check out the Perspective website and GitHub Repo to learn how you can collaborate on the project too.
CELEBRATING OUR FINOS COMMUNITY
It's worth repeating that the FINOS community is fundamental to the growth and success of FINOS and we feel privileged to work with all of you, from those new to open source to our seasoned veterans. Read this Community Spotlight 2020 Retrospective from our Director of Community, James McLeod, to see how we started celebrating our community this year and our plans to expand this next year.
SPREADING THE WORD
We worked very closely with our FINOS members and community this year to provide valuable content and promotion for our FINOS projects and many other important aspects of open (and inner) source in financial services. Following are some handy resources and recaps you can use to find lots of information in a variety of mediums. We wish we could have done more in person this year and do hope to see you in person next year, when it is safe to do so.
Podcasts: Learn more about our podcasts, see the full list and learn about our plans for next year here.
Virtual Meetups: Missed a meetup? You can find all of this year's meetup presentations here.
Open Source Readiness: Find guest presentations from experts on open source legal, compliance and process here.
Open Source Strategy Forum (OSSF): Presentations from OSSF 2020 are now available to access (free) on YouTube. We've already started planning OSSF 2021 and will share the dates early next year.
join us
For a full weekly list of meetups, webinars, and other open source project oriented meetings, please refer to "This Week at FINOS", and sign up for the email that comes out every Monday. (Email community+subscribe@finos.org to be automatically added to the distribution.)
GET INVOLVED
The FINOS Project Landscape: Search all of our active and incubating Projects.
Project Meeting Calendar: Scroll through the calendar to find a meeting to join.
Project Status Dashboard: See a live snapshot of our community contributors and activity.
Events: Check out our upcoming events or email marketing@finos.org if you'd like to partner with us or have an event idea.
Interested in FINOS open source projects? Click the link below to see how to get involved in the FINOS Community.
Thanks!
~ The FINOS Team