FINOS and Executive Director Gabriele Columbro were recently featured in a Business Insider article about Wall Street's tech talent "truce" and the Goldman Sachs' open source contribution to the Foundation.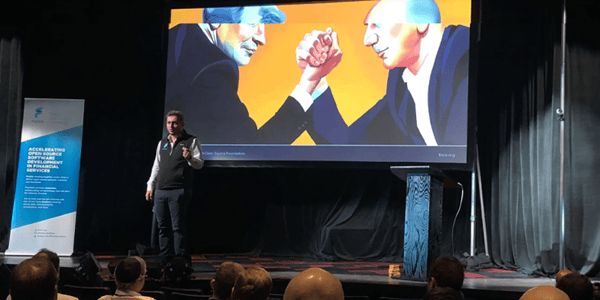 FINOS and FINOS members gathered at the Foundation's Open Source Strategy Forum this past November 20th, to a packed house. During the conference, Goldman Sachs' Co-Chief Data Officer, Neema Raphael announced that it was contributing Alloy as an open source project to FINOS - and both Columbro and Donald Raab, Managing Director at BNY Mellon discussed how open source is the way of the future for financial services:

"In 10 years, the core of the global financial engine will be open source,' Gabriele Columbro told an audience packed with Wall Street players just after showing a cartoon of JPMorgan CEO Jamie Dimon arm-wrestling Amazon founder and CEO Jeff Bezos."

"The war for talent is over — all the talent is working on open source,' said Donald Raab, a managing director at BNY Mellon who was previously at Goldman Sachs, at the FINOS Open Source Strategy Forum in New York Wednesday.
'You don't need to fight for talent, you need to collaborate for talent,' he said."
---
Interested in learning more about Alloy and Pure, and other FINOS Projects?