For this month's FINOS community Spotlight, we are excited to highlight one of our members, Synechron.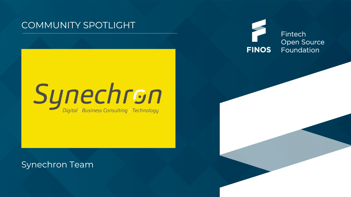 We would like to recognize Synechron as a committed strategic partner and friend in our FINOS mission to drive the adoption of open source, open standards, and collaborative software development practices in financial services.
Synechron, a leading digital transformation consulting firm focused on the financial services and big tech industries, proudly joined FINOS as a Silver corporate member last year. Over the past few months, the entire Synechron team spanning London to NY, has welcomed the FINOS team and our global community and has generously been the premiere host of our FINOS Open Source in Finance Meetups.
We want to send a special thank you to Sandeep, Atul, James, Shanel, and everyone from the Synechron NYC office for helping us organize and put together the amazingly successful Meetups and furthermore for bringing together the NYC Open source in the Finance ecosystem together.
Also, thank you to Peter, Vitor and the rest of the London team for coordinating efforts to facilitate engagement, connecting peers from across the industry in an innovative and inspiring way, and making our Open Source in Finance Meetups an invaluable forum.

FINOS is proud to partner with Synechron, and we look forward to expanding our open source initiatives together.