For this month's Community Spotlight feature, we're excited to highlight the Project Expo Participants from our recent Open Source in Finance Forum NYC.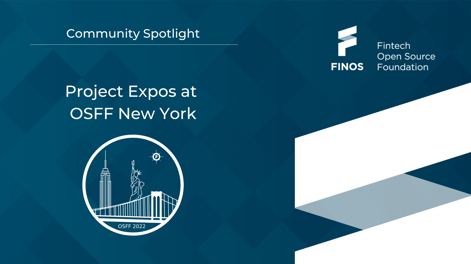 The FINOS Project Expos were a tremendous hit and provided a real-time opportunity to demonstrate how FINOS projects and open source contributions are empowering business solutions across our community. We are confident that these Project Expos helped increase the visibility and recognition of these projects and foster further collaboration in the future.
Highlighting the successful FINOS Project Expos excerpts and its participants below:
FDC3 Project Expos
Finsemble and State Street:
Sarah Stone (VP of Finsemble Product Management)
Black Treves (Managing Director and Head of Digital Product at State Street)
FDC3 helps build an interoperable, multi-asset product delivery platform covering the entire investment lifecycle.
Connectifi:
Nick Kolba (CEO and Co-founder)
Brian Schwinn (CTO and Co-founder)

Connectifi democratizes FDC3 by implementing interop as a cloud service requiring no installs and working seamlessly across client technologies and devices.



Citi:
Amit Rai (Managing Director Markets Digital Strategy, Citi Velocity, Portal Framework and Symphony)
Murali Narasimman (Executive Director and Global Head of Engineering, Institutional Clients Group (ICG)
Citi's institutional web-based analytics platform, "Citi Velocity," has adopted the FDC3, which powers the federated contextual search to bring key insights to clients and provides a connected experience.



JPMorgan Chase & Co:
Neil Shah (Senior Software Engineer)
Ajay Mehta (Executive Director)
JPMC has integrated market data vendor tools like FactSet directly into their Financial Desktop Platform and uses FDC3 to intercommunicate between applications.
Timbase CE Project Expo:

EPAM:
Stuart Farr (Director, Business Development)
Matthew Gorelik (Product Manager of Digital Asset Technology)
Christopher Howard (Lead Open Source Program Manager, Open Source Program Office)
TimeBase CE provides connectivity to multiple cryptocurrency exchanges and provides advanced capabilities, which includes: Smart Order Router (SOR), Trading algorithms, FIX connectivity, and API access.



Compliance Horizon Scanning Project Expo:
Synechron:
Sandeep Kumar (Head of FinLabs / Accelerators)
Rick Bonhof (Head of Regulatory Change & Compliance)
Compliance Horizon Scanning, for buy-side and banking, leverages state-of-the-art text mining and NLP models to support FIs to automate the ingestion, analysis, and categorization of numerous regulatory documents from multiple agencies across the globe.

Symphony Workflow Developer Kit Project Expo:
Symphony:
Olivier Poupeney (Director of Developer Relations)
Vinay Mistry (Developer Relations Technical Lead)
Workflow Developer Kit provides a low-code approach to help both sides communicate and automate their respective processes when buy-side and sell-side need to exchange information about a specific case, such as onboarding, content distribution, or reconciliation.
Common Domain Model Project Expo:
Regnosys:
Leo Labeis (Founder and CEO)

Nigel Cobb (Chief Data Officer)
Digital Regulatory Reporting (DRR) is a ground-breaking RegTech initiative that leverages the Common Domain Model, which provides a standard representation of financial transactions and events.
By showcasing real-world examples of open-source solutions in financial services, you are inspiring others to join and contribute to the community. Thank you for your support of FINOS and open source. Keep up the great work!