For this month's Community Spotlight feature, FINOS would like to send a special thank you to the team at Synechron for hosting FINOS again for our OSinFinance Meetup: FINOS Strategic Initiatives Open House.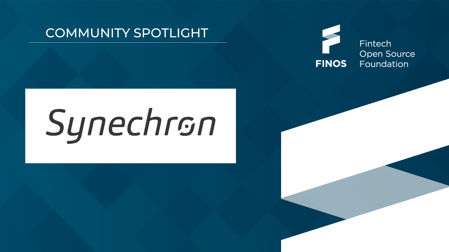 FINOS would also like to extend our sincere gratitude to our esteemed speakers for the event: Rob Moffat, Senior Technical Architect at FINOS; Kabir Rekhi, Director and Head of Business Architecture at RBC; and Nick Kolba, CEO and founder of Connectifi. Their expertise and captivating presentations on open source readiness, regulation innovation, and interoperability were truly inspiring. In today's fast-paced financial landscape, embracing openness and collaboration is paramount for organizations striving to remain competitive and innovative. Rob, Kabir, and Nick Kolba enlightened us about the possibilities and advantages that come with embracing open source, regulatory collaboration, and standardization.
Rob on Open Source Readiness:
Rob took stage to discuss the Open Source Readiness SIG, a groundbreaking FINOS Special Interest Group designed to support financial services organizations in their open source maturity journey. His presentation shed light on the transformative power of open source code and collaboration. Through this initiative, financial institutions can unlock the benefits of open source while ensuring compliance and security. Rob's passion for open source readiness was contagious, inspiring us to embrace this approach and realize the immense potential it holds for our industry.
Kabir on Open Regulation Innovation:
Kabir's presentation on Open Regulation Innovation left us in awe of the possibilities that open collaboration between financial institutions, technology firms, service providers, and regulators can bring. The Open RegTech Initiative, which Kabir championed, explores how open source standards and software can revolutionize the implementation and supervision of financial regulations. Kabir eloquently articulated the need for a collaborative approach to address regulatory challenges and highlighted the potential for innovative solutions. His insights have encouraged us to rethink traditional regulatory practices and embrace the power of collaboration.
Nick on Interoperability / FDC3:
Nick's presentation on interoperability and the Financial Desktop Connectivity and Collaboration Consortium (FDC3) left us with a renewed appreciation for standardized communication and data exchange within the financial industry. Through FDC3, Nick and his team are developing an open standard for interoperability on the financial desktop. By establishing standardized verbs, data formats, and API operations, FDC3 aims to streamline communication between financial applications. Nick's expertise in this domain inspired us to adopt open standards, fostering seamless collaboration and enhancing productivity across our organization.
FINOS extends our heartfelt appreciation to Synechron for their exceptional hospitality and for making our FINOS Open House an unforgettable experience. We are immensely grateful to our esteemed speakers, Rob Moffat, Kabir Rekhi, and Nick Kolba, for enlightening us about the immense possibilities and advantages that arise from embracing open source, regulatory collaboration, and standardization.