Presentation: Aaron Williamson, Independent Attorney, FINOS Open Source Readiness Lead presents on "Understanding Copyleft."
This video is from a live webinar conducted for the FINOS Open Source Readiness (OSR) project. The OSR project meets bi-weekly for guest presentations, knowledge-sharing between financial industry firms solving similar issues on their road to open source readiness, and discussion of open source strategy. Take a look at upcoming FINOS events like this and join us!
AARON'S Presentation
Understanding Copyleft - from July 22, 2020 - Open Source Readiness (OSR) Project
Copyleft licenses like the GNU GPL come with a higher compliance burden than more permissive licenses, because they require licensees to provide source code to recipients -- sometimes just for the open source component, and sometimes for any derivative work produced by the licensee. These licenses therefore raise the thorniest issues of license compliance.
In this presentation, FINOS Open Source Readiness lead Aaron Williamson discusses:
What is a derivative work of a software project
What constitutes distribution under copyright law
Incompatibility issues between copyleft and other licenses
The differences between GPL versions 2 and 3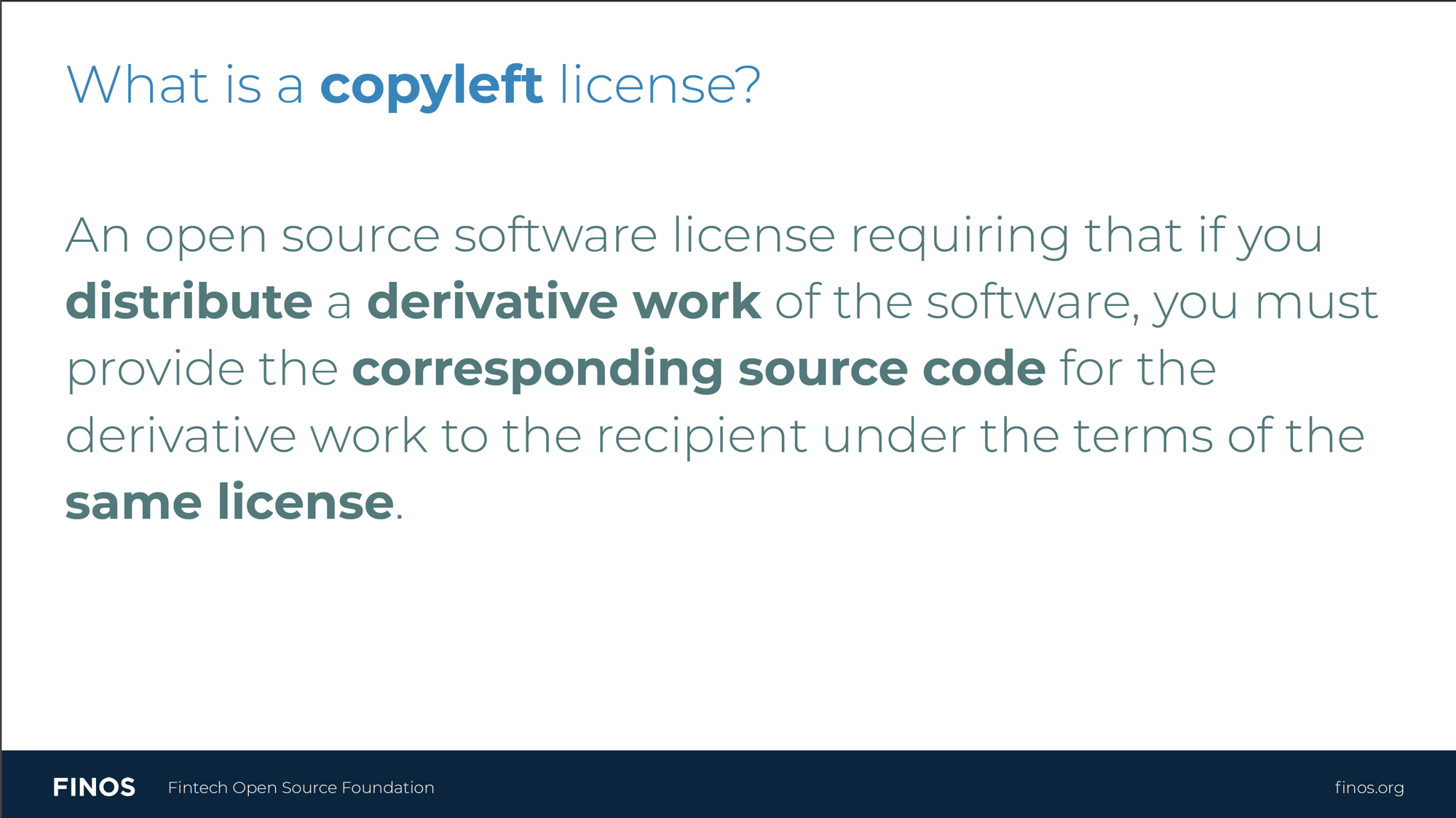 AARON'S BIO
Aaron Williamson is an independent attorney and leads the FINOS Open Source Readiness initiative. He has over a decade's experience advising companies of all sizes on open source licensing, compliance practices, and open source aspects of M&A transactions. He was formerly General Counsel and Director of Governance at FINOS. Previously, as a partner at Tor Ekeland P.C., Aaron advised startups and commercial software companies on establishing open source policies, designing open source business models, and on license compliance. At IEEE, he advised internal clients on commercial technology contracts. And as counsel for the Software Freedom Law Center, he advised some of the most significant open source software foundations on all manner of legal issues related to open source software.
Interested in this FINOS open source project, or any of our other projects? Click the link below to see how to get involved in the FINOS Community.