A 2022 open message from our FINOS Executive Director, Gabriele Columbro:
First off, I hope you all had a wonderful holiday period and I hope your 2022 started wonderfully for you and your families. Yes, I can't deny we all are probably more than a bit DONE with this pandemic, but on the other hand I hope the working from home routine helped you find a better work-life balance and rediscover the joy of spending time with your family. It surely was the case for me, and I hope you are able to find your silver lining, whatever it might be.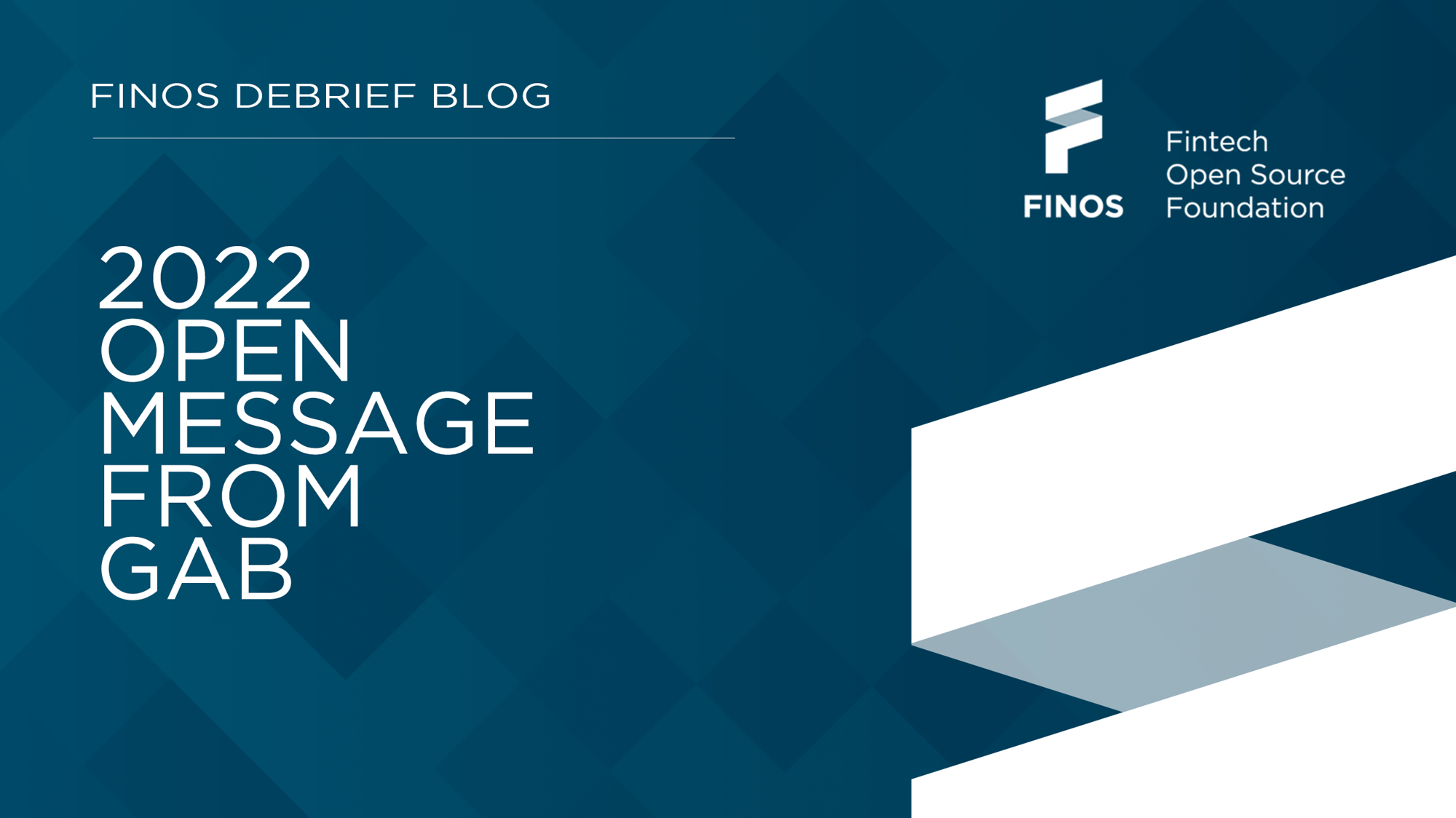 Before we all get caught in the whirlwind of what's looking like to be another busy and thrilling year for FINOS, and hopefully for all of you, I wanted to reflect on all the accomplishments we had as a Community in 2021 and the outstanding positions this sets us in for 2022.
In 2021 we not only added 19 new Corporate Members to our Foundation (a whopping 34% growth), and onboarded 11 new Projects and Special Interest Groups (almost 1 a month), but we continued to deliver many new "firsts" for our young 3 and 1/2 years old Community including:
By popular demand, we released the first State of Open Source in Financial Services Report together with our partners at LF Research, Scott Logic, Wipro, Github. Not only does this contain hugely valuable insights on open source trends in the industry, but constitutes a baseline to measure our growth and success as we plan to execute this survey and report yearly.
With the help of our Silver Member Adaptive and LF Training, we delivered the first (of hopefully many) FINOS project related training, the free introduction to FDC3 and desktop interoperability targeted to both business and technical audiences. Training is a fundamental driver of adoption of our projects and we look forward to working with other project maintainers to continue growing fundamental skills around our projects.
We brought back in person almost 700 community members for what have been two amazing Open Source Strategy Forums across New York and London. While maybe not exactly a first, we feel so lucky to have been able to gather our Community back in person in a safe environment, thanks to the meticulous planning and execution from the Linux Foundation Events team. If you didn't make it, make sure to check out the recordings from New York and London
For the first time we had a regulator on stage at OSSF, the Head of the Innovation for the FDIC Sultan Meghji, promoting the concept of open source regulation as a fundamental breakthrough towards more efficient and mutualized regulatory technology. So much more to come on this front in 2022 as we continue to develop our Open Regtech initiative.
We rolled powerful features from the LFX Platform to our Community, including EasyCLA, Insights, Individual Contributors Dashboard, and the Organizational Dashboard (currently in private beta) to enable even further productivity and data driven growth. Notable highlights include our contributor strength growing ~30% last year with now over 1200 contributors over time, and an unprecedented 7/10 top contributors coming from financial institutions.
In addition to our virtual meetups, our blogs and newsletter, we have launched our Open Source in Finance Podcast hosted by our very own Aaron (Grizz) Griswold - thanks to your participation and contributions this is now ranked #11 by Feedspot for open source podcasts.
Legend was awarded the Best Fintech Partnership 2021 by Banking Tech, the first of surely many future recognitions for our projects! Talking about awards, we delivered 10 corporate Member and individual Community awards for the first time across both the EMEA and Americas region - once again congratulations to the 2021 winners!
The bottom line is that our Community, and more broadly the global financial industry, is now very seriously leveraging open source not only merely as a cost reduction mechanism for the technology organization or as a must to attract and retain top talent, but as a powerful collaboration model that goes way beyond code and can be used to address long standing pan-industry business challenges across the spectrum. It's no surprise we are seeing the likes of Andreessen Horowitz publicly stating that "Open source will catalyze the financial services industry's biggest evolution to date" and the Chinese regulators pushing their financial institutions to not only adopt but contribute to open source.
In other words, we are just at the beginning of our journey, and as the industry at large awakens to the vision and concepts we've been developing since our inception, FINOS is uniquely well positioned to drive a global impact in what the financial technology backbone will evolve into over the next decade: a highly efficient and interoperable stack built on open source primitives bridging across fintech and financial institutions. I will share a more concrete plan for the year after our Governing Board meeting of January 19th, but in the meanwhile I welcome not only your contributions in terms of code and sweat equity, but in terms of the business challenges that keep you up at night and that together we could efficiently tackle in the open.
It's time to think big, but continue to act small and with relentless focus, and with an even stronger attention to security and compliance. The log4j vulnerability has once again raised attention not only on the importance of professional software supply chain management but more broadly shone further light on the fundamental role foundations like FINOS and the Linux Foundation have in securing open source projects which effectively drive modern economy.
And this is now clearly understood at the highest level of government, as the Linux Foundation has been invited to the White House today (13 January) together with the largest big tech firms to discuss sweeping efforts to secure modern technology, above and beyond what the LF is already doing through the Open Source Security Foundation many of you are already part of. Stay tuned, much more to come here.
I hope this note gives you an idea of the massive potential this Community has to drive change and innovation in this industry, and that is the more outstanding considering where we started a little over three years ago. I want to thank you for all of your contributions, what you do every day in our Community matters and has huge visibility - maybe more than you might even realize.
Now onto another fantastic year of growth, collaboration and rewarding outcomes. The stars are aligning and so I exhort you to continue helping us grow the Community - you are our strongest advocates and have the potential to make our growth exponential. I hope this note gives you a glimpse on the exciting potential here, but as usual I'd love to hear your feedback on how we can do better and on areas and business challenges you think we should be doubling down on.
Thank you for taking the time to read this and happy 2022 FINOS Community!
Interested in FINOS open source projects? Click the link below to see how to get involved in the FINOS Community.
State of Open Source in Financial Services Report 2021 - Learn about what is really happening around open source in FSI.
This Week at FINOS Blog - See what is happening at FINOS each week.
FINOS Landscape - See our landscape of FINOS open source and open standard projects.
Community Calendar - Scroll through the calendar to find a meeting to join.
FINOS Slack Channels - The FINOS Slack provides our Community another public channel to discuss work in FINOS and open source in finance more generally.
Project Status Dashboard - See a live snapshot of our community contributors and activity.
Events - Check out our upcoming events or email marketing@finos.org if you'd like to partner with us or have an event idea.
FINOS Virtual "Meetups" Videos & Slides - See replays of our virtual "meetups" based around the FINOS Community and Projects since we can't all be in the same room right now.
FINOS Open Source in Finance Podcasts - Listen and subscribe to the first open source in fintech and banking podcasts for deeper dives on our virtual "meetup" and other topics.