We are honored to win the 2021 Banking Tech Awards for Best Fintech Partnership Award with Goldman Sachs, for our collaboration on the Legend project.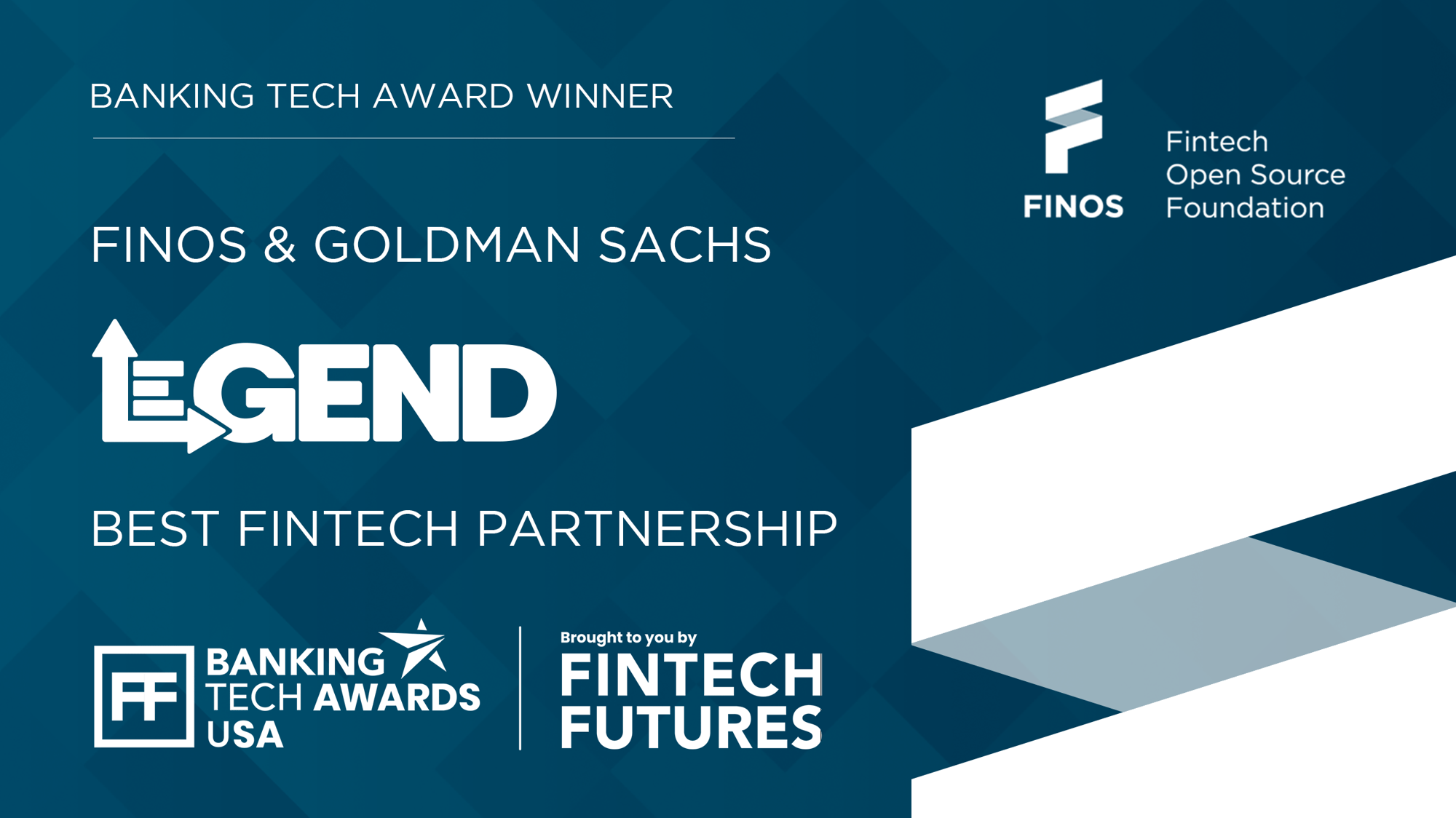 BEST FINTECH PARTNERSHIP
In November 2019, at the FINOS flagship Open Source Strategy Forum, FINOS Platinum member Goldman Sachs announced their intention to open source its internally developed Legend data management platform into FINOS.
Legend provides an excellent opportunity to bring subject matter expertise to data models, as its single, visual platform enables engineers and non-engineers - regardless of their technical background - to develop data-centric applications and data-driven insights.
Between April and September 2020, Goldman Sachs led several data modeling efforts as part of the FINOS Legend Studio Pilot to develop extensions to the International Swaps and Derivatives Association's Common Domain Model (ISDA CDM).
The Legend Pilot established a model for future collaboration, where:
FINOS provides a secure environment for the financial services community to seamlessly develop open source code and standards

Financial services organizations contribute use cases and code

Standards bodies consolidate industry-wide input in a transparent and efficient way.
Legend was open sourced and contributed into FINOS in late 2020 and is available on GitHub for anyone to use and contribute to.
Earlier in 2021, Goldman Sachs announced the creation of an Open Source Program Office and the launch of the Goldman Sachs Developer Blog. They recently contributed the CatchIt Secret Scanner into FINOS. We look forward to continuing our collaboration with Goldman Sachs, and to fostering the growth of open source in financial services.
CatchIT Secret Scanner Contribution
See all of the Banking Tech Award winners here
Interested in joining the FINOS Community? Click the link below to see how to get involved.
State of Open Source in Financial Services Report 2021 - Learn about what is really happening around open source in FSI.
This Week at FINOS Blog - See what is happening at FINOS each week.
FINOS Landscape - See our landscape of FINOS open source and open standard projects.
Community Calendar - Scroll through the calendar to find a meeting to join.
FINOS Slack Channels - The FINOS Slack provides our Community another public channel to discuss work in FINOS and open source in finance more generally.
Project Status Dashboard - See a live snapshot of our community contributors and activity.
Events - Check out our upcoming events or email marketing@finos.org if you'd like to partner with us or have an event idea.
FINOS Virtual "Meetups" Videos & Slides - See replays of our virtual "meetups" based around the FINOS Community and Projects since we can't all be in the same room right now.
FINOS Open Source in Finance Podcasts - Listen and subscribe to the first open source in fintech and banking podcasts for deeper dives on our virtual "meetup" and other topics.