The Linux Foundation Open Source Summit Europe took place in Dublin on September 13-16.
The conference brought together open source developers, technologists, and community leaders to collaborate, share information, solve problems, and gain knowledge, furthering open source innovation and ensuring a sustainable open source ecosystem.
We were proud to sponsor the event while having a booth onsite, along with many others including FINOS members, Ericsson, Mend, RedHat and more. Thanks to everyone who stopped by to chat with us.
In case you missed it, we had an exciting announcement that our Executive Director, Gabriele Columbro has been appointed General Manager of Linux Foundation Europe. Gabriele will also continue to serve in his role at FINOS. Read the full press release here.
Throughout Gabriele's keynote he spoke on how his new role will enable the Linux Foundation to collaborate locally and innovate globally, alongside a panel discussion with:
Phil Robb, Head of Ericsson Software Technology.

Rob Oshana,

VP of Software Engineering & RD, NXP Semiconductors.

Sachiko Muto, Chair of OpenForum Europe.

Vasu Chandrasekhara,

CNCF Governing Board Representative; Vice President & Chief Architect, SAP.
As well as that, Gabriele featured on a panel following research revealed on the World of Open Source: Europe Spotlight 2022, discussing the the key findings and how we can support the flourishing European open source ecosystem.
Our Director of Community, James McLeod also spoke at the Open Source Summit about the state of the open source in financial services as well as the good, the bad, and the ugly of where the community is today and the opportunities for growth.
Techstrong tv was also in Dublin and interviewed FINOS employees, Linux Foundation employees, FINOS members and open source advocates. Watch their interviews below:
(On-demand videos from the Linux Foundation available here)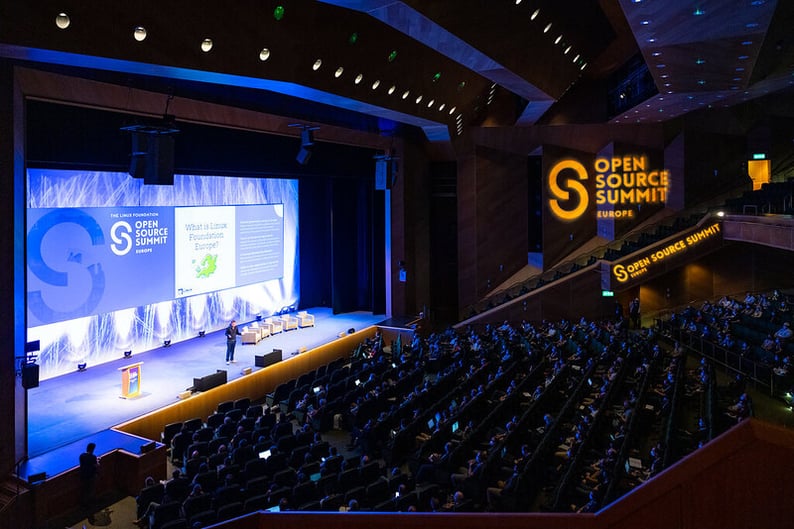 Interested in FINOS open source projects? Click the link below to see how to get involved in the FINOS Community.
FINOS Good First Issues - Looking for a place to contribute? Take a look at good first issues across FINOS projects and get your feet wet in the FINOS community.
State of Open Source in Financial Services Report 2021 - Learn about what is really happening around open source in FSI.
This Week at FINOS Blog - See what is happening at FINOS each week.
FINOS Landscape - See our landscape of FINOS open source and open standard projects.
Community Calendar - Scroll through the calendar to find a meeting to join.
FINOS Slack Channels - The FINOS Slack provides our Community another public channel to discuss work in FINOS and open source in finance more generally.
Project Status Dashboard - See a live snapshot of our community contributors and activity.
Events - Check out our upcoming events or email marketing@finos.org if you'd like to partner with us or have an event idea.
FINOS Virtual "Meetups" Videos & Slides - See replays of our virtual "meetups" based around the FINOS Community and Projects since we can't all be in the same room right now.
FINOS Open Source in Finance Podcasts - Listen and subscribe to the first open source in fintech and banking podcasts for deeper dives on our virtual "meetup" and other topics.