Unless you've been living under a rock for the last couple of weeks, you should be aware of the OSFF conference that happened on the 1st November in grand style in the Marriott Marquis hotel in New York.

Open Source Readiness was featured heavily not only in the keynotes and at our project table (thanks to Brittany Istenes, Cara Delia and Mimi Flynn for their staffing duties) but also in the press release on the state of open source in financial services.

Over the next couple of weeks I am going to focus on some of these announcements. Starting with: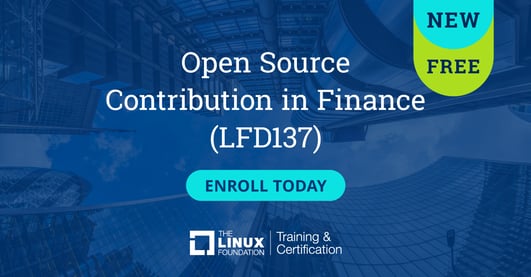 LFD137: Open Source Contribution In Finance
Finally, Open Source Readiness has a training course! After spending most of the year building and refining our body of knowledge, we've condensed this down into actionable training for developers - and it's free to take!

This contains all our best practices on contributing to and using open source software in a financial services setting and on behalf of all the authors, reviewers and editors who got involved in this I can say we're very keen for you to try it out and give us feedback!

So, that's the calls to action for this week's OSR blog: go take the training and tell us what you think about it!

See you next week!
Author: Rob Moffat
Interested in this FINOS open source project, or any of our other projects? Click the link below to see how to get involved in the FINOS Community.