This year at FINOS we are focusing on one of FINOS' key existing projects: Open Source Readiness. This is FINOS' term for helping the finance industry "do open source properly".
Happy Halloween to all the Open Source Readiness readership. This week: the ominous OSFF occurs, possessed pull-requests are closed and bewitching breakout sessions are announced.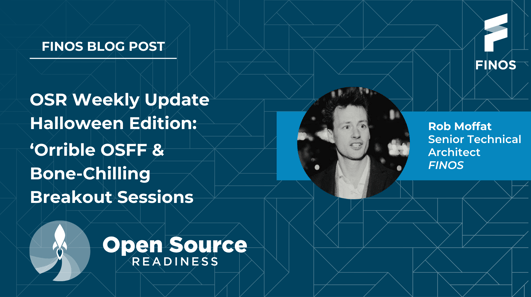 Possessed Pull Requests!
Cara Delia from RedHat has been busy over the last few weeks improving the CEO, CTO, Internal Audit and Line of Business pages on the OSR site, incorporating lots of the discussions we had back at the FINOS Member Meeting back in June. Go check it out and give us your feedback.
Also, I've been adding some detail around the FSOSD Certification and Learning Path in preparation for the beta for this exam starting. We'll be announcing this in the keynote at OSFF
'Orrible OSFF!
It's this week! If you're in New York and haven't signed up yet, what have you been doing? Sign-ups are through the roof this year - anyone who is anyone will be there. Make sure you don't miss out!
There are complimentary passes for employees of FINOS Member Firms so hurry up and register already!
The OSR and InnerSource SIGs are collaborating on running a booth at the event - would you like to help staff it? Get in touch if so!
Bone-Chilling Breakout Sessions!
There are breakout sessions for both OSR and InnerSource SIGs on 2nd November, the day after OSFF:
On 2nd November at 9AM-10:30AM Open Source Readiness SIG are having a breakout session to discuss information architecture for the Body of Knowledge.
On 2nd November 11AM-12:30PM InnerSource SIG leads are hosting an in-person breakout session for planning activities for 2024. For this session we are also planning to have some attendees via Zoom. Email me for details and the invite.

You can find both of these on the FINOS Community Calendar, but please mail me if you want to attend in person as I'll have to clear you for entry to Morgan Stanley (1 New York Plaza, 1 FDR Dr, New York, NY 10004, USA - map)
Author: Rob Moffat
Interested in this FINOS open source project, or any of our other projects? Click the link below to see how to get involved in the FINOS Community.