This year at FINOS we are focusing on one of FINOS' key existing projects: Open Source Readiness. This is FINOS' term for helping the finance industry "do open source properly".
Apologies for missing last week's OSR blog, but here we are back again with something of a double-dose.
What's going on in the World of Open Source Readiness?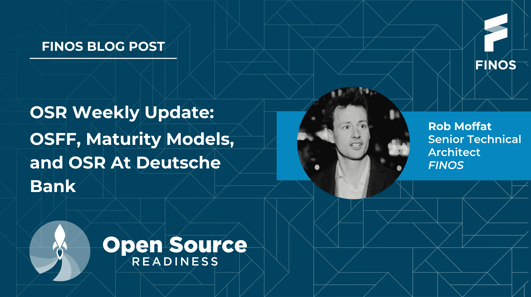 OSFF - New York
First, register for the Open Source in Finance Forum taking place at the Marriott Marquis Hotel in Times Square NYC on November 1st. The schedule is now live! Over the next few weeks I'll break down all the OSR-related content going on there, but for now I'll just say that if you're in the area come along!
There are complimentary passes for employees of FINOS Member Firms so hurry up and sign up! If you haven't received your unique member code, please contact osff@finos.org and we'll get you sorted. Sign up here!
Maturity Models
I had a great talk with Victor Lu last week about the state of maturity models in OSR. Back at the beginning of the year, this was a hot topic for blog posts but we realized that there was a lot of work to do to build out the Body of Knowledge and get our house in order.
It finally feels like we are nearly there. Victor and I threw down some ideas in a Google Doc and we'll pick this up in the OSR Interest Group meeting on Wednesday 2PM UK 9AM EST. Zoom Details can be found in the github issue here.
OSR At Deutsche Bank
A few weeks ago I was asked to go and talk to the DB Tech Graduate intake for 2023 over at Marylebone in London. It was packed!
I wrote a presentation about open source, FINOS and Open Source Readiness that you might be interested in reading.
Author: Rob Moffat
Interested in this FINOS open source project, or any of our other projects? Click the link below to see how to get involved in the FINOS Community.