This year at FINOS we are focusing on one of FINOS' key existing projects: Open Source Readiness. This is FINOS' term for helping the finance industry "do open source properly".
It's been all-go in the world of Open Source Readiness again this week. Three things for your attention: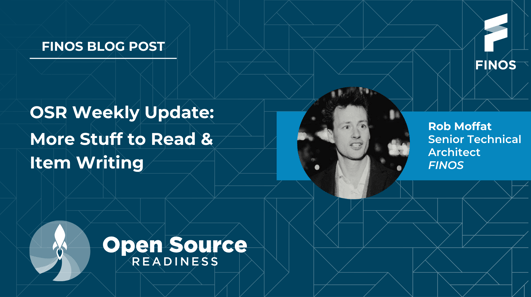 More Stuff To Read
After last week's mega-merge of pull requests, we're still at it! Here are a few articles which are ready for review. Although we haven't got an agenda together yet, I expect we'll be looking more closely at some of these in next week's OSR Special Interest Group Meeting on 20th September:
Leveraging Open Source as a Strategy by Gil Yehuda from US Bank: Level 5 of the open source maturity model is about Strategy. At this level, you seek to make decisions that shape the technology landscape in your favor to create new opportunities. Review the PR here.
Open Source Foundations by Brittany Istenes of Fannie Mae: This article describes the importance of interacting with open source foundations, the roles they perform and ways in which your organization can make the most of them. Review it here.
Supply Chain Security (by me with contributions from Peter Smulovics of Morgan Stanley):In this article we look at the growing issue of software supply chain attacks via some examples and then look at the emerging field of open source supply chain security: what it is, current best practices, the institutional landscape and emerging legislation. Add your review to the PR.
Item Writing!
Last Friday the Linux Foundation certifications team met with some of our subject matter experts to explain the process of writing items for the FINOS / TODO Financial Services Open Source Developer Exam (FSOSD).
In a way, this is kind of the culmination of all the work that's been happening this year: in order to write the exam, we first had to create the Open Source Body of Knowledge, which is kind of a catalog of the best practices and everything else that's important in the world of financial open source.
Then, based on that, and from reviewing existing Linux Foundation training materials we were able to identify both a Learning Path for Developers in our industry (i.e. which courses they should take) and also write our own course, Open Source Contribution In Finance (LFD137) which we'll be launching at OSFF in November (see below).
And then, based on that, we were able to create the exam syllabus for FSOSD. Now, we're actually at the stage of writing the exam: coming up with items. Items are questions based on the syllabus and the right and wrong answers for those questions.
If you're interested in getting involved then for the next two Monday's we have a meeting to break down the topics and figure out questions. Come along if this is something you feel you could help with!
Obligatory OSFF Reminder
If you're working for a FINOS member and you live in New York, why haven't you signed up to come to OSFF yet?
There are complimentary passes for employees of FINOS Member Firms so hurry up and register already!
If you haven't received your unique member code, please contact osff@finos.org and we'll get you sorted.
Author: Rob Moffat
Interested in this FINOS open source project, or any of our other projects? Click the link below to see how to get involved in the FINOS Community.