Guest Speaker: Daniela Zhelva, DevOps Engineer, Deutsche Bank presented on "How Deutsche Bank uses InnerSource in Engineering"
This video is from a live webinar conducted for the FINOS Open Source Readiness (OSR) project. The OSR project meets bi-weekly for guest presentations, knowledge-sharing between financial industry firms solving similar issues on their road to open source readiness, and discussion of open source strategy. Take a look at upcoming FINOS events like this and join us!
This particular webinar for OSR featured the first in a series of collaborations between FINOS and InnerSource Commons. There is a panel discussion on our audio podcast here. Daniela's presentation was coupled in the middle of this discussion.
Daniela'S Presentation
How Deutsche Bank uses InnerSource in Engineering - Lightning Talk by Daniela Zheleva of Deutsche Bank
Daniela's Bio:
Daniela Zheleva - Deutsche Bank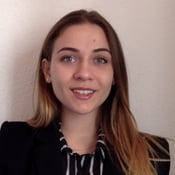 Daniela Zheleva is a DevOps Engineer at Deutsche Bank, FINOS Cloud Service Certification contributor and FINOS Community Spotlight winner. She has spent the first part of her career enhancing Deutsche Banks firm-wide InnerSource discoverability platform and is passionate about supporting the Inner Source community.
Interested in this FINOS open source project, or any of our other projects? Click the link below to see how to get involved in the FINOS Community.