By Gabriele Columbro, FINOS; Karen Ottoni, Hyperledger Foundation; and Jennifer Lassiter, The Digital Dollar Project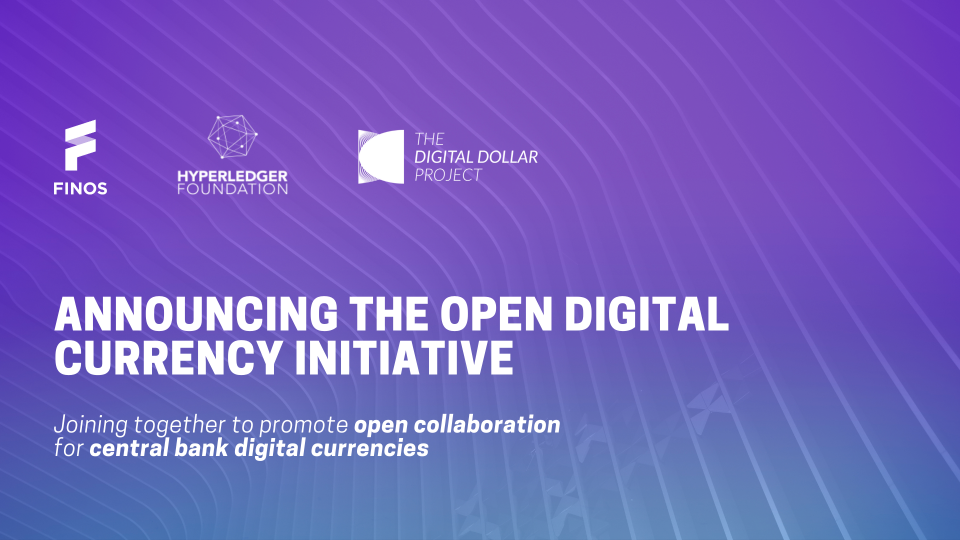 Central Bank Digital Currency (CBDC) has the power to transform economies — connecting people, governments, businesses, and organizations locally and globally through technology that could not have been imagined even 20 years ago, and with more advances on the way.
Experimentation is central to answering any question, especially one with as many stakeholders, variables, and "unknowns" as CBDCs. Without open source development and collaboration between stakeholders, each will have to invest significant resources to build code independently and will have no way to avoid duplicating efforts or mistakes.
To achieve success, we must experiment, question, interrogate, and evaluate without fear of failure. We must share information openly and freely across borders, industries, and institutions to create a rich dataset that drives innovation and decision-making.
That's why we are thrilled to announce that Fintech Open Source Foundation (FINOS), Hyperledger Foundation and The Digital Dollar Project (DDP) are joining forces to create an open community dedicated to experimentation, information sharing, and discussion around CBDCs, ensuring that central banks that decide to embark upon researching or deploying CBDCs are doing so with the best available secure technology.
Each organization's unique community will contribute to building a neutral place to collaborate, use, share, and build technologies that advance the exploration of CBDCs. Our aim is to bring together a global forum of practitioners and stakeholders to engage in open collaboration and development and to forge private-public partnerships for experimenting, sharing knowledge, and working together on open standards and research.

We are just getting started and are excited to share more in the weeks ahead. To learn more and to get involved, visit https://project.linuxfoundation.org/open-digital-currency.
Interested in FINOS open source projects? Click the link below to see how to get involved in the FINOS Community.
FINOS Good First Issues - Looking for a place to contribute? Take a look at good first issues across FINOS projects and get your feet wet in the FINOS community.
State of Open Source in Financial Services Report 2021 - Learn about what is really happening around open source in FSI.
This Week at FINOS Blog - See what is happening at FINOS each week.
FINOS Landscape - See our landscape of FINOS open source and open standard projects.
Community Calendar - Scroll through the calendar to find a meeting to join.
FINOS Slack Channels - The FINOS Slack provides our Community another public channel to discuss work in FINOS and open source in finance more generally.
Project Status Dashboard - See a live snapshot of our community contributors and activity.
Events - Check out our upcoming events or email marketing@finos.org if you'd like to partner with us or have an event idea.
FINOS Virtual "Meetups" Videos & Slides - See replays of our virtual "meetups" based around the FINOS Community and Projects since we can't all be in the same room right now.
FINOS Open Source in Finance Podcasts - Listen and subscribe to the first open source in fintech and banking podcasts for deeper dives on our virtual "meetup" and other topics.