It was great to see so many faces at the FINOS All Community Call on September 10, 2020. In case you missed it or just didn't get enough the first time around we've included links below to the video and slides from the live call. We've also included a brief overview of key topics covered by the FINOS team and our community. Be sure and join us live for future "Meetups" to see real examples of successful collaboration.
During our Q3 "All Community Call" the FINOS team and community provided updates on the continued momentum and great progress across our projects. We've included some highlights below but be sure to check out the video replay to get all of the updates.
FINOS now has 21 active projects, including Waltz (contributed by Deutsche Bank), which became active last quarter. Our number of incubating projects has grown to 20 with the recent contributions of Data Hub from Citi, Morphir from Morgan Stanley and Glue from EPAM.
With our move to the Linux Foundation, FINOS has also introduced Special Interest Groups (SIGs). During its last meeting, the Board approved the creation of a Diversity and Inclusion SIG, which we agree is critical for our industry, community and foundation.
We're also looking at turning two other FINOS initiatives, namely DevOps Mutualization and Open Source FinReg into SIGs and will present these to the Board in October.
We've now run 14 virtual meetups since we started in April. Couple this with the talks from our experienced and seasoned guest presenters in open source readiness meetings and you get a fantastic library of videos and podcasts.
Our Q3 focus projects are making great progress:
Consider how you can contribute to one of these or any other of our FINOS projects.
We're always looking for ways to make it easy for individuals to get involved with FINOS projects and for those already active to lead. Over the last few months we've made major changes to simplify our governance. Here are some resources and links you may want to keep handy.
If you are project maintainer or contributor, the FINOS team is continuously working to provide automation that can minimize overhead. Check out our Open Developer Platform or check this cheatsheet for the 5 most useful features of ODP.
Finally, don't forget to register for the Open Source Strategy Forum taking place on November 12th and 13th.
watch the video of the all community call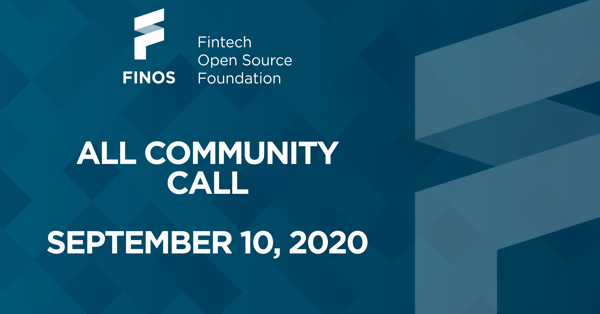 Interested in FINOS open source projects? Click the link below to see how to get involved in the FINOS Community.