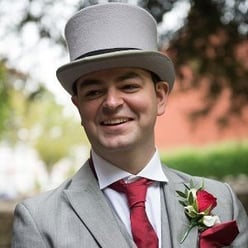 Jon Freedman, head of trading technology at Brevan Howard, was one of the earliest contributors to the Foundation. Along with leading the hubot-symphony project, which was the first project to achieve "active" status, he is one of the most active committers in the community. On top of all of this, we're also happy to say that he is our latest at-large member.
Jon studied computing during university, and has worked in the finance and IT worlds for about 12 years. With his time at different investment banks and hedge funds, he's worked with a variety of languages. And as he explained, "the better and broader the language system, the easier it is to get something done."
He went on to say that the Symphony platform is interesting because it allows professionals at different financial institutions to communicate in real-time--it's more free-flowing than email, and when you want to hear back from one or more people, it's better than waiting around for everyone to respond to an email.
The buyers and sellers in the industry need access to the right people, and email doesn't help with this. And while phone calls are more productive, no one necessarily wants to sit on a phone for half an hour. Symphony allows the option to have a real-time conversation with several people at once.
"This is going to be important in the way finance institutions do business in the future," he said.
Companies have several options when it comes to chat and collaboration tools, but Slack, for example, does not have the data security and data loss prevention tools that would be needed at a financial institution.
"Symphony will hopefully allow internal collaboration in a way that Slack does, but with enterprise-level security and data loss prevention," he said, and in parallel, allow cross-organization collaboration in an ad hoc way.
When it comes to developing and collaborating on open source projects, Jon said his favorite part is the fact that you can be part of the design and rollout of something while also having the chance to look at different technology stacks.
"In a selfish sense, it's very handy to develop as a programmer...it's much easier to learn new technologies and languages when it's for a tangible task," he added, "It's nice to see people using what you're building."
Looking ahead, Jon sees open source as something that will continue to evolve within the financial services industry over time. He said that as regulators push the financial services industry to be more electronic and automated, and as standardization becomes increasingly important between different financial institutions and regulators, the industry will be incentivized to collaborate either in closed or open source initiatives (which, until now, has been only a closed source model).
He went on to say that the value in Symphony and in the Foundation is the interconnectedness within the industry, and it would be interesting to see where this model is headed in the future.