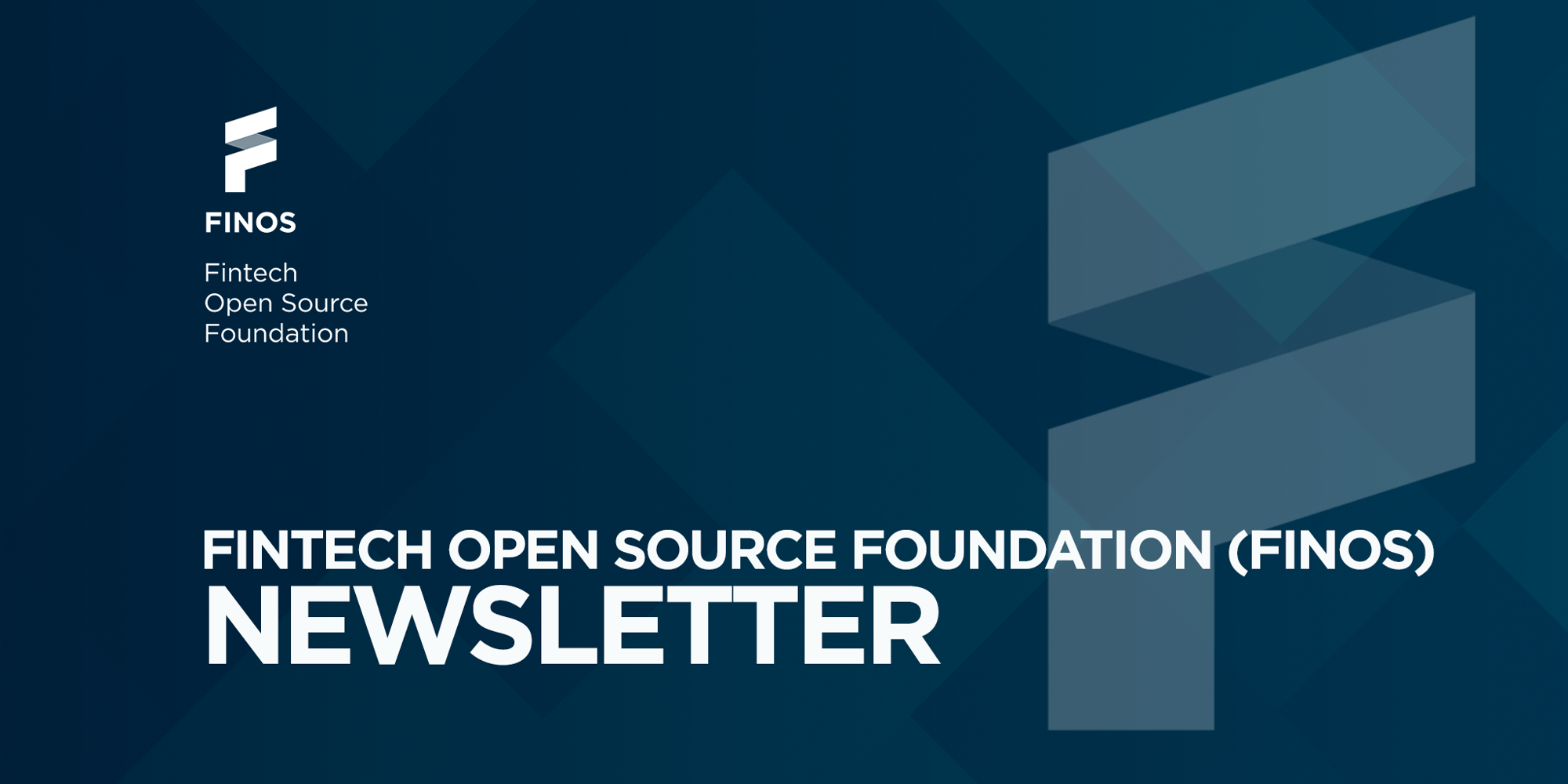 Q3 2020 NEWSLETTER
Read below to learn about new contributions, new membership opportunities, our annual conference, and highlights of recent community activity.
FINOS NEWS & UPDATES
FINOS Q3 ALL COMMUNITY CALL
Register and join us on September 10th at 11am ET / 4pm BST to hear about recent activities in the Foundation. We'll cover Q3 focus projects; our updated governance model; community key performance indicators (KPIs); top tips on tools and processes for FINOS project maintainers; and more. You can also influence the agenda directly by adding your comments and feedback to https://github.com/finos/community/issues/53.
---
OPEN SOURCE STRATEGY FORUM
We received a record number of fantastic talk submissions for this year's virtual OSSF taking place on November 12th and 13th. We'll be announcing the agenda in just a couple of weeks but you can register already for what is sure to be a great virtual event. Don't forget that FINOS members attend free. Email ossf@finos.org to get your FINOS member access code.
---
OUR PODCAST - FINOS OPEN SOURCE IN FINTECH
Did you know that FINOS has a podcast? Our Director of Community, James McLeod, regularly speaks with our community about FINOS projects and interesting topics at the cross section of financial services and open source. Check it out, subscribe, and don't forget to rate us (5 stars)!
Apple Podcasts | Anchor.fm | Spotify
---
ASSOCIATE MEMBERSHIP
We're pleased to announce that we have a new membership level specifically for non-profits, government organizations, regulatory bodies, and academic institutions. Learn more at https://www.finos.org/membership-benefits or email us at membership@finos.org.
FINOS MEMBER UPDATES
Alliance for Innovative Regulation (AIR) - New Associate Member
We're delighted that AIR has joined as the first FINOS associate member. AIR is a nonprofit dedicated to modernizing the financial regulatory system, and we've been working together since launching our Open Source FinReg initiative. AIR works at the intersection of technology, innovation, and regulation seeking to catalyze and shape a digital transformation of financial regulation.
---
Nick Kolba - Community Spotlight
As part of our celebration of the FINOS community we're excited to introduce the FINOS Community Spotlight, recognizing the awesome work of our open source contributors and the wider FINOS community. For the first edition we'd like to highlight Nick Kolba, a highly regarded FINOS Lead Maintainer and Board Member who goes above and beyond to ensure the quality, growth, and support of FDC3 and FINOS.
---
Individual Supporters
With our move to the Linux Foundation, we've also moved from At-Large-Members to Individual Supporters. The name might have changed, but the value these individuals bring to FINOS has not. If you want more information or are interested in becoming an Individual Supporter, please email membership@finos.org.
PROJECT UPDATES
Governance Changes
FINOS recently released significant governance changes to reflect the removal of Programs; to address differing requirements for projects and standards; and to make our governance easier to understand and follow. We'll be covering key points at our upcoming community call, and you can read more and provide feedback in our GitHub repo.
---
Waltz (activation)
Earlier in the quarter Waltz moved from the incubating lifecycle state to active. To reach this lifecycle status, projects must meet a number of rigorous criteria, which Waltz did in a single quarter. Check out the numerous screencasts that can help you get started using this production-quality software. Congratulations to the Waltz team and all contributors!
---
Morphir (new contribution)
FINOS member Morgan Stanley has just contributed Morphir. Morphir is a multi-language system built on a data format that captures an application's domain model and business logic in a technology agnostic manner. This has great potential value to the industry, particularly for initiatives that require sharing business calculations, logic, and rules across firms, for example, regulations, smart contracts, collateral eligibility rules, pre-trade validation, or pricing.
---
Git Proxy (ongoing contribution)
A common challenge many of our financial services members face is addressing the workflow that actually gets code into open source repositories. Several of our members have been discussing how to collaborate on open source tooling to make that easier. The first planned contribution is Git Proxy, a NodeJS server that operates as a "go-between" providing a seamless experience for developers as well as the ability to configure a chain of validations and workflows. Check out the ongoing contribution and see how you can help build out this toolset (or share this with developers who can).
---
Open Developer Platform (microsite release)
The Open Developer Platform (ODP) has a new microsite! In case you aren't familiar with the ODP, it is a collection of services, tools, and best practices that help our community engage in secure and compliant collaboration for FINOS-hosted projects. It's community driven so we welcome your input and feedback.
---
FINOS Project Presentation Template
Have you ever wanted to give a presentation on a FINOS project you're involved in but didn't want to use your company's proprietary slide template? Well, you're in luck. You can find the FINOS project presentation template along with other branding materials in our FINOS Branding repo. Please just be sure to follow the guidelines.
SPREADING THE WORD
Check out some recent blogs and press coverage about FINOS and the FINOS community.
The FinTech Podcast with Gabriele Columbro - FinTech Magazine
UBS Streamlines Software Product Development with GitLab - ComputerWeekly.com
Open Source Contributions on the Rise in Fintech, Healthcare, and Government - The New Stack
FINOS Targets Retail Banking - Waters Technology
Waters Tech Wavelength Podcast Episode 203 - Wavelength Podcast
As 'big tech' dominates cloud use for banks, regulators may need to get tougher - S&P Global Market Intelligence
FINOS Sees Opportunity for Open Source in RegTech Space - Waters Technology
When will banks stop worrying and learn to love open source? - Fintech Talents
Banks Eye More Open Source in Light of COVID-19 - Waters Technology
join us
For a full weekly list of meetups, webinars, and other open source project oriented meetings, please refer to "This Week at FINOS", and sign up for the email that comes out every Monday. (Email community+subscribe@finos.org to be automatically added to the distribution.)
UPCOMING VIRTUAL MEETUPS & CONFERENCES
Virtual "Meetup": "From Jenkins to Resilient DevOps - A Blueprint"Anders Wallgren of CloudBees - September 9th at 11am ET / 4pm BST
Open Meeting: FINOS All Community Call - Thursday, September 10th at 11am ET / 4pm BST
Virtual Conference: The Linux Foundation Open Source Summit 2020 - Virtual Experience - October 26th to October 29th
Virtual Conference: The Linux Foundation Open Source Summit 2020 - FINOS Mini-Summit - Thursday, October 29th at 9am ET / 1pm GMT
Virtual Conference: FINOS Open Source Strategy Forum - November 12th to 13th
To catch recaps, videos, slides, and podcasts of previous virtual "meetups", as well as other helpful FINOS resources, visit our Knowledge Base page.
GET INVOLVED
This Week at FINOS Blog - See what is happening at FINOS each week.
FINOS Landscape - See our landscape of FINOS open source and open standard projects.
FINOS Project Catalog - Search all of our Programs, Projects and Working groups.
Project Meeting Calendar - Scroll through the calendar to find a meeting to join.
Program Status Dashboard - See a live snapshot of our community contributors and activity.
Events - Check out our upcoming events or email marketing@finos.org if you'd like to partner with us or have an event idea.
FINOS Virtual "Meetups" Videos & Slides - In April of this year, we started a series of virtual "meetups" based around the FINOS Community and Projects since we can't all be in the same room right now.
FINOS Open Source in Fintech Podcasts - We also started one of the first open source in fintech and banking podcasts for deeper dives on our virtual "meetup" topics.
Interested in FINOS open source projects? Click the link below to see how to get involved in the FINOS Community.
Thanks!
~ The FINOS Team