Join us for our "Big Boost Mondays' Big Bash" in London! Celebrating 1 year of "Big Boost Mondays" - a Tech & DEI meet-up helping you find your pathway into technology in the city!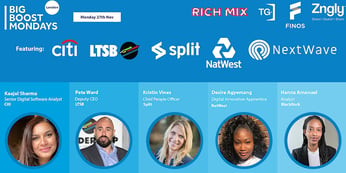 Registration, Networking & Drinks - 18:00
Talks Start - 19:00
Talks Finish - 20:00
Post-event Food, Music & Networking To Close - 22:00
Who is this for?
Find out more how open-source is power innovation in finance

Hear from leading Women in technology

Explore different pathways to a career in technology

Industry professionals, senior stakeholders, allies and sponsors

LGBTQ+, Students, under-represented groups, and the curious

Non-degree holders
Join us on the night to celebrate 1 year of Big Boost Mondays! You can hear from our guest speakers on the topic of - How to Champion Transformation, Diversity, & Breaking Down Barriers. There will also be food and music!
About our host on the night:
Open since 2006, RichMix are a charity connecting some of the city's most adventurous and diverse audiences to a vital, exciting and ambitious programme of contemporary culture. Rooted in the city but open to the world, they champion diversity in everything they do!
Joining us on the night:
Kaajal Sharma - Senior Digital Software Analyst, Citi
Citi - hosts and special guest at our Big Boost Mondays happening this year. We are joined by Kaajal a marketing professional with deep experience of the Private Bank and Wealth Management industry, who started her Citi career as part of the Reactivate your career programme. The Reactivate Program is a supportive hiring program, designed to help people transition from a career break into a career within financial services. It is specially designed to help people who may not have even worked in the tech sector before! Kaajal is also a leading contributor with the FINOS DEI/SIG - a group within FINOS that promotes and supports DEI within the fintech industry.
Pete Ward - Deputy CEO at Leadership Through Sport & Business
Pete is a DEI champion, a great friend of Big Boost Monday, and we are thrilled he is returning to the Big Boost Monday stage. LTSB is a social mobility charity that prepares and supports bright young people from disadvantaged backgrounds into meaningful roles with major firms. They make sure those at risk of under-employment find careers equal to their ambition and ability, and can contribute from their first day on the job. Pete will be sharing their great work, and the hugely successful partnership with NatWest.
Dominic "Dom" McEvoy - EMEA Sales Director, Split
Dominic will introduce Trevor Stuart - Co-Founder, Split & Kristin Vines - Chief People Officer, Split
Split has developed a platform that enables businesses to efficiently push features within software, and Split are longtime friends of Big Boost Mondays! Being recognised DEI champions in tech, they will share how DEI is an integral part of their company and culture, helping Split grow and develop even better solutions, and pushing for diversified thinking and involvement through internal programs to support minority groups in Split. Dom is a veteran of tech and the city and will introduce Split, with specially produced video segments from West Coast based Trevor and Kristin.
James McLeod - Director of Community, FINOS
James is Director of Community at FINOS and OpenUK Top 100 Influencer who believes that the transformation of financial services can only be fulfilled when open source is embraced under the three pillars of Contribution, Consumption and Community. He is an active contributor to open source through the founding of London.js, a rapidly growing London meetup with a membership of over 2500 ReactJS and Javascript developers.
(Moderator) Mike Wilson - CEO & Founder, Zngly
Mike has spent a 35+ year career working at the sharp end of finance, technology and media globally, based in Asia, the US and Europe. Working in fintechs, banks and start-ups. A passionate champion of technology, innovation and diversity. Establishing the TechGateway and Big Boost Mondays program in 2022 to promote DEI and technology, working with women in tech, non-stem, LGBTQ+, and the under-represented, finding pathways to technology careers.
RichMix, 35-47 Bethnal Green Road, London, England, E1 6LA