REGISTRATION CLOSED
Overview
Financial Institutions need to manage the balance between risk compliance, user experience and, accessibility inclusion when developing digital solutions (mobile, web). Web Accessibility (or e- Accessibility) pertains to the design of websites and mobile applications that do not present barriers of access to people with disabilities or disorders. The development of these digital solutions need to consider accessibility compliance along the entire production workflow from design, to development, to printing/rendering.
Purpose
The purpose of this hackathon is to promote the design of accessible inclusive digital and physical financial assets and tools. Specifically:
Bring attention to the end-to-end collaboration challenges between designers and developers as it relates to risk compliant accessibility solutions.

Explore the uses cases for where accessibility inclusion is applicable to Financial Institutions.
For important dates click here.
SPONSORS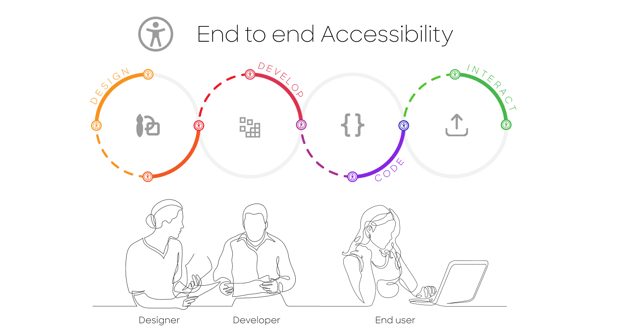 For Participants:
Teams of 1-4 will work over 2.5 weeks to develop end to end solutions centered around accessibility. Please see the following documents for more information:
Prizes include:
Cash prizes!

SWAG

Fall/Summer Internships

Access to FINOS collaboration spaces for incubation of ideas

FINOS spotlight blog post
Click here for GAAD Hack Flyer
Important Dates/Logistics:
| | |
| --- | --- |
| Hackathon Registration Opens! | 20 March |
| Launch of Participant's Guide | 14 April |
| Hackathon Registration Closes | 21 April |
| Hackathon Opening Ceremony | 24 April |
| Community Jam | 25 April |
| Team Formation Deadline | 25 April |
| Education Workshop | 26-27 April |
| Mentor Office Hours | 2-9 May |
| Project Submission Period | 5-10 May |
| Judging | 15-16 May |
| Closing Ceremony | 18 May |
Challenges
#1

Atomic Accessibility Design Challenge
Gold Sponsor: Discover Financial Services
Silver Sponsor: NearForm
Bronze Sponsor: Mural
Challenge Details: Context: Given the challenges associated with risk compliance for people with disabilities (Visual, Motion, Motor, Auditory, Cognitive/Learning), Atomic Design enables designers and developers to establish a round-trip workflow process that traverses from abstract concepts to concrete details. The application of Atomic Design concepts towards the development of accessibly compliant solutions yields consistency and scalability while mitigating regulatory risk. Problem: Organize a well- rounded team that can leverage new accessibility tools to develop an end-to-end solution that explores novel applications of accessibility technologies for financial services.
Supporting Technology: Atomic Accessibility Design Theme Builder GitHub Repo
Prizes:
Track 1: Design Thinking


Gold: $3,000
Silver: $2,000
Bronze: $1,000



Track 2: Hack-The-Code


Gold: $4,500
Silver: $3,000
Bronze: $1,500
#2

Inclusive Contracts challenge
Gold Sponsor: AXA
Bronze Sponsor: Mural
Challenge Details: Context: The use of complex language in contracts and legal text makes them difficult to understand, particularly for individuals with cognitive disabilities. Problem: To address this issue, a team needs to be created that can develop a generic solution to simplify the language used in contracts, improve their overall clarity and accessibility, and make them easier to find and understand. This solution should be flexible enough to be deployed in any infrastructure.
Prizes:
Track 1: Hack-the-Code
Gold: $5,000
Silver: $3,000
Bronze: $2,000