Hosted each month by different tech firms, opening up their offices to the wider community.
Join us to hear from 3 guest speakers talking about their programs, initiatives and how to find your pathway into tech! Alongside firms sharing their DEI journey, and the importance of building a diverse workforce within the tech industry.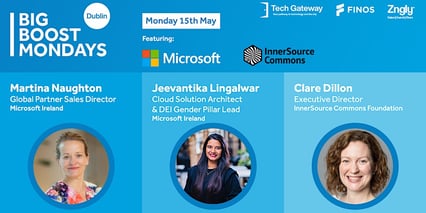 About our host on the night:
Martina Naughton - Global Partner Sales Director @ Microsoft Ireland.
Martina believes that her best work is done at the intersection between technology, innovation, and sustainability. Her long career in the IT Industry has always been inspired by her passion for finding technology solutions for the most pressing challenges facing business and society.
She believes that building trust with her teams, partners and customers is the foundation to a successful business. Leading with integrity, purpose and impact & has a proven track record of winning new business and driving revenue growth in highly complex and competitive environments.
Joining us on the night:
Martina Naughton - Global Partner Sales Director @ Microsoft Ireland.
Microsoft Corporation is an American multinational technology corporation headquartered in Redmond, Washington. Microsoft's best-known software products are the Windows line of operating systems, the Microsoft Office suite, and the Internet Explorer and Edge web browsers.
Topics Martina will cover:
Her journey into tech

Importance of diversity, equity & inclusion in the workplace

Tips & advice into how to get started into technology
Jeevantika Lingalwar - Cloud Solution Architect & D&I Gender Pillar Lead @ Microsoft Ireland & Founder of International Women in Tech
Jeevantika Lingalwar has a wide background in tech and plays an active role in bringing together diversity in tech. A few of her achievements include:
Award Winner
WomenTech Global Ambassador Award of the year 2021
Featured
Featured In an article/magazine as young women in tech Rising Star by AOTMP
Award Finalist
Woman of the Year award 2021

Mentor of the Year award 2021

Community award of the year 2021
Jeevantika is very passionate about Women in Technology and Diversity & Inclusion. She founded International Women in Tech group and is leading a community of more than 4500 amazing members. Jeevantika is very determined to help and motivate young minds, she is a mentor to 60 young kids aged 8-15 years and teaches them about "Future in/of AI". Jeevantika also has her own free mentorship program called as "Coffee chat with Jeevantika" Jeevantika is a mentor to international university students in Ireland. Jeevantika is also nominated for various women in tech leadership awards in Ireland.
An entrepreneur, leader, and a Tech speaker Jeevantika is passionate about helping others grow and share her experience and knowledge with everyone.
Topics Jeevantika will cover on the night:
Her personal journey into tech

International Women in Tech - how & why she grew a community of women in tech from 10 to 4.7k+ members

Microsoft DEI initiatives + tips & advice to those wanting to get into tech
Clare Dillon - Executive Director @ InnerSource Commons Foundation
Clare has over 25 years' experience of leadership development, business strategy, and technology evangelism. Clare has helped organisations maximise the opportunities presented by the latest trends in technology. She is an advocate of open source and InnerSource (the use of open source methods to create proprietary code) & is passionate about how technology is changing and shaping the world we live and work in.
Topics Clare will cover on the night;
Her personal journey into tech

Open-Source

How to get started in Technology
Live and in-person @ Microsoft Ireland, South County Business Park, One Microsoft Place, Carmanhall and Leopardstown, Dublin, D18 P521, Ireland.
Open-source, an open community, open to all for opportunities.
Who is this for?
Find out more how open-source is power innovation in finance

Hear from leading Women in technology

Explore different pathways to a career in technology

Industry professionals, senior stakeholders, allies and sponsors

LBTQ+, Students, under-represented groups, and the curious

Non-degree holders

With local community outreach in Hackney / Tower Hamlets
Join us each month to:
'Boost your Network, your confidence, your knowledge, your career and your pathway. Big Boost Mondays!
See the full agenda and register here.
Microsoft Ireland, South County Business Park, One Microsoft Place, Carmanhall and Leopardstown, Dublin, D18 P521, Ireland