"Big Boost Mondays", the DEI tech meet-up celebrating all things innovation, inclusivity and inspiration is coming to Dublin!!!
Join us for our first ever Tech Gateway Dublin DEI meet-up on the 3rd April, live and in person at Dogpatch Labs, The Chq Building, 1 Custom House Quay, North Dock, Dublin.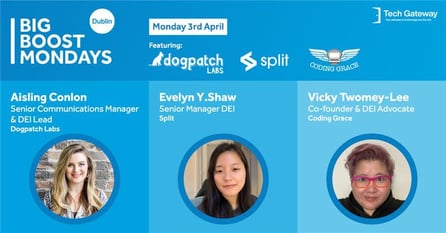 How will it work?
Hosted each month by a different FINOS member or leading organisation in tech, who open up their offices to the wider community.
Join us on the night you can hear from 3 guest speakers talking about their programs, initiatives and how to find your pathway into tech! Alongside firms sharing their DEI journey, and the importance of building a diverse workforce within the tech industry.
Aisling Conlon - Senior Communications Manager and DEI Lead at Dogpatch Labs. Dogpatch Labs is a startup and innovation hub fostering entrepreneurs, startups, facilitating technology innovation for companies of all sizes and nurturing transformative social enterprises.
Topics Aisling will cover:
The game changers for women in tech

The initiatives Dogpatch Labs implements to increase DEI in the office

The importance of DEI in co-working spaces

How to become part of the Dogpatch Labs community
Evelyn Shaw - Senior Manager of DEI @ Split. Split is a leading feature delivery platform for engineering teams to confidently release features fast.
Topics Evelyn will cover:
The importance of global DEI initiatives in tech companies

How Spilt approaches and implements DEI with a global employee base

Tactics that has helped DEI efforts at Split be more effective

Personal advice for DEI practitioners
Vicky Twoney-Lee - Founder @ EventGeekie, Co-Founder & Mentor @ Coding Grace, and Founder & Event Organiser @ PYLadies Dublin
Topics Vicky will cover:
Importance of community

Her journey into technology

The importance of giving women/girls these opportunities

What companies and individuals can do to build a more diverse workforce
Join us each month to:
'Boost your Network, your confidence, your knowledge, your career and your pathway. Big Boost Mondays!
See the full agenda and register here.
Dogpatch Labs, The Chq Building, 1 Custom House Quay, North Dock, Dublin