Join us Wednesday, May 12th at 10am EDT (3pm BST) via Zoom for our next FINOS Open Source in Finance Webinar.
Learn about new FDC3 features from firms driving advancements in the standard. Adaptive, Cosaic, and Glue42 will discuss the release of FDC3 v1.2 and how it is "Improving Interoperability on the Financial Desktop".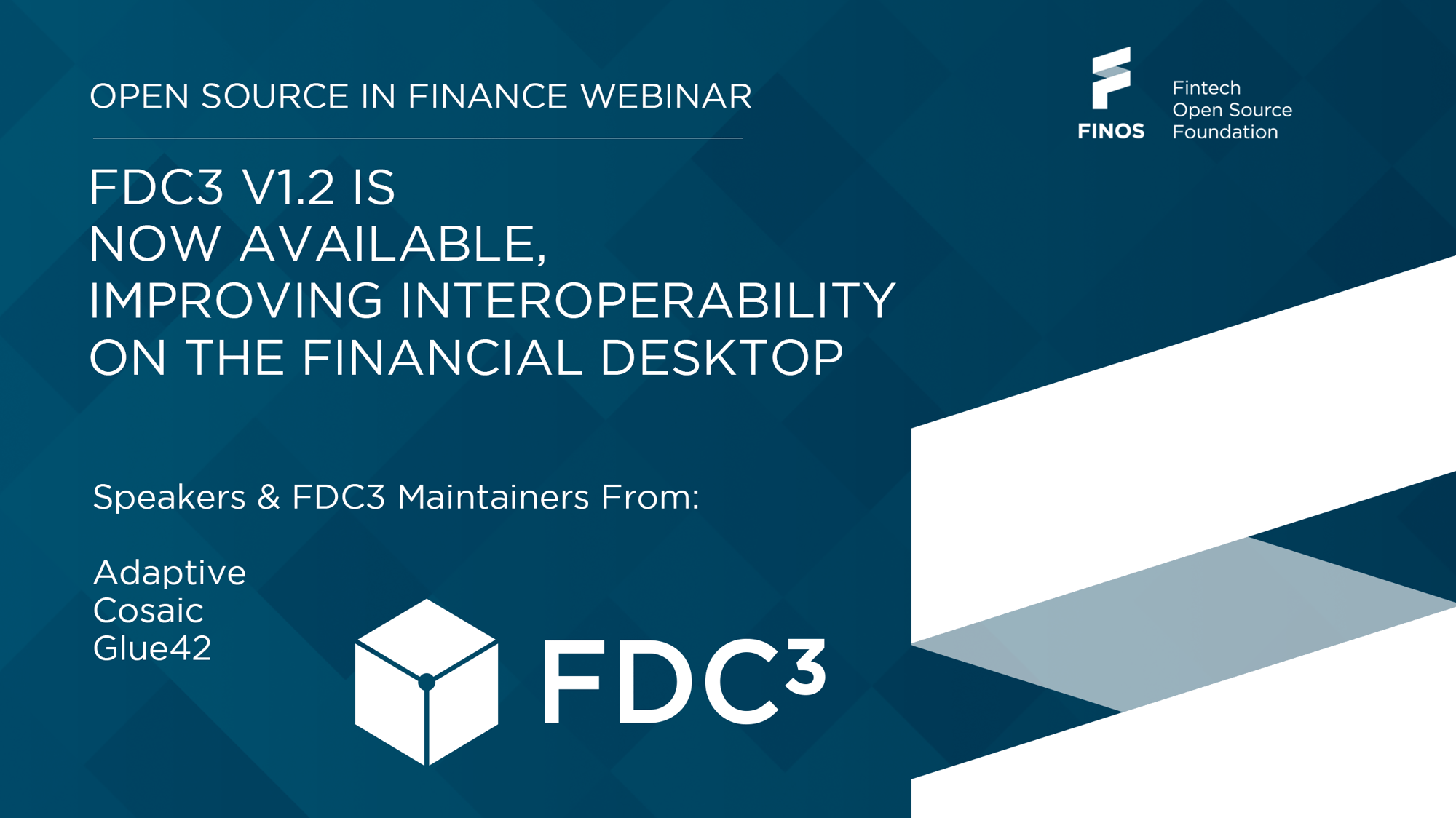 Talk Title: FDC3 v1.2 is now available, improving interoperability on the financial desktop
Talk Abstract: A new version of FDC3, v1.2, is now available! The FDC3 open standard enables plug-and-play interoperability on the financial desktop, enabling fast, easy, and secure interop that helps technologists deliver value faster to end users. Join us on May 12th to learn about new features, see them in action, and hear about how the standard delivers value across the industry for sell-side, buy-side, technology and services organizations.
Presenters:
Matt Barrett, CEO & Co-Founder, Adaptive Financial Consulting
Matt co-founded Adaptive Financial Consulting in 2012 along with three colleagues. Adaptive works with capital and commodity market participants that value differentiation through technology. Matt is focused on understanding how technology can deliver lasting competitive advantage to organisations and being able to trace that value through the delivery process. Matt graduated from the University of Auckland with a Masters in Computer Science.


Sean Harvey, Finsemble Technical Product Owner, Cosaic
Sean Harvey is a data driven leader with 18 years experience in marketing, design and software development. As a Technical Product Owner at Cosaic, Sean is part of the Finsemble product team developing the next generation of desktop interop. He is a participant and contributor to the FDC3 standard.
Leslie Spiro, CEO, Glue42
Leslie is a serial entrepreneur. He co-founded SD&C who delivered the first Windows-based Reuters workstation, jointly created the RTT real-time market data platform as part of Dealing Object Technology before becoming a co-founder of EasyScreen, a derivatives trading system that floated on the LSE. He is an active member of FINOS working on the FDC3 and Desktop Services program and sits on the steering committee of the OpenMama project.
NEW: FINOS is rolling out a Community wide single sign on (LFID) based on the Linux Foundation LFX platform, so an LFID will be required for this meetup. LF IDs can be created quickly and easily upon registration by authenticating with your Google, Facebook, GitHub, or LinkedIn account and allows managing all of your interactions and achievements across all Linux Foundation projects.
After registration, you will be sent the Zoom link for the Meetup, as well as a calendar invite as a reminder.
This session will be recorded. All normal FINOS Community Code of Conduct applications apply to this Meetup.
And