Join us Wednesday, October 7th at 11am ET (4pm BST) via WebEx for our next virtual "Meetup".
Guest Speakers: Ilya Gorelik & Aliaksei Vavilau of EPAM, will be presenting on "Introduction to TimeBase Community Edition".
Please register below to receive the link to the webinar.
Join for Ilya and Aliaksei's Presentation: Introduction to TimeBase Community Edition - October 7th, 2020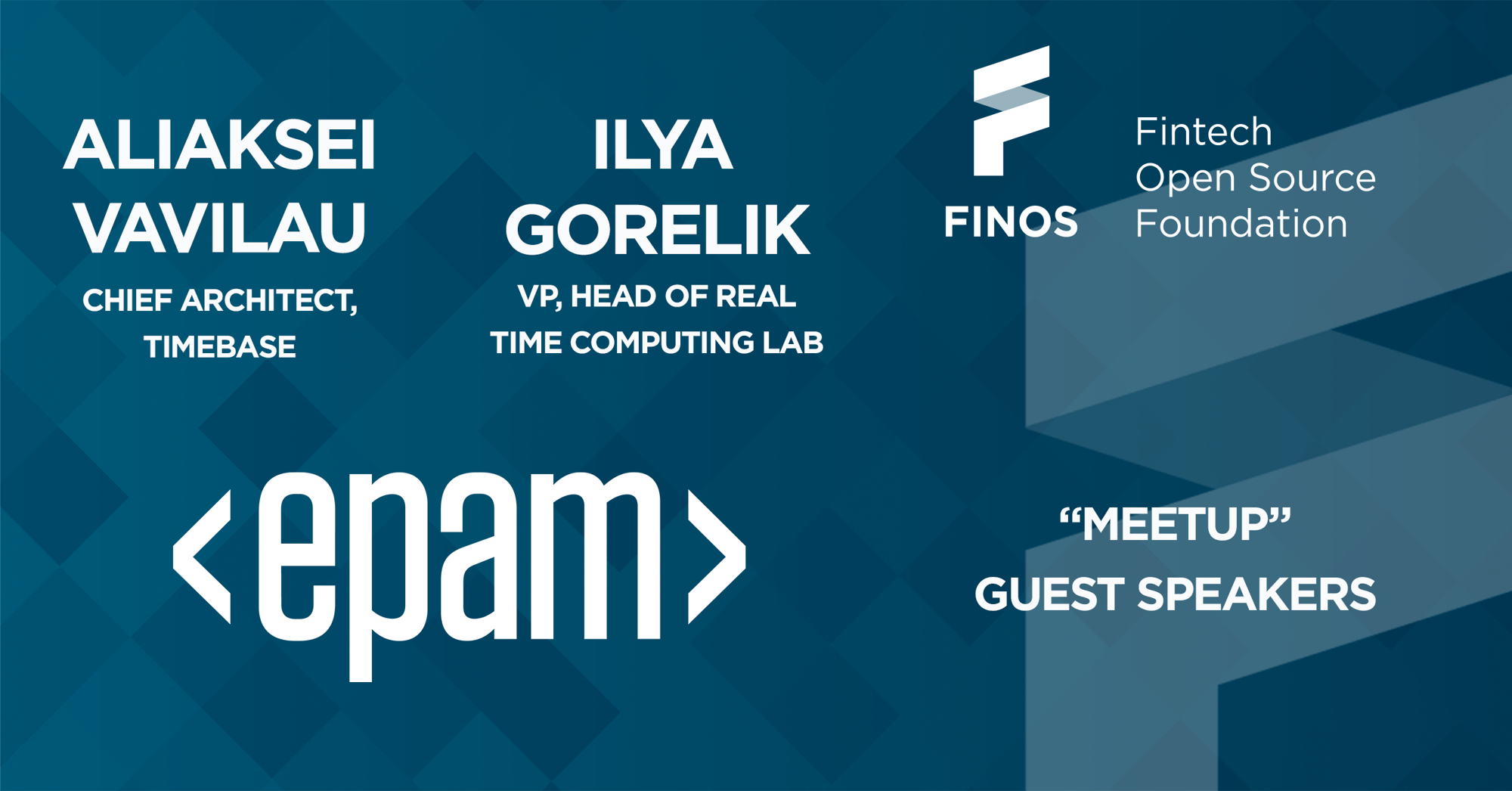 TimeBase is a time-series database and messaging system developed by Deltix (acquired by EPAM, Feb 2020). TimeBase, which has been used extensively by buyside and sell-side trading firms for over 10 years, is being contributed to the open source community. This meet-up describes the functional and technical characteristics of TimeBase, and will demonstrate example solution use-cases, built using TimeBase.
Register Here
The link to the FINOS virtual "Meetup" and calendar invites will be sent to you via email when you register.
Pre-registered attendees will be entered into a drawing for FINOS swag.
This session will be recorded. All normal FINOS Community Code of Conduct applications apply to this Meetup.
Ilya's Bio:
Ilya Gorelik was founder and CEO of Deltix (acquired by EPAM). Ilya has more than 25 years of experience managing large-scale software projects and teams. He was one of the key development leaders of PTC, where he worked from 1989 to 1998, attaining the position of Senior VP of Engineering and Chief Technology Officer. From 1998 until 2000, Ilya was Senior VP of Product Strategy and Development and Chief Scientist for FirePond. From 2000 until founding Deltix in 2005, Ilya worked as Advisory CTO for HighRoads and several other software technology companies. Ilya has a Ph.D. in Computational Mechanics from Moscow Technical University, he received an MS in Mechanical Engineering from Minsk Technical University.
Aliaksei's Bio:
Aliaksei Vavilau
has a key technical manager at Deltix (acquired by EPAM) since 2010. He was Chief Architect for RTMath (high performance math libraries) and CryptoCortex (digital asset e-commerce platform for brokers and exchanges). Today within EPAM, Aliaksei is responsible for the technology roadmap of TimeBase. Aliaksei has MS in Computer Science from Belarusian State University.
Join us Wednesday,October 7th at 11am ET (4pm BST) to learn more!