Hi There - We're putting together a great mix of finance, open source, and fintech talks and speakers for this year's Open Source Strategy Forum (OSSF).
Round Three Speakers are announced, and all of our speakers bios and talks are listed below. They include senior thought leaders in open source, banking, fintech, and more.
We're confirming more content every day so be sure to check back regularly!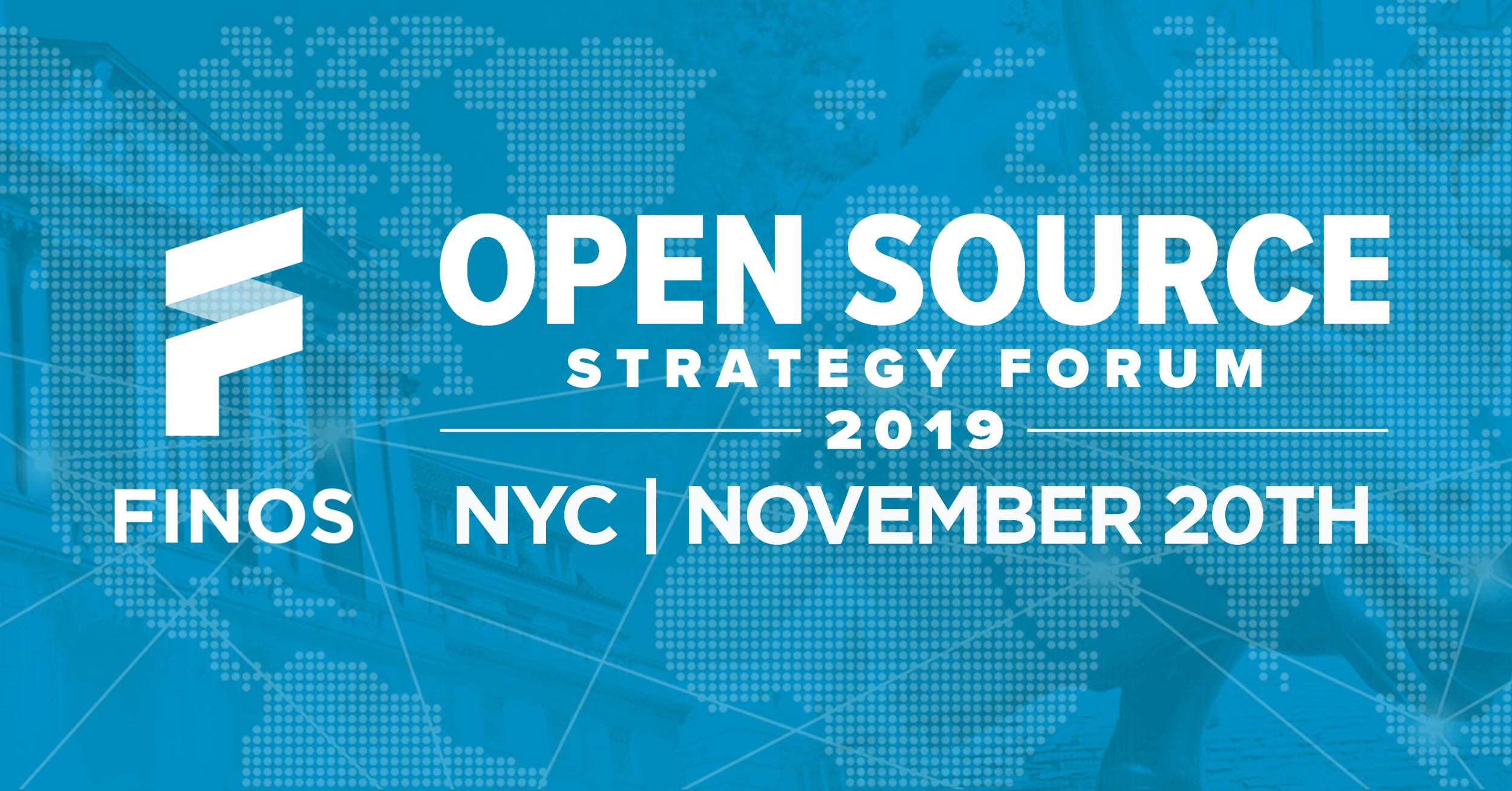 OSSF is the only conference
dedicated to driving collaboration and innovation in financial services through open source software. We bring together experts across financial services, technology and open source to engage our community in stimulating and thought provoking conversations about how to best (and safely) leverage open source software to solve industry challenges.
Prices have increased to $199 but won't stay at this discounted rate for long so Register Now to take advantage of this low price.
Keynote Speaker
Managing Director - CitiGroup
Global Head - Citi Velocity
Alejandra "Ali" Villagra is a Managing Director in the Markets division of Citi, and Global Head of Citi Velocity. Ali is also Chair of the FINOS Board, helping the Foundation drive the direction of open source in financials services. Since joining Citi in 2001, she has held positions in Investment Grade Debt Origination, Institutional Sales, and Technology and Sales Management. Ali is a graduate of Dartmouth College and lives in Tribeca with her husband Jason van Dalen and her son Diego van Dalen.
Keynote Speaker
Co-Founder - Apache Software Foundation
Open Source Chief - ConsenSys
Jim Jagielski is a well-known and acknowledged expert and visionary in open source, an accomplished coder, and frequent engaging presenter on all things open, web, and cloud related. As a developer, he's made substantial code contributions to just about every core technology behind the internet and web and in 2012 was awarded the O'Reilly Open Source Award. In 2015, he received the Innovation Luminary Award from the EU. He is likely best known as one of the developers and cofounders of the Apache Software Foundation, where he has previously served as both chairman and president and where he's been on the board of directors since day one. He's served as president of the Outercurve Foundation and was also a director of the Open Source Initiative (OSI). He works at ConsenSys as their Open Source Chief. He credits his wife Eileen with keeping him sane.
Keynote Speaker
Head of Open Source & Developer Relations - Facebook
Kathy Kam is the head of Open Source at Facebook, where she leads all the OS strategy and execution for Facebook. In addition, she is a recognized expert in API design where she led design on W3C's CSS Grid. Prior to Facebook, Kathy was at Google, where she was responsible for the Android Developer Platform team. She was also previously at Microsoft where she was the lead Product Manager, launching multiple developer platforms. Kathy has a B.S. in Computer Engineering and Mathematics from University of Michigan, Ann Arbor.
Managing Director - BNY Mellon
Donald (Don) Raab is a Managing Director at BNY Mellon. Don has more than 18 years' experience as a Software Engineer in the Financial Services industry. He started programming with Java in 1997. Don is a member of the JSR 335 Expert Group (Libraries) and is also the creator of the Eclipse Collections Java Library that was originally open sourced as GS Collections in 2012 and migrated to the Eclipse Foundation in 2015. Donald was selected as a 2018 Java Champion, and he is a frequent speaker and guest trainer at key Java conferences and user group meetups including Oracle CodeOne, JavaOne, QCon New York, Devnexus, Devoxx US, EclipseCon, JVM Language Summit and Great Indian Developer Summit (GIDS). @TheDonRaab
Fireside Chat with Don

Raab

, Java Champion and creator of the Eclipse Collections Framework
During this fireside chat Gabriele Columbro, Executive Director at FINOS and Don Raab, Managing Director at BNY Mellon and creator of the Eclipse Collections framework will discuss how the project came to be and what it has taken to build a successful open source project and community.

Don spent many years at Goldman Sachs building the framework, originally called Caramel, before open sourcing it first as GS Collections in 2012 and then rebranded as Eclipse Collections in 2015 when it moved to the Eclipse Foundation in order to grow an organic open source Community around it. Don will describe his experience open sourcing a successful Java Collections framework from a financial institution, the discovery that code + internet does not equal success and what contribution to the Eclipse Foundation brought to the project. Join Don and Gab to learn more about the value of open sourcing and the strategies required to generate awareness, promote adoption and gain contributors for an open source project.
Principal - UnlockOpen
Tobie Langel is the founder of UnlockOpen, a boutique consulting firm that helps organizations think strategically about open source. His clients include top tech companies like Google, Microsoft, Intel, and Mozilla. Tobie Langel is the facilitator of AMP's Advisory Committee and currently sits on the Advisory Board of OASIS Open Projects. Previously, he was a member of Facebook's Open Source and Web Standards team, and was Facebook's Advisory Committee representative at W3C. An avid open-source contributor, Tobie Langel is known for having co-maintained the Prototype JavaScript Framework and for numerous open source projects. He also edited a number of Web standards (notably WebIDL), and led W3C's Web platform testing effort.
Talk: From laggard to open source power house—a transformative journey to successfully build a strong open source culture
Contributing to open source is finally catching on. It's climbing the Hype Curve, and everyone wants in. Predictably, Open Source Programs Office are springing up like mushrooms after the rain, and so are job offers for people to run them. But, after an initial honeymoon, the desired outcomes too often fail to materialize. Few employees end up contributing. Communities don't magically coalesce around hastily open sourced internal projects. Hiring pipelines don't overflow with topnotch candidates. And despite what feels like a substantial investment, little value—if any—is captured. There's a reason for that. Building a strong open source culture is transformative. And while grassroot support is key, you don't obtain that kind of outcome without a top-down mandate hinged on a solid business strategy. In this talk, we'll look at what happened behind the scenes of companies which successfully transformed their culture to morph into open source power houses, and we'll find out how you can do so too.
Senior Manager, Data Division, FIGI & LEI Services - Bloomberg
Since 2010, Peter has led the Bloomberg's efforts in bringing Open Symbology to the financial services industry. Seeing the need in the financial industry for a unifying symbology that could provide unique identification across the asset class silos, Peter championed the efforts within Bloomberg to offer a global solution as a public good and open data standard. With over 25 years of experience in data, Peter is a regular speaker at data and financial services events and conferences, providing his insight into where the industry is heading, hot topics of the day, and best practices for the future. Peter also manages Bloomberg's LEI (Legal Entity Identifier) service and regulatory content.
Case Study: Challenges to Supporting Open Data
This talk will give a synopsis of the work Bloomberg L.P. Has done with the Object Management Group in the development and support of the Financial Instrument Identifier (FIGI), the only open data identification framework for financial instruments. Exploring the reasoning on why a for-profit company would invest in, and continue to support open data, the speakers will cover internal and external challenges in doing so as well as the evolution of FIGI, and what the future may hold in regards to standards and regulation. Finally, a wrap up on the pros and cons of "competing" standards (open and licensed), drivers for innovation, and the good and bad impacts of regulation.
Distinguished Architect, Head of Platform Architecture and Technology

- Express Scripts

Damian Ng is Distinguished Architect, Head of Platform Architecture and Technology at Express Scripts; where he leads the architecture practice and oversees enterprise technology strategy for the company. He guides teams to create superior platforms to drive awesome experiences for 80+ million members of Express Scripts. These cover interactions with web, mobile, call center, retail and payments. His career path has included different roles in engineering and architecture leadership at Visa, PayPal and numerous digital agencies.
Case Study: Building a Community Driven Open Source Program in a Fortune 25 Healthcare Organization
Have you been challenged to establish an Open Source program in a traditional IT organization in a large enterprise? What if the industry is traditionally risk averse? Are you a technology evangelist that tries to make things happen but feel your hands tied? Does open source adoption turn your technology standards into the wild west? Do your engineers feel empowered or confused? Damian Ng, who lead Open Source for Express Scripts, will walk through his journey to build a community driven open source program from ground up.
Co-Founder, CTO - ChartIQ
In 1994, Terry
Thorsen
wrote the first online trading system which later became Ameritrade. He then went on to found Automated Financial Systems, a provider of financial software to banks and brokerages. Terry has held senior management positions at SunGard and Brokat AG. He co-founded ChartIQ in 2012 out of a barn in rural Virginia.
Technical Talk: How Open Source Software Gives Commercial Vendors the Power to Protect Niche Interests
Major open source projects that we all depend upon, like Chromium and Electron, are managed by a small set of individuals who work for west coast technology firms. As big as the multinational banks are, their technology departments don't have the bandwidth or focus to ensure that their interests will be considered as those projects evolve. Vendors like us—though small—represent the entire finance industry, and because of our focus have the ability to stay tuned in with those projects.
As such, we can ensure that the needs of our constituents are considered in the evolution of those open source projects. This talk discusses this relationship and what it means when small commercial vendors have the power of influence in fintech open-source projects.
Director, Solution Engineering - Flexera
Dave McLoughlin is the director of solution engineering at Flexera. Dave has over 35 years of software industry experience in various roles including technical support, product management, sales and professional services. For the past 12 years Dave has focused his efforts in open source software, helping organizations with OSS governance, compliance and strategy.
Compliance Talk: How Not To Be Tomorrow's Headline
The financial industry is full speed ahead using open source to innovate and drive real value for customers. Open source enables organizations to spread their wings, explore, and easily scale solutions that will drive true competitive advantage. But, in the words of Spiderman's uncle, "With great power comes great responsibility." The data speaks for itself. Companies are aware of less than 10% of the actual open source being used in applications and products potentially shipping to customers and third parties, leading to potential legal and security issues. What is your role in managing compliance and security vulnerabilities associated with open source software? Join David McLoughlin, Director of Solution Engineering at Flexera, as he explores the real and immediate need for users of open source to understand the potential security and legal obligations associated with open source. David will address:
How not be in the next news cycle

Open source management relative to due diligence efforts (M&A)

A walk through the most common open source licenses

How to work effectively and securely with open source software both as a consumer of someone else's work and as a creator

Trends in open source license enforcement

What real compliance looks like
Senior Consultant - Adaptive Financial Consulting
Riko is an expert in desktop integration, and has been assisting Adaptive's clients and partners with their digital transformation efforts for 5 years. As an active participant in FINOS and FDC3, and a member of the FDC3 programme management committee, he is enthusiastic about working with the community to establish open standards in the financial industry.
Case Study: Comparing FDC3 to the journey of Microservices and ReST - what can we learn?
There have been a number of transformational changes in the past based on standards, and some of them have been highly successful. For example, micro-services have transformed the language for software development, while being mostly based on ReST. This talk will compare and contrast the case study of micro-services / ReST to the journey of Desktop Interop / FDC3. The aim is to identify both similarities and differences, and point out how the ReST example might help us approach both opportunities and challenges. Attendees will take away an interesting comparative case study, which will give real-world prescriptions for embedding FDC3 in the industry in the most successful way possible.
CPO - OpenFin
Nick is CPO at OpenFin as well as co-founder and chair of the FDC3 and Hadouken programs in FINOS. He has an extensive background in technology and open source leadership and has served in a wide range of roles over the past 20+ years – including development, UX design, and product management. Prior to OpenFin, Nick was a technology director at Thomson Reuters, leading the creation of Eikon App Studio and serving as a key advocate for web and open source technologies on the Eikon platform. He holds a BA in philosophy from Bard College.
Community C: How to create a standards group in 5 easy steps…
A look at how the FDC3 standards body came to be, challenges along the way, what worked, and lessons we can apply to other efforts in open source and the financial industry.
Co-Founder - This Dot Labs
Tracy is the Co-Founder of This Dot Labs, a consultancy helping teams build front end applications, and is focused on changing the ratio in tech. She is also a Google Developer Expert, RxJS Core Team member, a Women Techmakers Lead, and a frequent keynote speaker at conferences. She heads up Community Relations at Node Foundation, is the host of the Modern Web podcast, organizer of This.JavaScript, Contributor Days, Google Developer Group Silicon Valley and Triangle, and RxWorkshop. You can find her on Twitter @ladyleet or at http://thisdot.co/labs.
Panel Discussion:

Diversity and Inclusion Best Practices in Open Source and Fintech
Diversity and inclusion are hot topics across technology, open source and financial services, and justifiably so. Everyone agrees more needs to be done, but what does that actually look like? Attend this session to hear an honest discussion around best practices and lessons learned, from panel members who are on the front lines. Attendees will leave with proven action items and ideas that are tried-and-true, as well as a few actions to avoid. Everyone will leave more informed and in a better position to implement plans and programs.
Open Source Coordinator - Two Sigma
Julia is an open source project manager at Two Sigma Investments. Her background is in music, but she's been learning more about technology and scientific computing ever since she joined Two Sigma in the spring of 2010. She's enjoyed every step of her quest to learn more about open source software, from getting to know what makes the products developed at Two Sigma special to writing backing tracks for her musical Reb + VoDKa + Me on Sonic Pi.
Talk: Why Contribute to Open Source
Two Sigma takes major steps to protect our IP, but we also believe in the importance of contributing to the open source software (OSS) community. In this talk, I'll cover the evolution of Two Sigma's thinking and policies over the past five years, and make a case for how other companies can be simultaneously self-interested and altruistic when it comes to OSS.
Executive Director - Linux Foundation Artificial Intelligence (LF AI)
Dr. Ibrahim Haddad is a technologist, strategist and an aspiring writer. His focus is on intersections between emerging technology, open source methodology and innovation. He is Vice President of Strategic Programs at the Linux Foundation and the Executive Director of the LF AI Foundation supporting the development and innovation in open source AI.
Throughout his career, Haddad has held technology and portfolio management roles at Ericsson Research, the Open Source Development Lab, Motorola, Palm, Hewlett-Packard and Samsung Research. He is known for his writing and speaking on topics ranging from legal compliance to using open source as an R&D tool to drive collaboration and innovation.
Talk: Improving the Impact of your Enterprise Open Source Development and Participation
Enterprise open source development and involvement has its own set of challenges, but it becomes easier if you have a clear plan to follow. If you're one of the growing list of companies that relies on open source software for their products and services, investing time and money into improving your open source practices can pay off immensely in the long run. This talk offers a practical guide to a number of practices that enterprises can adopt to help them grow their footprint in open source projects. Furthermore, the talk touches on the challenges enterprises face and how to overcome them.
Head of Strategy & Standards for Open Data - Bloomberg
Rich Robinson is a senior executive with over 25 years of experience in the financial industry, across operations and technology functions. Rich has worked throughout the front, mid and back offices at NSCC, Merrin Financial, The Bank of New York, Deutsche Bank, and Omgeo as well as in consulting capacities at Barclays and Morgan Stanley. Since the mid 1990's, Rich has been actively involved in international data and messaging standards, including ISITC, FISD, EDM Council, ISO, ISDA, and SIFMA and has led industry efforts in communication, data, and unique instrument identification across asset classes. Richard is currently head of Data Strategy and Standards for the Open Symbology group at Bloomberg LLP. He works globally with regulators, legislators, and industry leaders on addressing data and standards issues to create more efficient and transparent markets.
Case Study: Challenges to Supporting Open Data
This talk will give a synopsis of the work Bloomberg L.P. Has done with the Object Management Group in the development and support of the Financial Instrument Identifier (FIGI), the only open data identification framework for financial instruments. Exploring the reasoning on why a for-profit company would invest in, and continue to support open data, the speakers will cover internal and external challenges in doing so as well as the evolution of FIGI, and what the future may hold in regards to standards and regulation. Finally, a wrap up on the pros and cons of "competing" standards (open and licensed), drivers for innovation, and the good and bad impacts of regulation.
CEO - FOSSID
Oskar Swirtun is the Founder and CEO of FOSSID AB, a company offering some of the most innovative and effective open source compliance solutions on the market today. Oskar has worked extensively with open source software since 2001, when he introduced Linux and wrote the directive for use and contributions to open source at Ericsson. Since then he has held several leadership positions, focusing on open source software as a business strategy and an R&D tool to drive collaboration and innovation. As part of his involvement with open source initiatives, Oskar also served as President and Board Member of the OpenFastPath Foundation, a non-profit organization, with the goal to create and develop an open source fast path TCP/IP stack for Linux.
Talk: The Benefits of Artificial Intelligence (AI) in Open Source Compliance
The explosive growth and use of Free and Open Source Software (FOSS) is a great catalyst for rapid development and standardization but can introduce unnecessary risks and costs if engineers are not properly trained and do not have access to essential tools and information when incorporating open source software components into the products they build. For organizations to innovate and produce new groundbreaking financial products and services, they need to master open source software adoption with comprehensive and efficient compliance controls. Artificial Intelligence (AI) is the key to delivering on that promise. In this session, we'll introduce the audience to the compliance complexities of open source software and how AI can simplify processes, lower cost, and reduce risks in software development. We'll also share examples of how AI can help do this at scale, for example, during an M&A transaction where it is important to know the exact details of the software you acquire and have full control of the origins and licensing terms.
GM & Global Open Source Practice Leader - Wipro
Andrew Aitken is the GM & Global Open Source Practice leader for Wipro. In this capacity he, and his team, are responsible for crafting and executing Wipro's open source consulting, community, go-to-market and solutions strategy. Today, Wipro has well over 20, 000 open source developers working with enterprise clients across the globe. Mr. Aitken has served as an open source expert to the White House and California Senate and as a guest lecturer at Stanford's Entrepreneur program. He is an investor in Mautic (acquired by Acquia) and on the Board of Advisors of various open source companies. He is a past Board Member of OSEHRA, an initiative spearheaded by the U.S. Department of Veterans Affairs, to provide open source-based cost-effective healthcare solutions for veterans. He has personally worked with organizations such as Intel, Capital One, Fidelity, Microsoft, the U.S. Navy, the government of Japan and many startups, assisting them with developing their open source strategies.
Talk: Open Source, Community and Financial Services: The good, the bad and the future
"Our developers ALWAYS tell us what open source they're using!"
"Why won't the community give us an SLA?"
"Our CEO said we're an open source first company now, what the $%#@ does that mean?"
"We want to open source 22 applications; why would we look in GitHub first?"
Today, enterprises, across industries, are becoming one of the most dominant forces in the open source ecosystem and their impact is only going to increase. Financial services firms in particular are consuming vast quantities of open source, seemingly as fast as possible. But, they're no longer just consumers, they are also increasingly contributing back – and not just patches and fixes, but whole applications, and creating new projects and foundations. However, at times, the quest to garner all the real and perceived benefits of open source as quickly as possible can have unintended consequences. This fast-paced talk will use real-world examples and data from over 1,000 enterprise projects to illuminate how enterprises, led by financial services firms, are consuming, contributing to and publishing open source, and the resulting impact on the ecosystem. You will come away better prepared to guide your firm's open source future and help it realize the innovation, financial, reputational and human capital benefits of open source.
Open Source Readiness Lead - FINOS
In addition to managing the Foundation's legal affairs, Aaron chairs the Foundation's Open Source Readiness working group, helping members to develop policies that enable productive engagement with open source. Aaron has counseled both commercial software producers and nonprofit foundations on legal issues related to open source software. As counsel for the Software Freedom Law Center, he advised some of the most significant open source software foundations. At IEEE, he advised internal clients on open access and open licensing matters. And as a partner at Tor Ekeland P.C., he advised startups and commercial software companies on establishing open source policies, designing open source business models, and on license compliance.
Talk: Roadmap to an Effective Open Source Program
Implementing a comprehensive open source program within a financial institution is a massive, cross-functional process, reaching every corner of the IT organization and software development lifecycle. This talk will present a roadmap for navigating this transformative journey, drawn from the experience of those who have gone before. We'll cover how to assemble the right personnel, design and implement an open source policy, choose and run pilot projects for your first open source contributions, and build compliance into your software development lifecycle. And each step of the way, we'll discuss how to ensure that you're optimizing for your open source objectives, whether that's attracting the best developers, reducing costs, or managing IP and security risk.
OSSF 2019 PROGRAM OVERVIEW
This year's agenda will provide practical knowledge and guidance on best practices, tools and technologies; explore how to build a successful open source community; include insight from industries successfully embracing open source and much more. We'll run this in three tracks.
Strategy & Standards - Hear from leaders driving standards, innovation, and collaboration to meet an evolving financial services landscape and changing customer demand, including opportunities in open data, open banking, cloud, regulation and more.
Policy, Process & Tools - Learn how to seamlessly deliver compliant open source software through policies, processes, best practices and technology to manage the full open source software lifecycle from evaluation to consumption to contribution.
Code & Community - A look at the software, languages, frameworks, pioneers and more that are driving innovation, being developed in the open and have the potential to change the financial services industry and its historically "closed" culture.
Last year's schedule, talks, and videos are still live here if you're looking for a preview.
SPONSOR A STUDENT OR UNDERREPRESENTED GROUP ATTENDEE
FINOS wants to make open source in finance more accessible to everyone. As part of your registration, you can choose the option to sponsor a student, or someone from a group generally underrepresented in technology, to attend OSSF.
MEMBER REGISTRATION AND SPONSORSHIP OPPORTUNITIES
Registration for OSSF is FREE for FINOS members and their employees. If you belong to our of our FINOS Member institutions, be sure to take advantage of this perk and pass this email along to your colleagues.
SPONSORSHIP OPPORTUNITIES
Sponsorship opportunities are available for members and non-members interested in showing their commitment to open source collaboration at OSSF. Let us know if you'd like a copy of the sponsorship prospectus for more detail.
We can't wait to see you at OSSF 2019! Please reach out to ossf@finos.org if you have any questions about the event or sponsorship opportunities for members and non-members.
Or sign up for updates on OSSF here:
340 W 50th St, New York, NY 10019