Join the RegTech Association in New York City for their Global RegTech Showcase November 17, 2022 to explore the potential and opportunity of RegTech.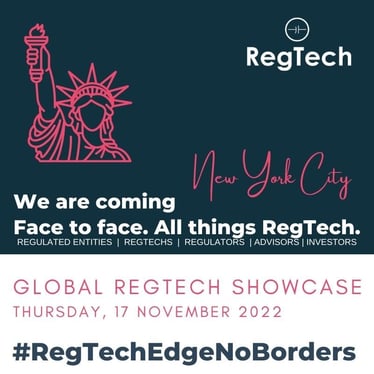 From the organizers:
The RegTech Association is bringing our RegTechEdgeNoBorders series to New York City. Join us, and the wider RegTech ecosystem, as we unpack the potential, and explore the opportunity that RegTech can bring.
Why would you come?
Meet our CEO, Deborah Young who will be joined by industry leaders to guide you through the latest multi-faceted research and take you on a deeper dive into a range of world-leading, risk-based member RegTech solutions, network with your peers and to pave the way for the acceleration of adoption. We may also add additional features into the event including a round table and other elements as the venue and time dictate.
Who will come?
Regulators, regulated entities, advisors, investors and of course, RegTechs!
How much does it cost?
It's 100% free to attend. We do expect to sell out so getting in early will ensure your place.
Accenture – One Manhattan West, 395 9th Ave, New York, NY 10001