From the Organizer:
React London - BYOP is Banking & FinTech Themed on Thursday 28th November 2019 sponsored by Adaptive Financial Consulting.
Doors will open at 6:15pm, the meetup will start at 6:45pm, with the event ending at 9pm.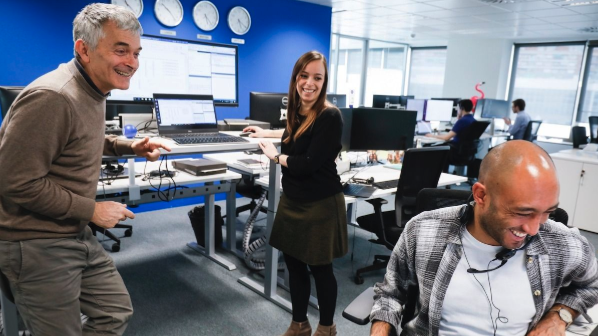 The BYOP is hosted at Fora in Spitalfields, 35-41 Folgate Street, E1 6BX, near Liverpool Street Station -
https://goo.gl/maps/g3nYsc7ZVhZ1yduPA
Come along and learn more about the changing face of ReactJS and JavaScript in the Banking and FinTech industries.
The talks at the event are from members of the BYOP community and guests representing different engineering initiatives and points of view.
We're a very inclusive meetup representing a diverse community of awesome engineers! >:D
Our talks for this event include ...
- Bhavesh Desai, Head of UI Development - Adaptive - A deep-dive of Reactive Trader, a fully open-source, real-time FX trading application, and the technical approaches used to produce real-time trading platforms for Adaptive's clients.
- Danese Cooper, Head of Special Initiatives - NearForm – Getting the most out of InnerSource in a regulated industry - InnerSource takes the lessons learned from developing open source software and applies them to the way companies develop software internally to increase collaboration and break down silos. Drawing on her past experience as Head of Open Source for Paypal, Danese will share tips on how to put in place a community of practice arou
nd InnerSource that is perfectly suited to the needs of highly regulated companies such as Financial Services.
- Tim Dinsdale, European CTO - OpenFin - A lightning fast and technical introduction to OpenFin. In this talk Tim will touch on some key parts of the architecture, with particular reference to React. We will look at how to get up to speed with some of the core concepts, and where to look for more details.
- Mark Jose, Technical Principal & Dean Kerr, Senior Developer - Scott Logic - Introducing: React Hooks for OpenFin - There's been a lot of excitement around the addition of Hooks into React. We work with OpenFin a lot, so it made perfect sense that we created a OpenFin React Hooks library. The good news is we totally Open Sourced it!
- John Kottis, Software Engineering Lead - Lloyds Banking Group - JavaScript Invaders - With Comic Con season close approaching, John's taking us retro with JS Invaders, a JavaScript, HTML and CSS version of Space Invaders to prove banking engineers are not only awesome with technology, but also wonderfully creative >:D
Would you like to speak at this React London - BYOP?
Get in touch with James on Twitter at @mcleo_d
https://twitter.com/mcleo_d
or on LinkedIn at
https://www.linkedin.com/in/jamesmcleod/
You can also contact Denise on Twitter at @DNevesSantos
https://twitter.com/DNevesSantos
*Refreshments*
A variety of food and drink will be served
*Things to note*
• A desire to explore ReactJS, JavaScript and different points of view on technology is absolutely recommended.
• You can also bring your ReactJS projects along as we'd love to see what you've been working on and give help / support if needed.
• Please RSVP to secure a place
• All engineering levels are welcome