For this month's Community Spotlight feature, we're excited to highlight the Technical Steering Committee for their impactful contributions throughout the year.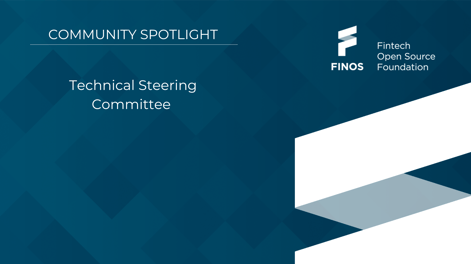 The FINOS Technical Steering Committee was formed earlier this year, January 2022, when Colin Eberhardt, CTO of Scott Logic and TSC Chair, started a Request for Comments (RFC) in the FINOS Community GitHub repository regarding the Formation of a Technical Steering Committee (TSC) #153. The FINOS Governing Board approved the formation in Q2 of a TSC on a trial basis (circa six months).

The purpose of the TSC is to oversee the growing FINOS project portfolio, approve new FINOS projects and fundamentally act as a technical counterpart and "filter" for the FINOS Governing Board. In addition to serving those responsibilities, the FINOS TSC currently takes part in the following:
Collaborates with the FINOS team and Governing Board in setting the strategic technology direction of the foundation and overall desired evolution of the

FINOS projects landsca

pe

.





Put forth technical advisory and recommendations to the Governing Board on strategic and governance decisions.





Establishes technical norms, workflows, or best practices (e.g. security) practices to be adopted by FINOS projects.





Discusses, advises, and assists in reaching consensus, where necessary, on technical matters that affect multiple projects of members.




Approval of new project proposals and management of the overall project lifec

ycle

.





Fosters alignment, and standardization and reduces duplication of efforts across different projects in the FINOS landscape.
Most recently, the FINOS Technical Steering Committee Pilot team launched the FINOS TSC Repo and published the TSC Contribution Principles. To see the TSC at work, take a look at the TSC Backlog and Kanban for the excellent work done by the FINOS TSC.eg and Compliance development teams and business stakeholders.
Big congratulations to the entire committee, and special thanks to Colin for his hard work and leadership in driving the TSC to its formation and setting the foundation's strategic technology direction and the overall desired evolution of the FINOS projects landscape.

FINOS is grateful for your support, passion, and commitment to the FINOS Governing body that helps lower the barrier to open source in finance technology development and adoption through the formulation of open standards and software and support of open source FINOS projects.
If you'd like to get involved or have questions, feedback, or input, you are welcome to get in touch with the FINOS TSC Committee directly at tsc@lists.finos.org.