FINOS is pleased to announce Round Two Speakers for the Open Source Strategy Forum 2019, in New York on November 20!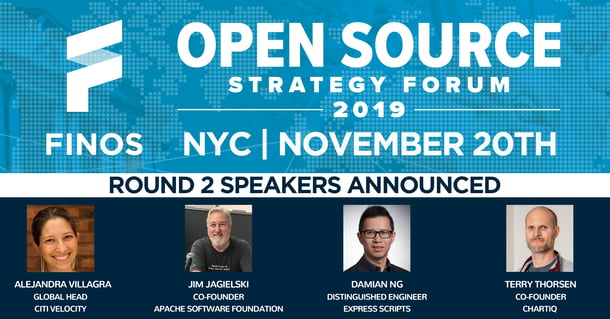 Hi There - We're putting together a great mix of finance, open source, and fintech talks and speakers for this year's Open Source Strategy Forum (OSSF).
Round Two Speakers and their talks are listed below. They include senior thought leaders in banking, fintech, open source and more.
We're confirming more content every day so be sure to check back regularly!
Prices have increased to $199 but won't stay at this discounted rate for long so Register Now to take advantage of this low price.
Keynote Speaker
Managing Director - CitiGroup
Global Head - Citi Velocity
Alejandra "Ali" Villagra is a Managing Director in the Markets division of Citi, and Global Head of Citi Velocity. Ali is also Chair of the FINOS Board, helping the Foundation drive the direction of open source in financials services. Since joining Citi in 2001, she has held positions in Investment Grade Debt Origination, Institutional Sales, and Technology and Sales Management. Ali is a graduate of Dartmouth College and lives in Tribeca with her husband Jason van Dalen and her son Diego van Dalen.
Keynote Speaker
Co-Founder - Apache Software Foundation
Open Source Chief - ConsenSys
Jim Jagielski is a well-known and acknowledged expert and visionary in open source, an accomplished coder, and frequent engaging presenter on all things open, web, and cloud related. As a developer, he's made substantial code contributions to just about every core technology behind the internet and web and in 2012 was awarded the O'Reilly Open Source Award. In 2015, he received the Innovation Luminary Award from the EU. He is likely best known as one of the developers and cofounders of the Apache Software Foundation, where he has previously served as both chairman and president and where he's been on the board of directors since day one. He's served as president of the Outercurve Foundation and was also a director of the Open Source Initiative (OSI). He works at ConsenSys as their Open Source Chief. He credits his wife Eileen with keeping him sane.
Senior Manager, Data Division, FIGI & LEI Services - Bloomberg
Since 2010, Peter has led the Bloomberg's efforts in bringing Open Symbology to the financial services industry. Seeing the need in the financial industry for a unifying symbology that could provide unique identification across the asset class silos, Peter championed the efforts within Bloomberg to offer a global solution as a public good and open data standard. With over 25 years of experience in data, Peter is a regular speaker at data and financial services events and conferences, providing his insight into where the industry is heading, hot topics of the day, and best practices for the future. Peter also manages Bloomberg's LEI (Legal Entity Identifier) service and regulatory content.
Case Study: Challenges to Supporting Open Data
This talk will give a synopsis of the work Bloomberg L.P. Has done with the Object Management Group in the development and support of the Financial Instrument Identifier (FIGI), the only open data identification framework for financial instruments. Exploring the reasoning on why a for-profit company would invest in, and continue to support open data, the speakers will cover internal and external challenges in doing so as well as the evolution of FIGI, and what the future may hold in regards to standards and regulation. Finally, a wrap up on the pros and cons of "competing" standards (open and licensed), drivers for innovation, and the good and bad impacts of regulation.
Distinguished Architect, Head of Platform Architecture and Technology

- Express Scripts

Damian Ng is Distinguished Architect, Head of Platform Architecture and Technology at Express Scripts; where he leads the architecture practice and oversees enterprise technology strategy for the company. He guides teams to create superior platforms to drive awesome experiences for 80+ million members of Express Scripts. These cover interactions with web, mobile, call center, retail and payments. His career path has included different roles in engineering and architecture leadership at Visa, PayPal and numerous digital agencies.
Case Study: Building a Community Driven Open Source Program in a Fortune 25 Healthcare Organization
Have you been challenged to establish an Open Source program in a traditional IT organization in a large enterprise? What if the industry is traditionally risk averse? Are you a technology evangelist that tries to make things happen but feel your hands tied? Does open source adoption turn your technology standards into the wild west? Do your engineers feel empowered or confused? Damian Ng, who lead Open Source for Express Scripts, will walk through his journey to build a community driven open source program from ground up.
Co-Founder, CTO - ChartIQ
In 1994, Terry
Thorsen
wrote the first online trading system which later became Ameritrade. He then went on to found Automated Financial Systems, a provider of financial software to banks and brokerages. Terry has held senior management positions at SunGard and Brokat AG. He co-founded ChartIQ in 2012 out of a barn in rural Virginia.
Technical Talk: How Open Source Software Gives Commercial Vendors the Power to Protect Niche Interests
Major open source projects that we all depend upon, like Chromium and Electron, are managed by a small set of individuals who work for west coast technology firms. As big as the multinational banks are, their technology departments don't have the bandwidth or focus to ensure that their interests will be considered as those projects evolve. Vendors like us—though small—represent the entire finance industry, and because of our focus have the ability to stay tuned in with those projects.
As such, we can ensure that the needs of our constituents are considered in the evolution of those open source projects. This talk discusses this relationship and what it means when small commercial vendors have the power of influence in fintech open-source projects.
Director, Solution Engineering - Flexera
Dave McLoughlin is the director of solution engineering at Flexera. Dave has over 35 years of software industry experience in various roles including technical support, product management, sales and professional services. For the past 12 years Dave has focused his efforts in open source software, helping organizations with OSS governance, compliance and strategy.
Compliance Talk: How Not To Be Tomorrow's Headline
The financial industry is full speed ahead using open source to innovate and drive real value for customers. Open source enables organizations to spread their wings, explore, and easily scale solutions that will drive true competitive advantage. But, in the words of Spiderman's uncle, "With great power comes great responsibility." The data speaks for itself. Companies are aware of less than 10% of the actual open source being used in applications and products potentially shipping to customers and third parties, leading to potential legal and security issues. What is your role in managing compliance and security vulnerabilities associated with open source software? Join David McLoughlin, Director of Solution Engineering at Flexera, as he explores the real and immediate need for users of open source to understand the potential security and legal obligations associated with open source. David will address:
How not be in the next news cycle

Open source management relative to due diligence efforts (M&A)

A walk through the most common open source licenses

How to work effectively and securely with open source software both as a consumer of someone else's work and as a creator

Trends in open source license enforcement

What real compliance looks like
Senior Consultant - Adaptive Financial Consulting
Riko is an expert in desktop integration, and has been assisting Adaptive's clients and partners with their digital transformation efforts for 5 years. As an active participant in FINOS and FDC3, and a member of the FDC3 programme management committee, he is enthusiastic about working with the community to establish open standards in the financial industry.
Case Study: Comparing FDC3 to the journey of Microservices and ReST - what can we learn?
There have been a number of transformational changes in the past based on standards, and some of them have been highly successful. For example, micro-services have transformed the language for software development, while being mostly based on ReST. This talk will compare and contrast the case study of micro-services / ReST to the journey of Desktop Interop / FDC3. The aim is to identify both similarities and differences, and point out how the ReST example might help us approach both opportunities and challenges. Attendees will take away an interesting comparative case study, which will give real-world prescriptions for embedding FDC3 in the industry in the most successful way possible.
CPO - OpenFin
Nick is CPO at OpenFin as well as co-founder and chair of the FDC3 and Hadouken programs in FINOS. He has an extensive background in technology and open source leadership and has served in a wide range of roles over the past 20+ years – including development, UX design, and product management. Prior to OpenFin, Nick was a technology director at Thomson Reuters, leading the creation of Eikon App Studio and serving as a key advocate for web and open source technologies on the Eikon platform. He holds a BA in philosophy from Bard College.
Community C: How to create a standards group in 5 easy steps…
A look at how the FDC3 standards body came to be, challenges along the way, what worked, and lessons we can apply to other efforts in open source and the financial industry.
OSSF 2019 PROGRAM OVERVIEW
Join us this year to learn about and help drive the direction of open source in financial services. This year's agenda will provide practical knowledge and guidance on best practices, tools and technologies; explore how to build a successful open source community; include insight from industries successfully embracing open source and much more. We'll run this in three tracks.
Strategy & Standards - Hear from leaders driving standards, innovation, and collaboration to meet an evolving financial services landscape and changing customer demand, including opportunities in open data, open banking, cloud, regulation and more.
Policy, Process & Tools - Learn how to seamlessly deliver compliant open source software through policies, processes, best practices and technology to manage the full open source software lifecycle from evaluation to consumption to contribution.
Code & Community - A look at the software, languages, frameworks, pioneers and more that are driving innovation, being developed in the open and have the potential to change the financial services industry and its historically "closed" culture.
Last year's schedule, talks, and videos are still live here if you're looking for a preview.
SPONSOR A STUDENT OR UNDERREPRESENTED GROUP ATTENDEE
FINOS wants to make open source in finance more accessible to everyone. As part of your registration, you can choose the option to sponsor a student, or someone from a group generally underrepresented in technology to attend OSSF.
MEMBER REGISTRATION AND SPONSORSHIP OPPORTUNITIES
While we're still getting the program squared away, as a reminder, Registration for OSSF is FREE for FINOS members and their employees. If you belong to our of our FINOS Member institutions, be sure to take advantage of this perk and pass this email along to your colleagues.
SPONSORSHIP OPPORTUNITIES
Sponsorship opportunities are available for members and non-members interested in showing their commitment to open source collaboration at OSSF. Let us know if you'd like a copy of the sponsorship prospectus for more detail.
We can't wait to see you at OSSF 2019! Please reach out to ossf@finos.org if you have any questions about the event or sponsorship opportunities for members and non-members.
~Thanks - The FINOS Team
The Call for Papers / Speakers is technically closed - however, we are always looking for great speakers for OSSF as well as our our meetups throughout the year. Complete details and the submission form can be found here:
THANK YOU to our FANTASTIC 2019 Sponsors