This year at FINOS we are focusing on one of FINOS' key existing projects: Open Source Readiness. This is FINOS' term for helping the finance industry "do open source properly". Welcome to the weekly Open Source Readiness blog! A couple of small items for your attention...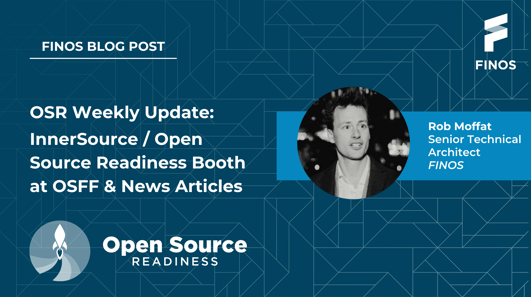 InnerSource / Open Source Readiness Booth at OSFF!
We're planning on running a joint booth at OSFF for these two important FINOS Special Interest Groups. Ideally, we'd like people to be able to come along and talk shop with us about all their open source issues at work: OSPO, security, legal, licensing.. We'll try and answer some questions.
Also, we'll have the certification I discussed in last week's blog article, as well as the completed "Open Source Contribution in Finance" course for people to try out.
We'd also like to get people's suggestions about what they'd like us to cover in the Open Source Readiness SIG next year - perhaps important topics? Special guests? We're all ears!
If you'd like to come along and help staff the booth - let us know!
As usual, let's have a quick plug of OSFF while we're at it: There are complimentary passes for employees of FINOS Member Firms so hurry up and register already!
If you haven't received your unique member code, please contact osff@finos.org and we'll get you sorted.
New Articles!
We've merged a whole load of PRs in the last few weeks. Here's a rundown of some of the bigger ones:
Introduction to Open Source Software: this is a transcript of a presentation I gave at Deutsche Bank not long ago to their graduate intake. Beginner-level material but might be useful to someone.
Creating an Open Source Program Office (OSPO): this article is finally merged. Partly my work and Pooi Cheong from Lloyds Bank, plus many others who pitched in with suggestions. I still think there's work left to do here to improve the references and further reading, but it's nice to have something published in the Body of Knowledge.
Measurements: a whole section of the Body of Knowledge devoted to measuring your effectiveness at open source. Again, it's early days for this - we'd really appreciate some feedback. A lot of these measurements were scattered across different articles but it's now organized in its own section.
Building An Open Source Culture: this article contains the work of multiple authors, including Andy Smith from Discover, Aronya Roy from Lloyds Bank and Vicki Chung from Goldman Sachs. Again, it's been in the works for a while now and contains tips for how to get your organization to adopt the cultures and practices of open source.
Incubating With A Foundation: this is an article covering some advice and tips about how and why you might donate a firm-controlled open source project to a foundation. Brittany Istenes from Fannie Mae took this on.
Feedback welcome on all of these! See you next week!
Author: Rob Moffat
Interested in this FINOS open source project, or any of our other projects? Click the link below to see how to get involved in the FINOS Community.