This year at FINOS we are focusing on one of FINOS' key existing projects: Open Source Readiness. This is FINOS' term for helping the finance industry "do open source properly".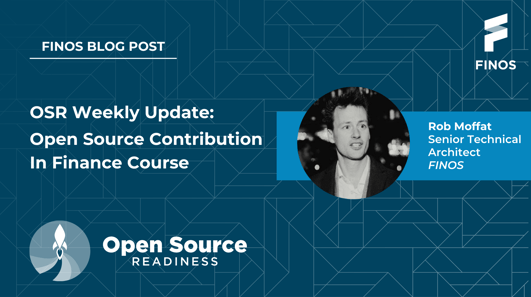 This week, I want to update you on the Open Source Readiness training course we've been working on this year at FINOS (with help from the OSR SIG community).
What's this all about, you ask? We're trying to build a training course that firms can roll out and use as training for developers wanting to collaborate and contribute to open source projects.
After completing this course, you'll:
Understand copyright and licenses.

Understand what contribution means and where it happens.

Understanding the key risks and benefits of open source contribution to both firms and individuals.

Understand the role of foundations.

Use inclusive language in your projects

Work within a firm's approval process

Explain the concept of the Software Supply Chain

Explain the concept of "Vulnerabilities" and their relevance to building software

Understand the purpose of the OSPO

Appreciate the need for controls around publishing open source code

Be able to work within the engagement processes within your organization.

See how AML, Anti-Terrorism, Antitrust, Export Restrictions, Cross-Border Obligations and Sanctions affect open source.

Decide where, when and how to use escalation paths for issues on open source projects
… and many more things!
We've got a good working first draft and are rapidly moving towards a completed version ready to hand to the Linux Foundation for packaging and publishing.
Want to get involved? Want to try it out? Get in touch here
OSFF - New York
This course will be called Open Source Contribution In Finance (LFD137) and will be announced for general availability at the Open Source in Finance Forum in New York, along with many other OSR-related announcements. It's taking place at the Marriott Marquis Hotel in Times Square NYC on November 1st. The schedule is now live!
There are complimentary passes for employees of FINOS Member Firms so hurry up and register already!
If you haven't received your unique member code, please contact osff@finos.org and we'll get you sorted.

Author: Rob Moffat
Interested in this FINOS open source project, or any of our other projects? Click the link below to see how to get involved in the FINOS Community.